Fans don't think the Brie Larson Captain Marvel is the most powerful character in the MCU, which sees The Avengers: Endgame director Anthony Russo react to the news.
If you recall, Marvel Studios president Kevin Feige took a page out of Disney's Pinocchio prior to the release of the Captain Marvel movie offering that Carol Danvers is the most powerful character in the MCU, meaning more powerful than Thanos, Hulk, Doctor Strange, Thor, Scarlet Witch, and everybody else.
"She's one of the most popular characters in our comics, she's one of the most powerful characters in the comics and will be the most powerful character in the Marvel Cinematic Universe," Feige said, which everyone knows is a huge stretch of the truth as the comics don't sell and the character can hardly be compared or can be considered in the same league as the aforementioned Avengers and Marvel characters.
Regarding Anthony Russo, during a promo for The Avengers: Endgame movie, directors Joe and Anthony Russo fielded questions on Twitter, which Wired recorded. One of the questions happened to be a poll asking who is the most powerful of the Avengers. Well, Brie Larson as Captain Marvel received the least votes with only 6%, which saw Anthony Russo react to and frown; check it out: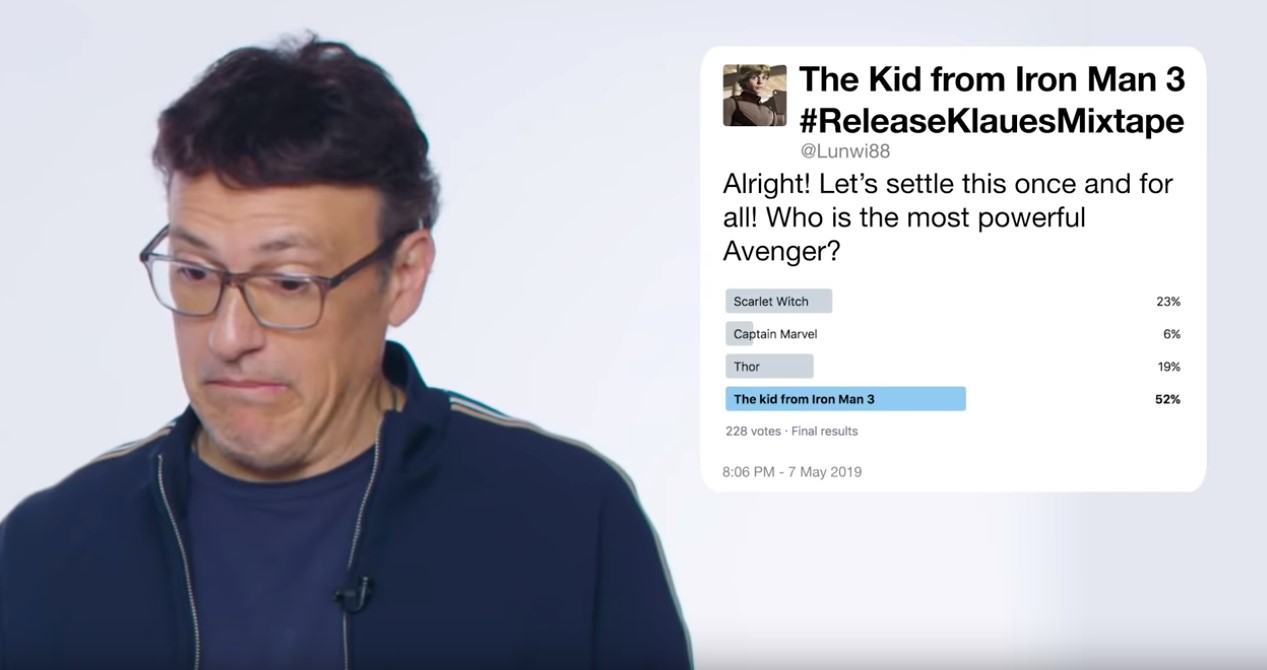 Fans don't like the Brie Larson Captain Marvel
What's also rather interesting is that the Russo brothers basically removed Brie Larson and Captain Marvel from the entirety of The Avengers: Endgame. They explained her leaving as having to go off into space – which was rather hilarious – as why would Captain Marvel go off into space and come back with no help when everything is occurring on Earth? Why did she leave and why didn't she help the Avengers? Hey, I'm not complaining, but I thought that was kind of funny (lol).
The Brie Larson Captain Marvel movie has received huge fan backlash with claims that Disney fibbed (Pinnochio seems to be a theme surrounding this flick for some reason) about box office numbers, that Rotten Tomatoes colluded with Disney about fan reaction and even that Disney sabotaged the Fox Studios X-Men Dark Phoenix movie in order to bolster Brie Larson and Captain Marvel which was threatened by Sophie Turner and Dark Phoenix. Interestingly enough, while at Comic-Con, insiders filled me in that Disney told their El Capitan Theater in Los Angeles to fudge the numbers back in the day.
Marvel has also yet to announce a Captain Marvel 2, which oddly enough isn't a part of their "girl power" Phase 4 plans, but the sequel is rumored to be announced this week at Disney's D23 Expo. Rumors for Captain Marvel 2 include that it will feature Ms. Marvel Kamala Khan and that blond white dude Michael Korvac will be the villain.
Brie Larson also recently took to social media to show off her Star Wars "JEDI REALNESS."