Blue Beetle tickets are now on sale which includes the release of a cool IMAX poster, featurette, theater merchandise, and a new promo with star Xolo Maridueña.
Things also exploded online when Zack Snyder tweeted in support of Blue Beetle with that super cool comic book-inspired poster.
Blue Beetle opens Aug. 18 in theaters.
Power UP! 👾Tickets are now on sale for #BlueBeetle – coming to Regal on August 18.

🎟️ : https://t.co/IHiHrQdlIn pic.twitter.com/UMK8YRmuHg

— Regal (@RegalMovies) August 1, 2023
An out-of-this-world movie deserves the out-of-this-world #FilmedForIMAX presentation. Experience #BlueBeetle with IMAX's exclusive Expanded Aspect Ratio on August 18. 🎟 are on sale now: https://t.co/qT9NZb4cz8 pic.twitter.com/GCpEu8eB62

— IMAX (@IMAX) August 1, 2023
Watch the full #BlueBeetle interview at the link below!https://t.co/l6EaI6ixuC pic.twitter.com/BeCVV8Q75t

— Fandango (@Fandango) August 1, 2023
Alllllll the #BlueBeetle merch 🤩

Now available at select theatres while supplies last! pic.twitter.com/D1nWcJnwlE

— Cinemark Theatres (@Cinemark) August 1, 2023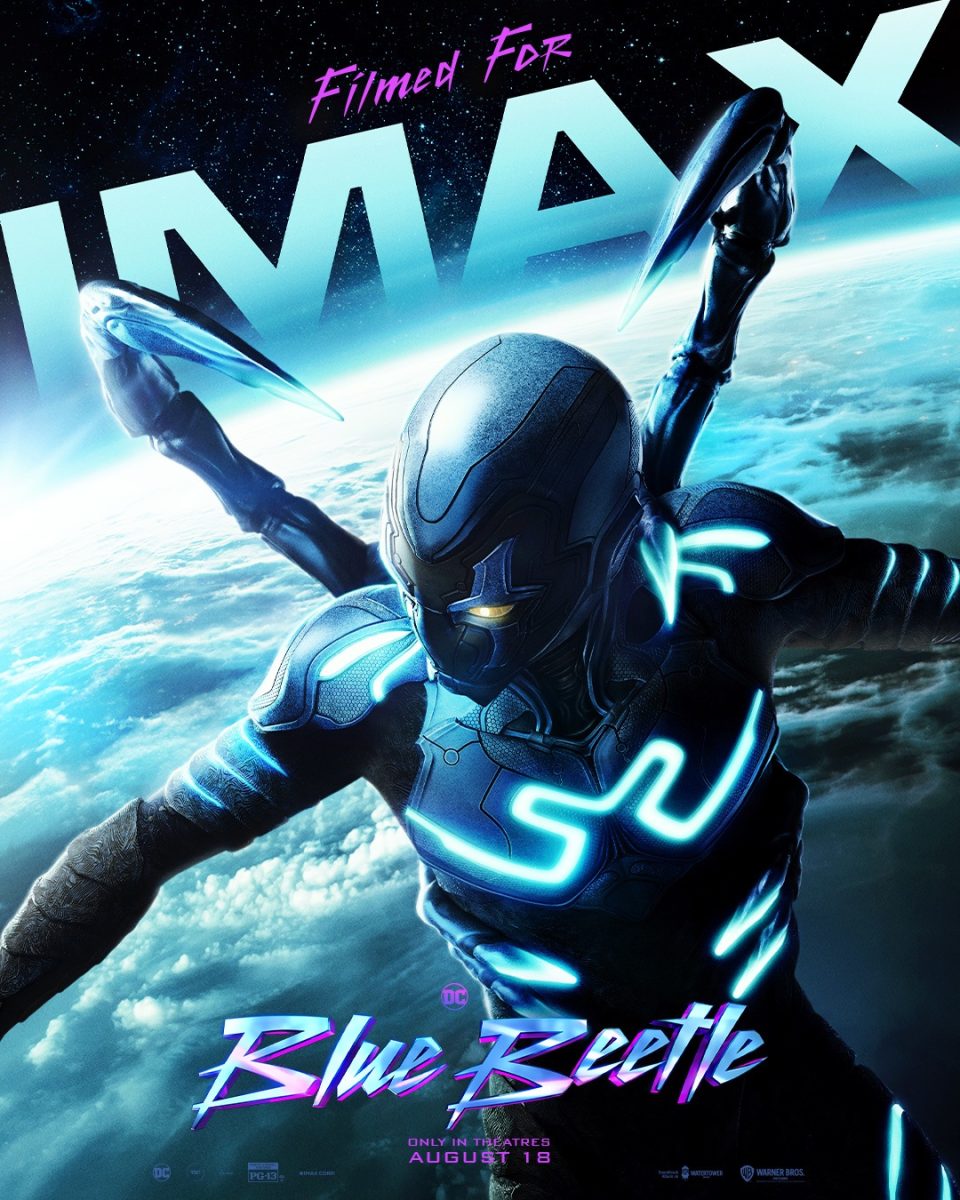 What is Blue Beetle about?
Here is the official synopsis from WB:
From Warner Bros. Pictures comes the feature film "Blue Beetle," marking the DC Super Hero's first time on the big screen. The film, directed by Angel Manuel Soto, stars Xolo Maridueña in the title role as well as his alter ego, Jaime Reyes.
Recent college grad Jaime Reyes returns home full of aspirations for his future, only to find that home is not quite as he left it. As he searches to find his purpose in the world, fate intervenes when Jaime unexpectedly finds himself in possession of an ancient relic of alien biotechnology: the Scarab. When the Scarab suddenly chooses Jaime to be its symbiotic host, he is bestowed with an incredible suit of armor capable of extraordinary and unpredictable powers, forever changing his destiny as he becomes the Super Hero BLUE BEETLE.
Starring alongside Maridueña ("Cobra Kai") are Adriana Barraza ("Rambo: Last Blood," "Thor"), Damían Alcázar ("Narcos," "Narcos: Mexico"), Elpidia Carrillo ("Mayans M.C.," the "Predator" films), Bruna Marquezine ("Maldivas," "God Save the King"), Raoul Max Trujillo (the "Sicario" films, "Mayans M.C."), with Oscar winner Susan Sarandon ("Monarch," "Dead Man Walking"), and George Lopez (the "Rio and "Smurf" franchises). The film also stars Belissa Escobedo ("American Horror Stories," "Hocus Pocus 2") and Harvey Guillén ("What We Do in the Shadows"). Soto ("Charm City Kings," "The Farm") directs from a screenplay by Gareth Dunnet-Alcocer ("Miss Bala"), based on characters from DC. John Rickard and Zev Foreman are producing, with Walter Hamada, Galen Vaisman and Garrett Grant serving as executive producers.
The director's creative team behind the scenes includes director of photography Pawel Pogorzelski ("Midsommar," "Hereditary"), production designer John Billington ("Bad Boys for Life"), editor Craig Alpert ("Deadpool 2," "The Lost City"), Oscar-nominated costume designer Mayes C. Rubeo ("Jojo Rabbit," the "Thor" films), visual effects supervisor Kelvin McIlwain ("The Suicide Squad," "Aquaman") and composer Bobby Krlic ("Midsommar," the "Snowpiercer" series).
A Warner Bros. Pictures Presentation, a Safran Company Production, "Blue Beetle" soars into theaters only internationally beginning August 2023 and in North America August 18, 2023. It will be distributed worldwide by Warner Bros. Pictures.
Watch the Blue Beetle IMAX featurette: