National Cinema Day is announced for Sunday, August 27, which includes $4 movies at movie theaters across the country including AMC, Cinemark, and Regal.
Fans can buy tickets on Fandango, or through your favorite movie theater.
Movies showing include Barbie, Oppenheimer, Mission Impossible, Blue Beetle, The Super Mario Bros. Movie, Elemental, Teenage Mutant Ninja Turtles: Mutant Mayhem, Gran Turismo, Golda, The Hill, Retribution, and Bottoms.
Reserve your favorite seats because this Sunday is #NationalCinemaDay! That means:
🎟️ Every Movie
🎟️ Any Format
🎟️ $4 Tickets
🎟️ All Sunday Long
Get your tickets on Fandango today👇 https://t.co/PVqG05fTrr pic.twitter.com/6enmudL87o

— Fandango (@Fandango) August 21, 2023
National Cinema Day is back August 27! All showtimes. All tickets. All formats. All $4. Even the small popcorn and drink combo is $4! pic.twitter.com/wNLLDh3RSS

— Regal (@RegalMovies) August 21, 2023
Don't miss #NationalCinemaDay at #AMCTheatres on Sunday, August 27! Enjoy $4 🎟️ and $5 small 🍿 +🥤all day long.https://t.co/vzFi7ACNga pic.twitter.com/HyH0sPc9ps

— AMC Theatres (@AMCTheatres) August 21, 2023
National Cinema Day is BACK!!! 🙌

Enjoy $4 tickets and $1 off any size popcorn, fountain drink, and candy this Sunday, August 27 🎉

Tickets on sale now: https://t.co/rxUWuGPrg5 pic.twitter.com/iswtmmAwRa

— Cinemark Theatres (@Cinemark) August 21, 2023
AMC
Don't Miss National Cinema Day Deals
Enjoy $4+tax tickets all day on Sunday, 8/27, including Dolby Cinema, IMAX® and RealD® 3D. Plus, small fountain drink and popcorn combos are just $5+tax.
Visit amctheatres.com for more.

Cinemark
NATIONAL CINEMA DAY
The most cinematic day of the year is almost here! On August 27, we celebrate movies and the people who love them with big deals, big screens, and big thrills.

Score $4 tickets to ANY movie, all day long—we have a huge lineup of must-see titles plus the hottest new releases. And while you're here, enjoy one delicious deal—take $1 off any-size popcorn, soda, or candy. Assemble your crew, load up on snacks and settle in for a day of big screen bliss.
Head on over to cinemark.com for more.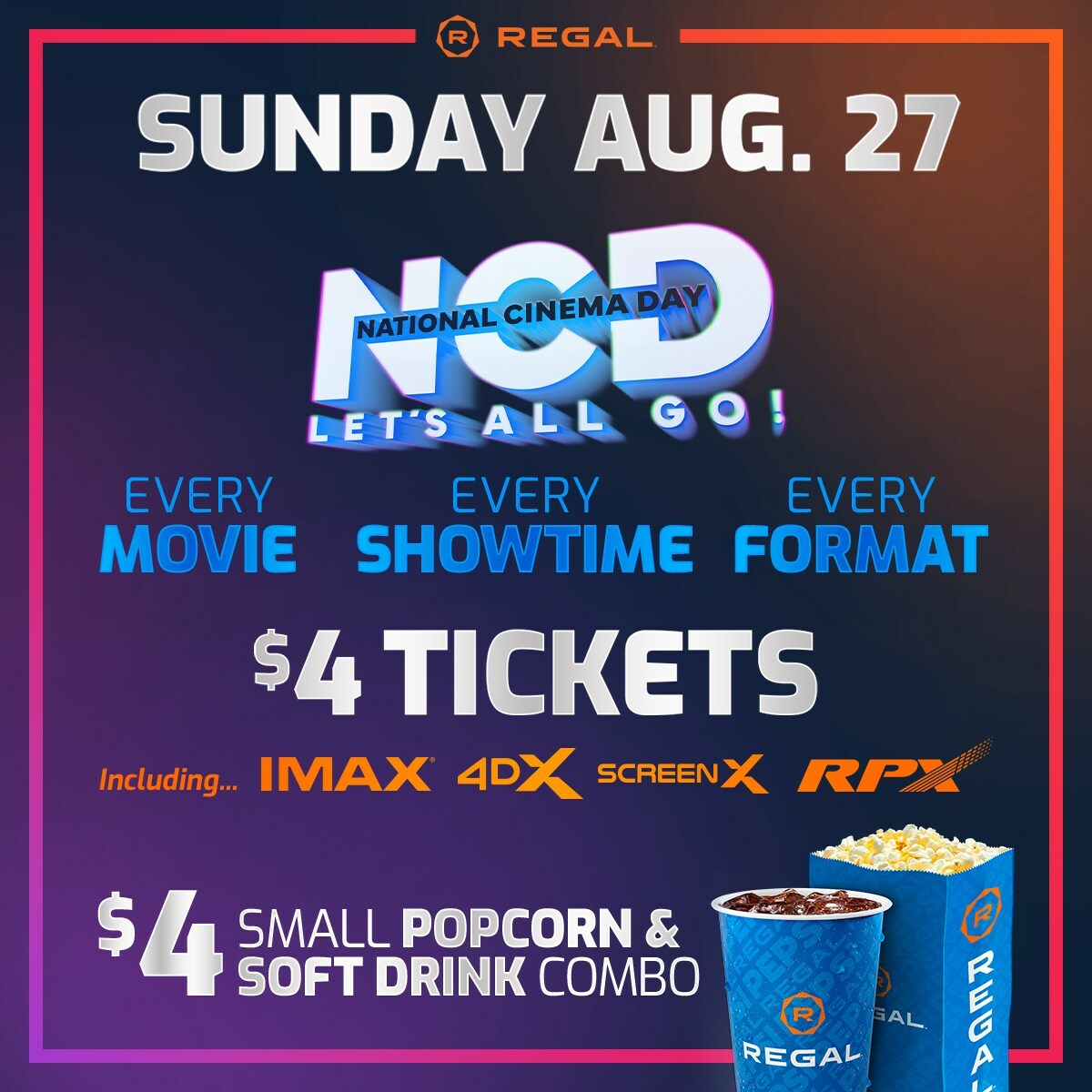 Regal
Celebrate National Cinema Day at Regal with $4 Movies and a $4 Concession Combo
Every Movie, Every Showtime, Every Format only $4 on Sunday, Aug. 27
KNOXVILLE, Tenn., Aug. 21, 2023 — Regal today announced it will once again partner with the Cinema Foundation to celebrate National Cinema Day on Sunday, Aug. 27, at all Regal theatres across the country. The 2023 sequel to last year's one-day only event will offer $4 tickets to all movies in all formats along with a Regal special $4 small combo concession offer.
National Cinema Day celebrates the power of movies to bring us all together by encouraging guests of all ages to revisit the incomparable theatrical experience. As we come to the end of a summer blockbuster season for the ages, join Regal for a day at the movies where every ticket is only $4, including these premium formats:
Pepsi 4DX adds 21 signature atmospheric effects to match the action taking place on screen through motion-synchronized seating and environmental effects like vibration, wind, fog, lightning and scents
ScreenX offers an immersive 270-degree panoramic viewing experience during select scenes to place the audience inside of the action
RPX (Regal Premium Experience) presents movies the way filmmakers intended with an exceptionally large screen, crystal clear laser projection and Dolby Atmos surround sound in a custom-built premium environment
IMAX follows exacting standards to provide an unmatched theatrical experience focused on clarity, detail and size by combining perfectly sharp images on a truly immense screen with a precisely tuned and positioned sound system
"The first edition of National Cinema Day recorded over 8.1 million visitors to movie theatres across the country, setting the single day attendance record for 2022," said Eduardo Acuna, CEO at Cineworld Group, parent company of Regal. "This year with $4 movies and a $4 concession combo, Regal hopes to welcome even more guests on National Cinema Day to see why we are 'The Best Place to Watch a Movie!'"
To further amplify the celebration, Regal will have an expanded show schedule on Sunday, adding as many screenings of blockbuster hits including, but not limited to Gran Turismo: Based on a True Story, Barbie, Oppenheimer, The Super Mario Bros. Movie, Elemental, and Teenage Mutant Ninja Turtles: Mutant Mayhem to the Aug. 27 schedule as possible. Along with an earlier showtime on Sunday, this also includes 12:00 a.m. (late Saturday/early Sunday) showings at select locations. Midnight showtimes allow our most passionate moviegoers to take advantage of $4 tickets on the very first minute of National Cinema Day.
When you arrive at the theatre, do not forget to pair your movie with a snack with Regal's special $4 small combo concession offer. National Cinema Day might even inspire you to consider Regal Unlimited where subscribers can see as many movies as they want, whenever they want. Unlimited subscribers also enjoy 10% off all food and non-alcoholic drink purchases along with automatic membership to the Regal Crown Club.
For additional details or to purchase tickets to this exclusive event, please visit the Regal mobile app or website at REGmovies.com.