DC and Blue Beetle show up big at Brazil's big CCXP convention this weekend as a new poster has been released with the cast also attending a panel at the event.
The new co-head of the DCU, James Gunn, tweeted the following Blue Beetle poster which features the magical scarab that enables the transformation into the titular character.
The poster also confirms a 2023 theatrical release as at one time the flick was getting made for the HBO Max streaming service but will now get released in theaters on August 18, 2023.
Angel Manuel Soto is the director who commented on Instagram, "Out of CCXP, the scarab was revealed. This is just the beginning." 
The film stars Xolo Maridueña who is known for Netflix's Cobra Kai series as Jamie Reyes, and also starring includes Susan Sarandon as the villain, Victoria Kord (Ted Kord is the first Blue Beetle in the comics); Brazilian star Bruna Marquezine who was in attendance at the CCXP is set to play Jamie's love interest, Penny; George Lopez is playing Jamie's Uncle, and Raoul Max Trujillo is playing the villain, Carapax the Indestructible Man.
primeira ccxp da bruna marquezine pra um personagem da dc, uma BRASILEIRA em um papel principal na dc, isso aqui é gigante em tantos níveis pic.twitter.com/74hNVCVSgp

— geek farofeiro (@geekfarofeiro) December 3, 2022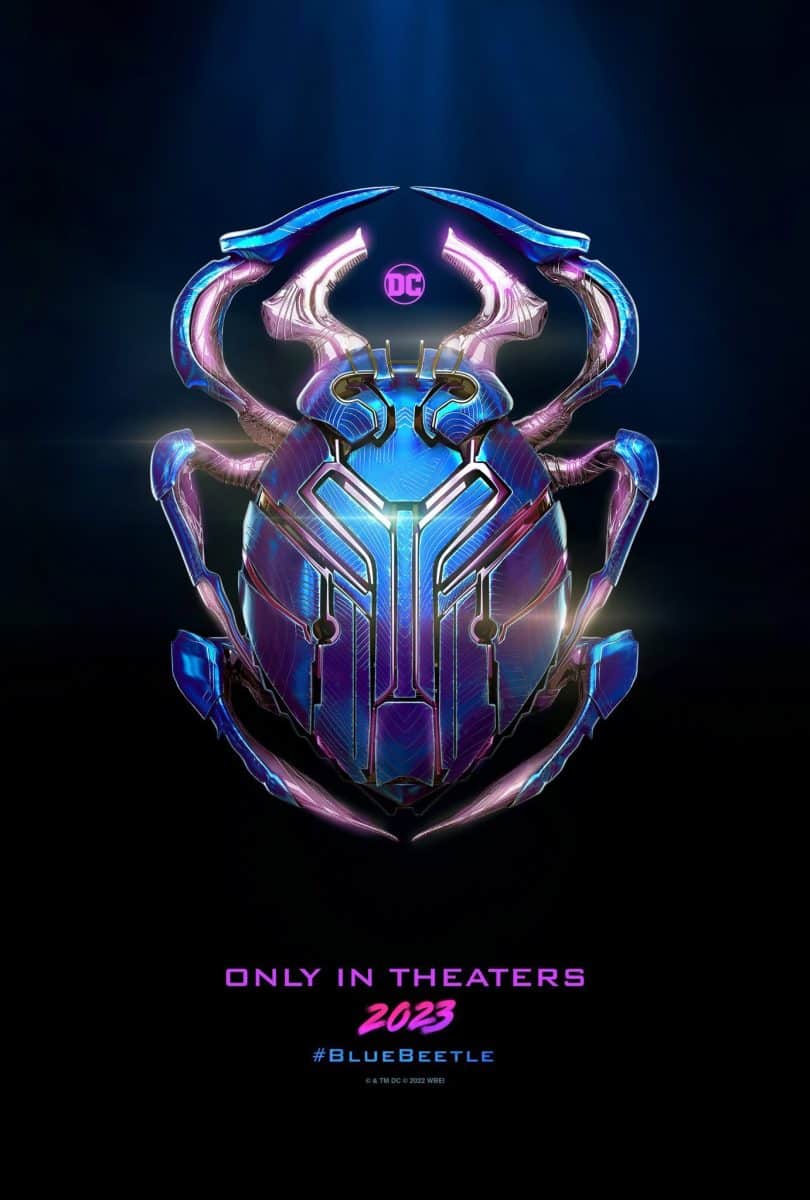 What is different about Blue Beetle?
Xolo Maridueña recently chatted with THR about the flick where he said he is excited about the Latino representation.
"Blue Beetle isn't to make me the next heartthrob or biggest star. It's just to show people, 'Hey, these stories about Latinos don't have to just be about narcos or crossing the border or being a gang member. You can be portrayed in a positive light,'" he explained. "A superhero seems like the most positive light you can get in this industry."
Maridueña continued, "I always get so nervous talking about the movie. Let me preface this by saying that everything that I'm saying was in the comics, OK? I don't want to hear anybody say, 'Xolo was giving away spoilers from the movie.' Jaime Reyes/Blue Beetle has been passed the torch from other Blue Beetles. There are other iterations of the character. My iteration is a kid from Texas who stumbles upon these powers. The thing that makes this movie different than any other superhero movie I've seen — well, there are a ton that I haven't seen. There were superhero movies before Iron Man, right?
"Iron Man made it cool to be a comic nerd," he said. "There were superhero movies before it that I haven't seen. But the family aspect to this movie and to the character is inherent to the comics and so special. The family we've been able to create in the movie — the mom, dad, uncle, sister, grandmother — I feel like that aspect of being a superhero hasn't been tapped into a ton. So many superheroes have alter egos, these aliases and personas. They have one life where they're Spider-Man or Batman and then they go home and they're Bruce Wayne or whoever. They're constantly hiding their identity. But with this character, he lives with his family and there's no way to hide who he is. Right from the very first moment he gets his powers, his family knows. That's different."
Maridueña added, "It's a dynamic that's so foreign to the superhero world. It's one of my favorite parts of the comics and I hope that it translates to the movie."
Check out concept art released at last year's DC Fandome event and of Xolo Maridueña in the role:
Xolo Maridueña has been spotted on the set of #BlueBeetle in full costume!

Check out all the pics here: https://t.co/myGWZ4LN9E

— JustJared.com (@JustJared) May 25, 2022