Both Marvel's Black Widow and Eternals are predicted to have relatively soft openings, with both said to not be big global openers, at least compared to previous flicks from 2019 and prior that have made north of $400 million worldwide for their opening weekends.
In Deadline's report about the tracking for Star Wars: The Rise of Skywalker, it is mentioned that Skywalker may be the last event-pic mega global opening until 2021 which could net around $450 million, similar to The Last Jedi, but less than The Force Awakens' $528.9 million.
It's noted:
While there's bound to be big pics next year, you have to wait until 2021 before you get to the pent-up demand features such as Thor: Love and Thunder, Doctor Strange in the Multiverse of Madness, Matrix 4 and of course the mother of them all, Avatar 2, on December 17.
Regarding Black Widow and Eternals, the site offers:
2020 is a wonky reset year for Marvel with frosh property The Eternals set for November and the May-launching Black Widow, a spinoff about a Bond-like female Russian assassin who doesn't have superpowers (and who hasn't seen that before?).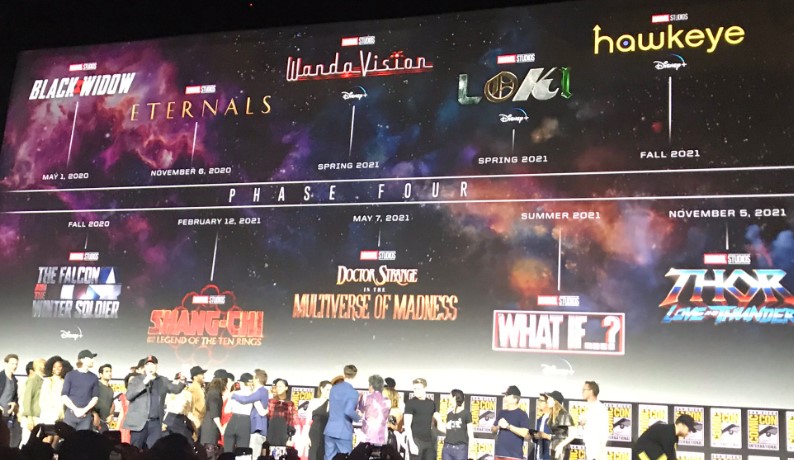 2020 is reset year for Marvel
It is noted that Marvel movies tend to perform fairly well, but again, Black Widow has been done before, and even Kevin Feige has admitted Eternals is a big and expensive risk.
Regarding the other movies opening in 2020, Wonder Woman 1984 is also stated to probably not have a huge global opening around the $400 million mark, but if it did it would need China's help. The same for Bond 25, which typically doesn't get released at the same time around the world.
One possibly flick that could do it is Universal's Fast & Furious 9, which gets released May 22, 2020, but it is said it is dependent on the film getting released in 63 territories plus China, as it did with The Fate of the Furious, which delivered a $541.9M opening global weekend.
Black Widow gets released May 1, 2020; Eternals gets released Nov. 6, 2020, both of which kick off Marvel and Kevin Feige's Phase 4 approach to diversity.