A batch of Black Panther character descriptions have hit the net from a Toy R Us catalog in addition to promo images.
Check it out below!
Black Panther opens in six weeks.
Character Descriptions:
Black Panther – As the new king of Wakanda, T'Challa is struggling to cope with the loss of his father T'Chaka, but is determined to live up to his great legacy. When Wakanda finds herself beset by two enemies intent on the nation's downfall, Black Panther must use his new suit and heightened strength, speed and senses to defend Wakanda and the rest of the world.
Okoye – The head of the Dora Milaje, an all-female special forces group, Okoya is a fiercely loyal protector of Wakanda who isn't afraid to question her king, but would defend him with her life. A staunch traditionalist who is as formidable with her spear as she is with her tongue, Okoye finds herself torn between her allegiance to her country and her king when T'Challa begins to challenge ancient Wakandan rules.
Nakia – A Wakandan spy pulled from her mission abroad by her former flame T'Challa, Nakia consistently gets involved in conflict for the good of others, adamant to use her abilities to help those in need. In the wake of King T'Chaka's death and the rise of Wakanda's new enemies, Nakia puts her skills of subterfuge and hand-to-hand combat to use in order to fight alongside Black Panther.
Shuri – Shuri is T'Challa's younger sister and head of the Wakandan Design Group, where she designs and builds futuristic tech such as the Black Panther suit with Vibranium mined from the Great Mound. She is an innovator, intelligent beyond her years, and always ready to give her big brother a hard time.
Erik Killmonger – Erik Stevens was an American black-ops soldier who earned the nickname "Killmonger" while in the field. However, after disappearing off the grid, he has reemerged with a plan that threatens to put Black Panther and all of Wakanda at risk. Using his charisma, considerable skills in combat and his surprising knowledge of Wakandan customs, Erik Killmonger is a dangerous threat to all that T'Challa holds dear.
M'Baku – Armed with the hardened Jabari wood armor and a battle staff, M'Baku is the formidable leader of the Jabari tribe, a group of Wakandans who have shunned the use of vibranium and removed themselves from the mainstream Wakandan life. In the wake of T'Chaka's death, M'Baku is faced with the choice of challenging T'Challa for the throne, or joining forces with his would-be adversary to defend Wakanda from malevolent outside forces.
Everett Ross – A CIA agent and former liaison with the Joint Terrorism Task Force, Everett Ross is reunited with T'Challa when they both find themselves after the same adversary: Ulysses Klaue. A skilled tactician with advanced weapons training, Ross becomes an invaluable ally to the Black Panther.
Images: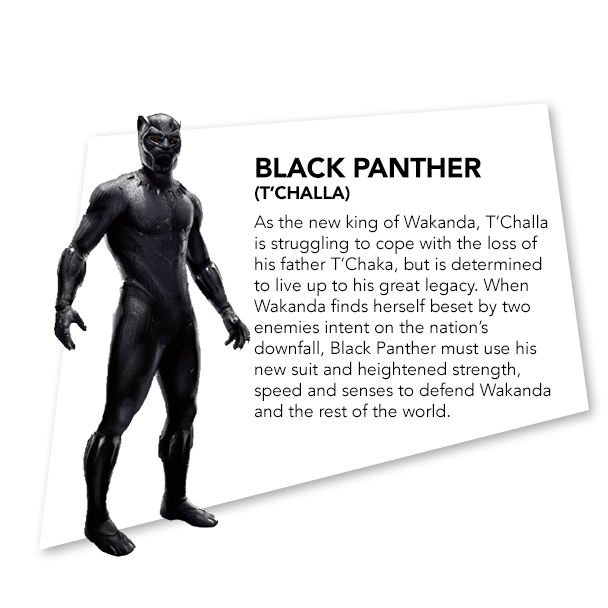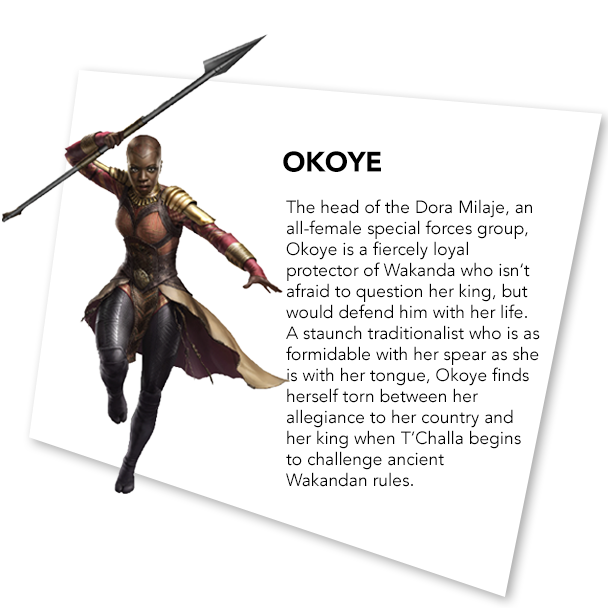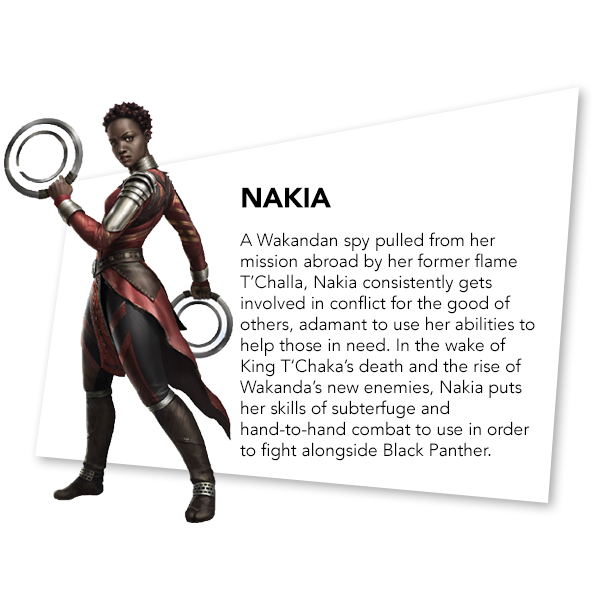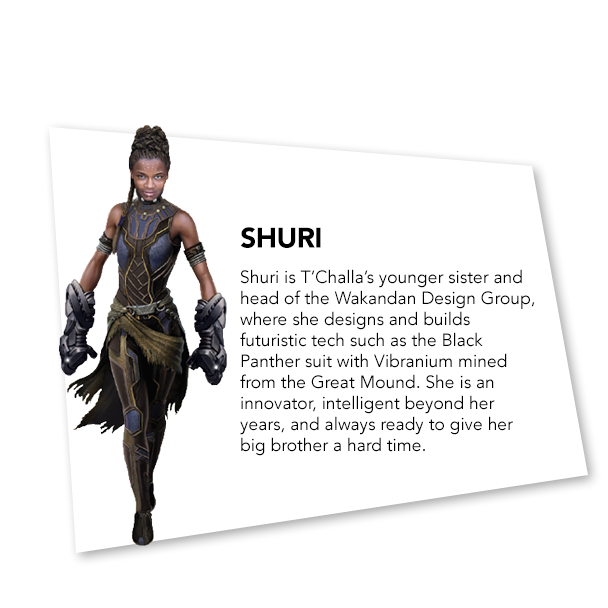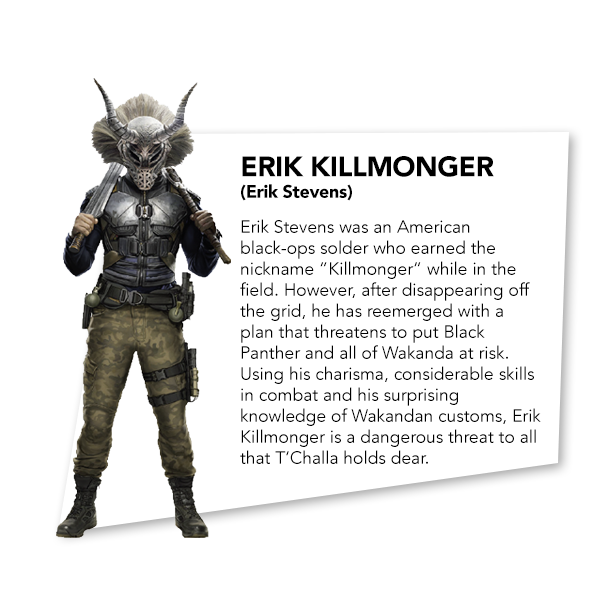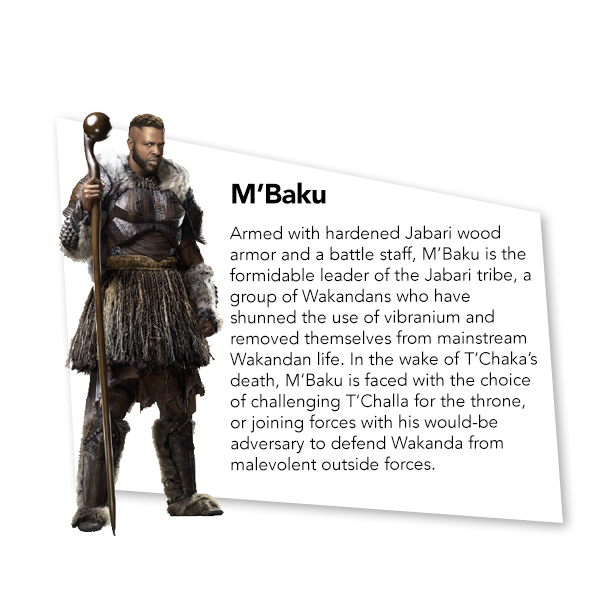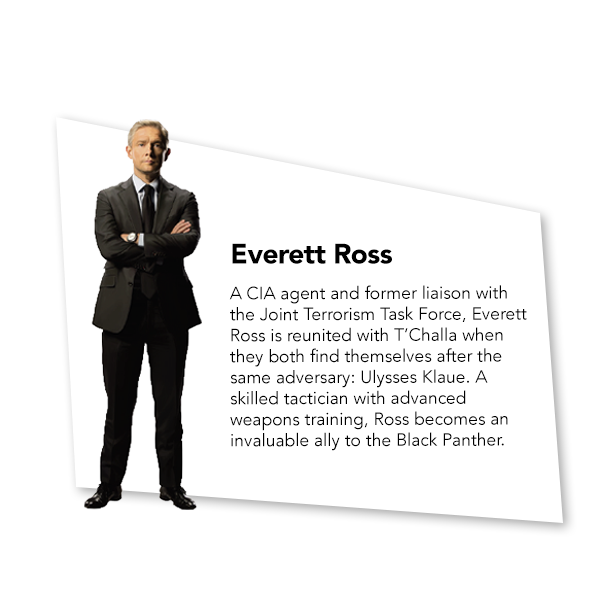 Black Panther has a February 16, 2018 release starring ChadwickBoseman ("Captain America: Civil War," "Get on Up"), Michael B. Jordan ("Creed," "Fruitvale Station"), Academy Award winner LupitaNyong'o ("Star Wars: The Force Awakens," "12 Years a Slave"), Danai Gurira ("The Walking Dead," upcoming "All Eyez on Me"), Martin Freeman ("Hobbit" trilogy, "Sherlock"), Daniel Kaluuya (upcoming "Get Out," "Sicario"), with Academy Award® nominee Angela Bassett ("American Horror Story," "London Has Fallen"), with Academy Award® winner Forest Whitaker ("Rogue One: A Star Wars Story," Lee Daniels' "The Butler"), and Andy Serkis ("Avengers: Age of Ultron," "Star Wars: The Force Awakens"). Additional cast members include Letitia Wright ("Urban Hymn," "Glasgow Girls"), Winston Duke ("Person of Interest, "Modern Family"), Florence Kasumba ("Captain America: Civil War," "Emerald City"), Sterling K. Brown ("Whiskey Tango Foxtrot," "The People v. O.J. Simpson: American Crime Story") and John Kani ("Captain America: Civil War," "Coriolanus").
Marvel Studios' Black Panther follows T'Challa who, after the death of his father, the King of Wakanda, returns home to the isolated, technologically advanced African nation to succeed to the throne and take his rightful place as king. But when a powerful old enemy reappears, T'Challa's mettle as king—and Black Panther—is tested when he is drawn into a formidable conflict that puts the fate of Wakanda and the entire world at risk. Faced with treachery and danger, the young king must rally his allies and release the full powe rof Black Panther to defeat his foes and secure the safety of his people and their way of life.