The CW and DC recently announced the casting of Batwoman for the Arrowverse with John Wick 2's Ruby Rose, which apparently is causing backlash as the actress has turned off her Twitter and Instagram accounts.
Before quitting Twitter, her last two posts stated: "Ok tied up some loose ends, read a tweet from my idol, and am deleting Twitter now to focus on my next two projects, so I won't be on here for a while... but can I clear up one last thing that has had me laughing but also baffled?? Where on earth did 'Ruby is not a lesbian therefore she can't be batwoman' come from - has to be the funniest most ridiculous thing I've ever read. I came out at 12? And have for the past 5 years had to deal with 'she's too gay' how do y'all flip it like that? I didn't change."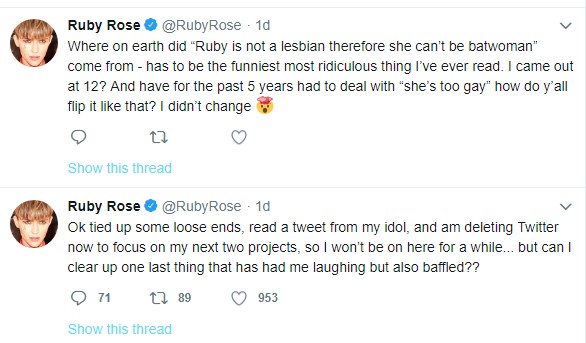 It's the first I've heard it of, but from Ruby Rose's tweet above, it seems some fans(?) were questioning if she was a lesbian, as the character of Kate Kane Batwoman is a lesbian, but there is no question Ruby Rose is a lesbian, so I have no idea what is the problem.
In addition, I think Ruby Rose will be pretty bad ass as Batwoman, as she was pretty sweet in John Wick 2 and she stars in The Meg, which is a big hit this weekend at the box office. 
Ruby Rose also recently told Jimmy Fallon she didn't have any superheroes to identify with growing up, so I don't think it's a good idea to close her social media accounts, because I'm sure there are other like-minded people and fans out there.
I hope this doesn't come off the wrong way, but I think some of these celebs need to either get thicker skin or get a PR team to run their social networks, because there are fans out there that do want to hear from them on social media. I would advise them to try and simply ignore the trolls and don't feed them.
As much as it might sound wrong, it comes with the territory.