Check out a cool look at The Avengers reimagined as '90s actors via AI art from the Midjourney Discord server including Tom Cruise as Iron Man, Brad Pitt as Thor, Arnold Schwarzenegger as Hulk, and more.
AI-created art is becoming all the rage these days as it keeps getting better and better and can be created at lightning speeds.
I actually have used Midjourney to whip up some quick AI art for Chris Pratt as Booster Gold and Steven Yeun as The Sentry.
What's crazy is with the technology they have available if they wanted to, they could probably do a movie with this version of The Avengers using artificial intelligence and deep fakes. I'm guessing what they have been releasing is only the tip of the iceberg and the AI technology that hasn't been revealed is light-years ahead (ChatGPTis is insane! Is it a precursor to Skynet?!).
Related: Marvel and DC characters mash with The Mandalorian in AI art.
As we see, the AI art isn't perfect as the Star-Lord and Loki versions could be better, but there is no doubt the technology is going places.
The art comes via Reddit and Instagram where as noted, it would have been cool to see Leonardo DiCaprio as Spider-Man, so maybe someone can whip that up for us real quick.
The art also reminds me of that Avengers "Made in the 90s" meme poster that went viral years ago. See below.
Tom Cruise has actually been rumored as Iron Man as part of the MCU's Multiverse story, so who knows? Maybe some of these will pop up in Avengers: Secret Wars.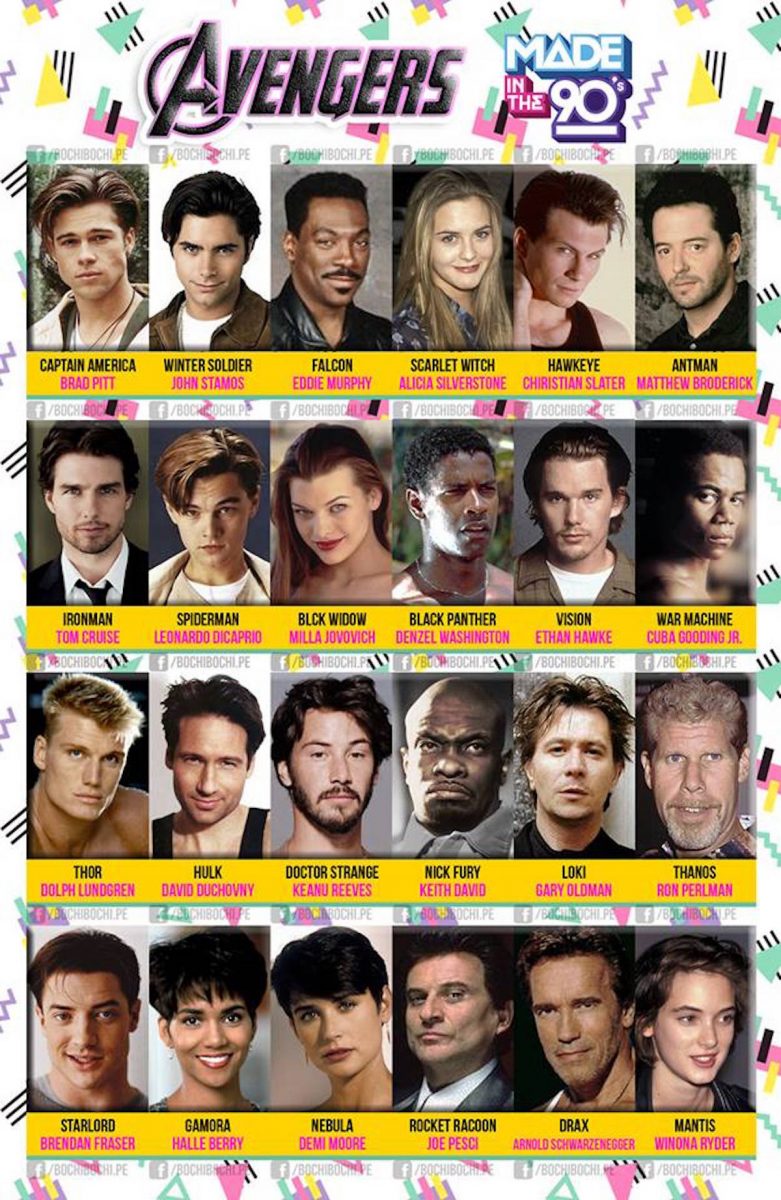 The Avengers as '90s actors:
Tom Cruise as Iron Man
Brad Pitt as Thor
Bruce Willis as Captain America
Arnold Schwarzenegger as Hulk
Milla Jovovich as Black Widow
Michael J. Fox as Hawkeye
Will Smith as Black Panther
Jude Law as Jarvis
Brendan Fraser as Star-Lord
Jim Carrey as Loki