Wonder Woman 1984 is getting an HBO Max release on Christmas Day as well as in movie theaters.
Apparently, Warner Bros. accidentally listed a new Wonder Woman 1984 trailer on YouTube with a mention that the movie will be released in theaters and on HBO Max at the same time on Christmas Day.
Warner Bros. has since made the Wonder Woman 1984 trailer private (update: (now available, watch below), but they have made the official announcement of both an HBO Max release and a theatrical release simultaneously.
Via THR:
Warner Bros. announced Wednesday that the tentpole is all but giving up on a traditional theatrical release and will instead open in whatever cinemas remain open on Dec. 25 as well as stream on HBO Max that day.
Director Patty Jenkins also confirms the news as Jenkins tweets:
THE TIME HAS COME. At some point you have to choose to share any love and joy you have to give, over everything else. We love our movie as we love our fans, so we truly hope that our film brings a little bit of joy and reprieve to all of you this holiday season.

Watch it IN THEATERS, where it is made safe to so so (check out the great work theaters have done to make it so!) And available in the safety of your home on HBOMAX where it is not. Happy holidays to all of you. We hope you enjoy our film as much as we enjoyed making it.
WarnerMedia CEO Jason Kilar also said in part in a statement:
Today we announced that Wonder Woman 1984, the eagerly anticipated tentpole film by Patty Jenkins — with Gal Gadot and Chris Pine reprising their roles as Diana Prince and Steve Trevor — is going to be released worldwide in theaters on December 25th. In the United States, we will also be making this remarkable movie available on HBO Max at no extra cost the same day that Wonder Woman 1984 premieres in theaters, for the first month of the film's release.

For a movie of this scale, this is unprecedented. Given that, we wanted to share some context.

There are many things that factor into a decision like this:

• The pandemic.

• Our belief in the theatrical experience and, to that end, the importance of exhibitors.

• Our mission to be strong and supportive partners to Patty, Gal, producer Chuck Roven and the entire Wonder Woman 1984 team.

• And finally, the fans, which is where important decisions like this should always start and should always end.
Read the official announcement here.
Original article continues:
Wonder Woman 1984 HBO Max and theater release: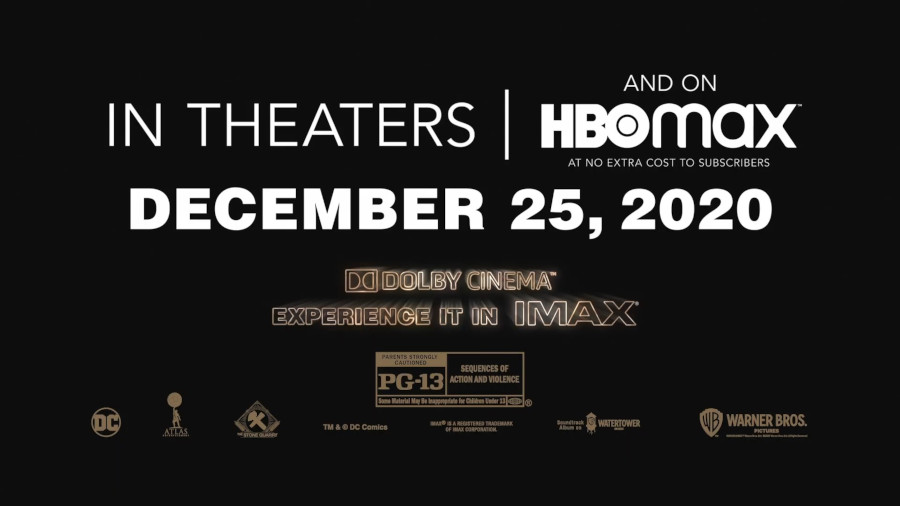 There has actually been talk that Warner Bros. may move the Wonder Woman 1984 release date to June of 2021, but WB decided against that and will release it Dec. 25, which is its present release date.
Recently also saw the rumor that AT&T, the parent company of Warners, wants WW84 released on HBO Max in order to bump up the number of subscribers, as reportedly, AT&T wasn't happy when Disney revealed it has over 73 million subscribers for its Disney Plus streaming service.
Wonder Woman 1984 is directed by Patty Jenkins and stars Gal Gadot as the titular character and Diana Prince, Chris Pine returns as Steve Trevor, somehow brought back to life, Kristen Wiig as Barbara Minerva and The Cheetah, Pedro Pascal as the villain of the movie, Max Lord, Connie Nielsen as Hippolyta, and Robin Wright as Antiope.
Wonder Woman 1984 trailer: