It's said that new Wonder Woman 1984 and Dune trailers will be released next month as part of the Inception special tenth-anniversary re-release in theaters.
Warner Bros. previously confirmed, "an exclusive sneak peek of select films on Warner Bros.' upcoming slate."
According to foreign theaters, included with the Inception special tenth-anniversary re-release will be an extended 4-5 minute look at Christopher Nolan's Tenet that originally was supposed to be released at CinemaCon, new trailers for Wonder Woman 1984 and Dune, and an introduction by Nolan.
The info comes from Denmark as well as Portugal where the Inception re-release will premiere around Aug. 12 which is ahead of the Aug. 21 premiere in the U.S.
Wonder Woman 1984 and Dune trailers coming with Inception re-release: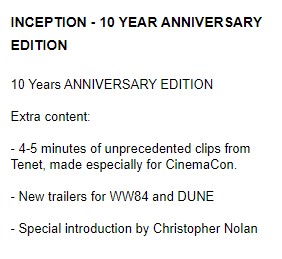 More than likely the trailers will be released online, and it should be noted Warner Bros. also has the DC FanDome virtual con happening Aug. 22, so the Wonder Woman 1984 trailer could be released online a day later.
Tenet gets released Aug. 26 internationally and Sept. 3 in the U.S.; Wonder Woman 1984 has an Oct. 2 release date; Dune hits Dec. 18.
Inception, a 2010 science fiction action film written and directed by Nolan, who also produced the film with Emma Thomas, stars Leonardo DiCaprio as a professional thief who steals information by infiltrating the subconscious of his targets. He is offered a chance to have his criminal history erased as payment for the implantation of another person's idea into a target's subconscious. The ensemble cast includes Ken Watanabe, Joseph Gordon-Levitt, Marion Cotillard, Ellen Page, Tom Hardy, Dileep Rao, Cillian Murphy, Tom Berenger, and Michael Caine.
(via TrailerTrack)