The first reactions for Marvel's WandaVision are in as Disney allowed three episodes to be screened for the press.
Per the norm, the reactions are all positive, so let's hope the trend continues when the series is officially released on Jan. 15 on Disney Plus.
While I haven't seen the show yet myself, we had a discussion about the PG rating on Twitter, and hope the series isn't too goofy.
WandaVision stars Elizabeth Olsen, Paul Bettany, Kat Dennings, Kathryn Hahn, Randall Park, and Teyonah Parris.
The show is described as: The series is a blend of classic television and the Marvel Cinematic Universe in which Wanda Maximoff and Vision—two super-powered beings living idealized suburban lives—begin to suspect that everything is not as it seems.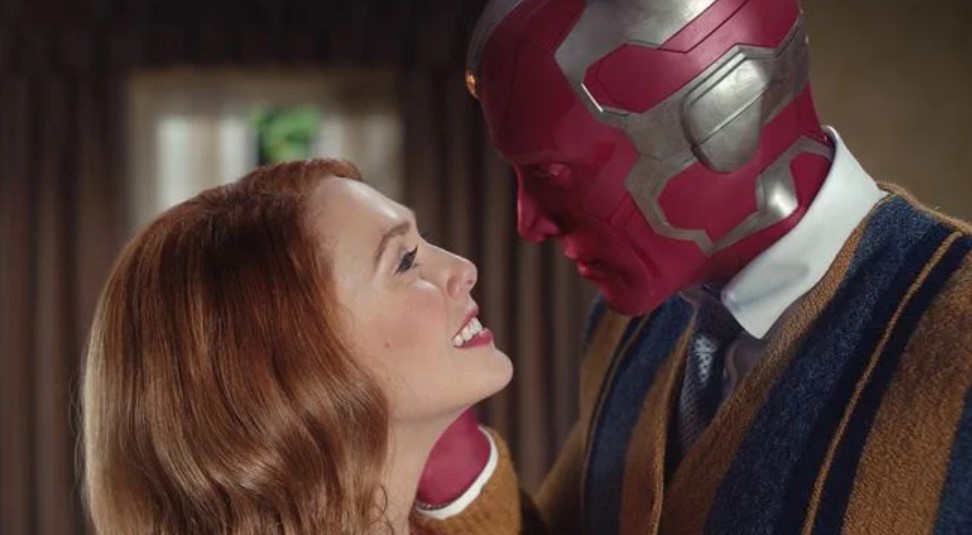 WandaVision reactions:
Also, after heaving seen the first 3 episodes, I only have a hint of what's really going on and am so excited to see where this thing is going.

— Steven Weintraub (@colliderfrosty) January 9, 2021
The entire cast of #WandaVision is great and fully commited to the stylized approach but Elizabeth Olsen's performance is truly outstanding and one of those "Man, if awards shows weren't snobby about superhero stuff, she would likely get an Emmy nomination" situations.

— Eric Goldman (@TheEricGoldman) January 9, 2021
WandaVision – it's a gas! After screening the first 3 episodes, I'm hooked! Fun, clever, and Marvel-ous, the quirky 30-minute sitcom style leaves you wanting another episode each time.#WandaVision pic.twitter.com/HHuTj93cdf

— Tania Lamb (@LolaLambchops) January 9, 2021
How #WandaVision approaches what we think is normal and what isn't makes it an incredibly fun watch just three episodes in. I am impressed at how much it offers fans waiting for MCU content while still showing restraint.

— James Viscardi (@JimViscardi) January 9, 2021
There's a lot to like in #WandaVision, especially Olsen and Bettany's performances, but what I appreciated the most is the chance to experience a relationship that was mostly developed off-screen between MCU films. Starts streaming on January 15! pic.twitter.com/PX965i6BO2

— Wenlei Ma (@WenleiMa) January 9, 2021
The detailed craftsmanship & practicality that went into recreating the spirit of classic sitcoms is absolutely stunning, but the real magic trick is Shakman's mastery over a complex tone. It's hysterical, tense, compelling, otherworldly. One of my FAV MCU entries. #WandaVision pic.twitter.com/vWHIzdi2hz

— Griffin Schiller (@griffschiller) January 9, 2021
Watched the first 3 episodes of #WandaVision yesterday. It's weird & hilarious in ways Marvel has no right attempting, but they nail it anyway. Then it sprinkles in just enough mystery to keep you speculating and fascinated. I'm so excited to see how far it can go. pic.twitter.com/7PIFQiUNxF

— Germain Lussier (@GermainLussier) January 9, 2021
If the first 3 episodes of WandaVision are any indication of what is in store for us, we are in for a wild and crazy ride! This show is banana pants crazy — in the best way possible!

Weird, fun, and simply amazing, it feels so very good to be back in the MCU! #WandaVision pic.twitter.com/IAQPrZuwPq

— MamaVision — #Sundance2021 (@MamasGeeky) January 9, 2021
#WandaVision is definitely one of the most ambitious endeavors from Marvel Studios. Filled with easter eggs and extremely smart in the way it uses the sitcom format to subvert expectations. Those expecting more of the same will be thrown for a loop in the best possible way. pic.twitter.com/FMpdfztYKQ

— Juan Upon A TIme in Hollywood (@juanmadpelicula) January 9, 2021
Elizabeth Olsen & Paul Bettany are tremendous together in #WandaVision. Their chemistry comes through brilliantly and they are a blast to watch. Bettany is especially having a good time & it shows.

There is so much heart, fun, mystery, and darkness between #Wanda and #TheVision. pic.twitter.com/GCIJKBvB73

— BD (@BrandonDavisBD) January 9, 2021
My biggest takeaway, it seems like the cast had a blast filming the series. Lots of joy on screen.

I can't say much but I'm excited to see how #Wanda and her powers play into the plot and what the arrival of #MonicaRambeau means. pic.twitter.com/q8UeVhARwF

— Dorian Parks (@DorianParksnRec) January 9, 2021
My biggest takeaway, it seems like the cast had a blast filming the series. Lots of joy on screen.

I can't say much but I'm excited to see how #Wanda and her powers play into the plot and what the arrival of #MonicaRambeau means. pic.twitter.com/q8UeVhARwF

— Dorian Parks (@DorianParksnRec) January 9, 2021
Fans wanting BIG action scenes may need to adjust their expectations, at least early on, but the beauty of this format is it allows room to hang out w/ characters & revel in the weirdness on display without a story that's relying too heavily on rushing to its next major battle. pic.twitter.com/N451h2KcwO

— Erik Davis (@ErikDavis) January 9, 2021
(via Collider)