It's learned that Marvel's debut series on Disney Plus, WandaVision, will be rated PG, which marks the first MCU property to not have a PG-13 rating.
According to the MPAA rating system used for movies, the PG rating is given for: "Parental Guidance Suggested — Some material may not be suitable for children."
The PG-13 rating is given for: "Parents Strongly Cautioned — Some material may be inappropriate for children under 13."
In regards to PG-rated movies, violence must not be intense and can't be realistic, extreme, or persistent; profanity can be used; no drug use can be featured, and brief nudity is allowed.
As the series is yet to be released, it's unknown specifically why WandaVision has a PG rating, which Disney Plus revealed on its streaming service (see below), but obviously, we can guess it's not on par in terms with what is depicted in the MCU movies in terms of the action and violence.
Some episodes of The Mandalorian are rated PG, while other episodes are PG-13, so possibly WandaVision could be going the same route, or not.
Kevin Feige billed WandaVision as a sitcom series, so the PG rating fits in that perspective, but this is a superhero series we are talking about here and not a goofy kids show.
Is Marvel for kids? The argument could be made.
WandaVision premiers Jan. 15 on Disney Plus starring Elizabeth Olsen and Paul Bettany. Watch the latest promo below.
WandaVision revealed to get PG rating: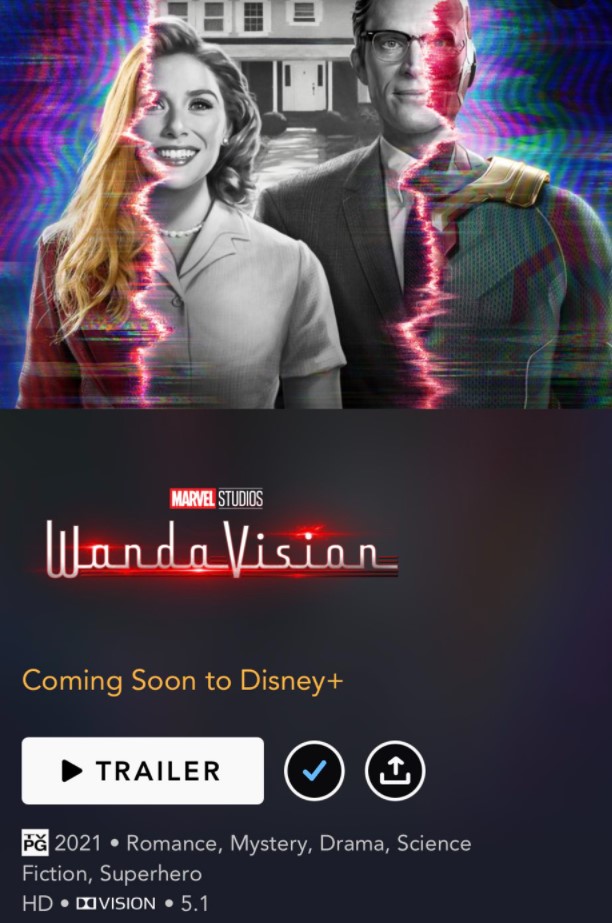 WandaVision promo: