Check out a look at Woody Harrelson as Cletus Kasady in Venom 2 as set pics have hit the net from filming on the movie.
Harrelson can be seen with the classic-looking red hair that Cletus Kasady is known for in the comics, which is also reflected by his symbiote's signature blood-red color.
Filming took place in Oakland, California where Woody Harrelson was also seen with director Andy Serkis.
Venom 2: Woody Harrelson as Cletus Kasady:
Just Jared has more pics including images of a stunt scene where one stuntman is said to have portrayed Tom Hardy's Venom. The stuntman can be seen attached to wires holding another stuntman jumping through the air, which makes it out to look as if Venom saves someone.
Woody Harrelson first appeared in the post-credit scene for Venom and plays the villain of the flick in the sequel with Carnage.
Venom 2 gets released on October 2, 2020 also starring Michelle Williams and Naomie Harris.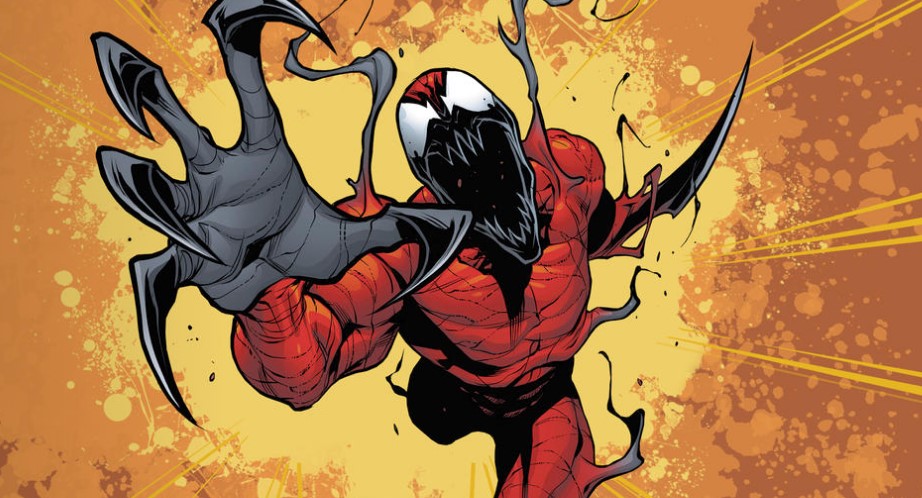 Woody Harrelson plays Carnage in Venom 2
Marvel describes Carnage as:
Carnage was once a serial killer known as Cletus Kasady, and became Carnage after merging with the offspring of the alien symbiote called Venom during a prison breakout. The symbiote amplified his psychotic nature making him even less mentally stable than he had been previously, and therefore even more dangerous. An interesting note is that, unlike Venom, Carnage is a singular entity, referring to himself as "I" instead of "We", because the symbiote has actually merged into Kasady's bloodstream. Carnage is also the "father" of Toxin. A note on his childhood: Cletus' father killed his wife (Cletus' mother) because she tried to kill Cletus. Cletus then testified in court against him, saying that he killed her for no reason, causing him to die by electric chair as means of punishment. It is also unclear on Cletus' relationship with his mother, as he seems to have feelings for her, causing him to dig up her grave at the end of his massacre through New York. He also revealed that he killed his grandmother when he was younger, pushing her down a flight of stairs. Since the alien symbiote adapts to the host's personality, the Carnage symbiote is affected by Kasady's insane mind and lust for destruction.