A Venom 2 trailer is said to be released online soon which has seen a description leak online involving Carnage.
The description hit Reddit earlier in Russian, so it appears as if the description is from a leaked Venom 2 trailer released in Russia.
None of the footage has hit the net as of yet.
Spoilers below!
Note: The Venom 2 trailer description is translated using Google, but you can still get the gist of what's going on.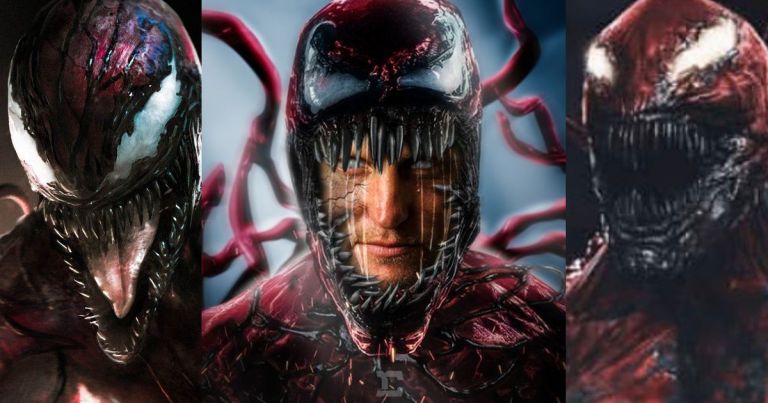 Venom 2 leaked trailer, Carnage description:
The trailer begins with the logo of Marvel and Sony, the next frame is a view of San Francisco, while someone says: "A new hero protects the city." Next we see a scene with children dressed in Halloween costumes in a large house. Next, a man opens the door and gives candy to the children. This man is Cletus Cassady, wearing a mask. Then he says: "Sweetness or muck", then he takes off his mask and it's clear that half of Cassedy's face and half of Karnazh's red face with his mouth open and sharp teeth, then he says: "I think it will be muck, then he laughs. Next, we see scenes with the police chasing Cletus, who is chasing Brock in his red car. Next, a detective asks Brock where Cletus is. In the next scene, Eddie sees the newspaper about the burning of the orphanage, then Cletus's voiceover says: "Take the others's lies - pure art. (This confirms the publication forged by tom hardy instagram photo). In the next scene, we see Eddie walking around the outskirts of San Francisco and talking to Venom: "He will finish this." Next, we see a scene where Brock transforms into Venom in the air, who is trying to climb into the church where Cletus is located. Then the frame darkens and the voiceover of Cletus says: "My goal is more than death." The final scene ends with the policeman shooting at Cletus, but he catches him with a huge shupaltse, then he is distorted into something else, from what he saw, the policeman begins to scream
Venom 2 still has its October 2, 2020 and is presently not delayed due to the coronavirus; Andy Serkis is the director, with the movie starring Tom Hardy, Woody Harrelson, Michelle Williams, and Naomie Harris.