Tom Hardy teases Carnage for Venom 2 in a post on social media, as the sequel is confirmed to also star Woody Harrelson who appeared in the first flick's post-credit scene.
"W3'R'V3N0M2," Hardy posted on Instagram featuring an image of masquerade masks for both Venom and Carnage.
Details are scarce for the sequel, but in addition to Carnage, it is also being said Naomie Harris is set to play Shriek, with rumors offering Harris will also play She-Carnage.
It's further been suggested that Venom 2 is setting up a third film that will adapt the Marvel Comics "Maximum Carnage" storyline and also feature Tom Holland as Spider-Man from the MCU.
Venom 2 gets released on October 2, 2020 directed by Andy Serkis.
Tom Hardy teases Carnage for Venom 2: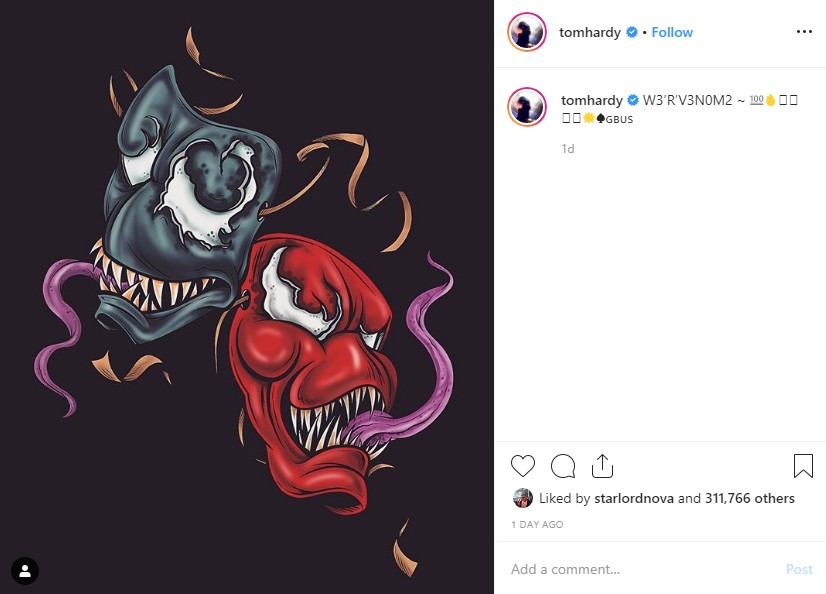 Tom Hardy trains in Jujitsu:
Regarding Tom Hardy and Jujitsu, the actor posted an image of himself training in Brazilian Jujitsu.
Hardy has posted numerous pics on his Instagram regarding the style of martial arts. Watch Warrior featuring Hardy as an MMA fighter, which is pretty good.