And that's all she wrote for both Titans and Doom Patrol as both shows are ending with Season 4 on HBO Max.
Each of the shows recently completed the first half of Season 4, so following the second half airing on HBO Max, that will be the last.
"While these will be the final seasons of Titans and Doom Patrol, we are very proud of these series and excited for fans to see their climactic endings," an HBO Max spokesperson filled in Deadline. "We are grateful to Berlanti Productions and Warner Bros. Television for making such thrilling, action-packed, heartfelt series. We thank Titans showrunner Greg Walker, executive producers Greg Berlanti, Akiva Goldsman, Sarah Schechter, Geoff Johns, Richard Hatem, and the team at Weed Road Pictures. For Doom Patrol, we celebrate showrunner Jeremy Carver and executive producers Greg Berlanti, Sarah Schechter, Geoff Johns, Chris Dingess and Tamara Becher-Wilkinson. For four seasons, fans have fallen in love with the Titans and Doom Patrol, investing in their trials and tribulations, and in their legendary battles saving the world time and time again."
"I'm immensely proud of our gifted cast, crew, and writing staff and their efforts in bringing to life all forty-nine episodes over the last five-plus years," Walker said. "I couldn't have asked for better partners in Berlanti Productions, Warner Bros. Television, and HBO Max, and from the beginning, Geoff Johns and Akiva Goldsman. I'm incredibly grateful for their unyielding trust throughout this process. Lastly, I have to thank our incredible fans for their continued support, engagement, and the passionate community they've built around our show. We have six episodes left to unleash upon the world that we hope will give our beloved characters the creative closure we all know they deserve."
"To our wonderfully supportive partners at HBO Max, Warner Bros. Television, Berlanti Productions, and DC Studios, thank you for indulging us these past four seasons," Carver said. "Also, what were you smoking? To our brilliant cast, indomitable crew, fearless writing staff and, most of all, to our beautiful fans: thank you all the more. You made this a once-in-a-lifetime ride."
The news of the cancellations follows James Gunn and Peter Safran taking over and recently saw Gunn said he will be making announcements soon regarding the future, so perhaps some of those announcements will be new DC TV shows.
Updating: James Gunn replied to a fan blaming him for the cancellation offering that the shows were canceled before he come on board.
"The decision to end the series precedes us. But I certainly wish the best for the talented group of creators, actors, and the rest of the crew that produced both shows," replied Gunn.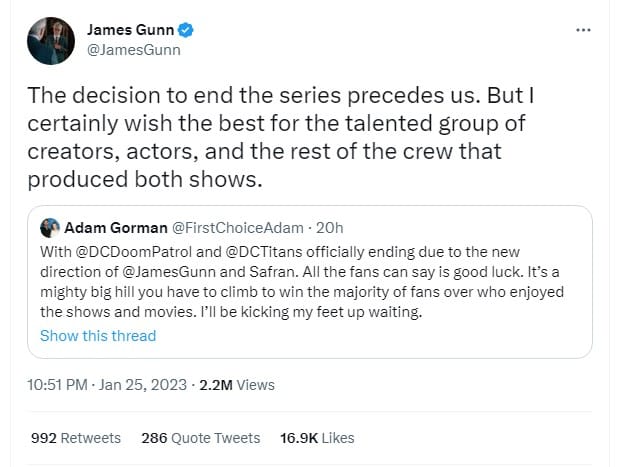 The Flash is also ending with Season 9, Stargirl has been axed, of course, Legends of Tomorrow and Batwoman have been canceled, and the fate of Superman & Lois remains to be seen as does additional seasons of the new Gotham Knights series on The CW.
Matt Reeves is still developing his Batman projects including Penguin, and Gunn is said to be filming Peacemaker Season 2 soon.
Titans and Doom Patrol were a part of the short-lived DC Universe streaming service that also included Swamp Thing, Stargirl, Young Justice, and Harley Quinn.
Producer Greg Berlanti and his production group are sticking with Warner Bros. Discovery as they recently signed a massive new exclusive four-year production deal estimated to be more than $300 million and as much as $400 million over six years.