Three years ago today saw the debut of The Mandalorian on the Disney Plus streaming service, so Lucasfilm and Star Wars have surprised fans by releasing a Baby Yoda Grogu animated short.
The details include that Disney Plus shared a special surprise today for fans of Lucasfilm's The Mandalorian.
A new, original short, "Zen – Grogu and Dust Bunnies," from famed Japanese animation house Studio Ghibli, is now on the streaming service as of Saturday, November 12 in celebration of the third anniversary of the streaming service and the debut of popular Star Wars series The Mandalorian.
The hand-drawn, animated short is directed by Katsuya Kondo with music by Ludwig Göransson.
Check out the poster art below.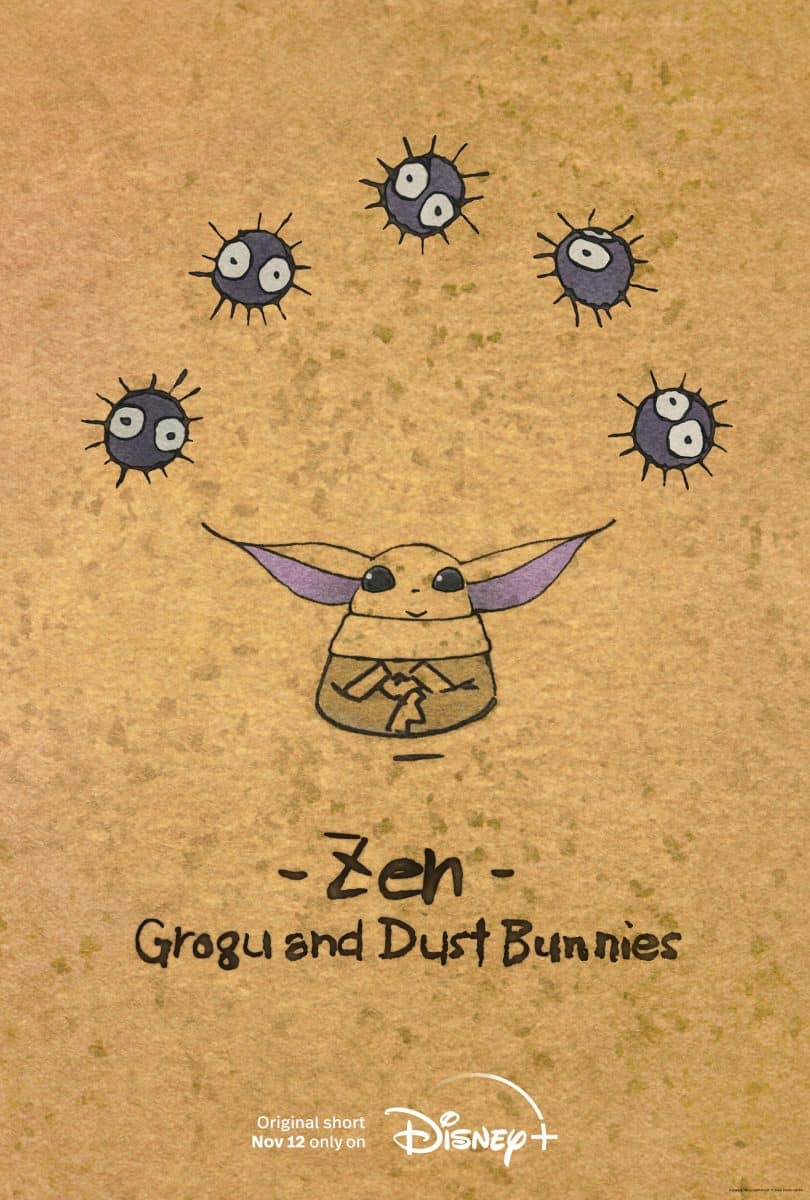 The Mandalorian Season 3 expected Feb. 2023
The Mandalorian launched on November 12, 2019, the same day as the launch of Disney Plus.
Season 3 is set to premiere in February 2023 and stars Pedro Pascal as the lead character. Update: Disney has announced a March 1st release date.
At the recent D23 Expo Held in September, the Season 3 trailer was shown off which teases "You are a Mandalorian no more."
Season 1 is described as: After the stories of Jango and Boba Fett, another warrior emerges in the Star Wars universe. The Mandalorian is set after the fall of the Empire and before the emergence of the First Order. We follow the travails of a lone gunfighter in the outer reaches of the galaxy far from the authority of the New Republic.
Season 2: The Mandalorian and the Child continue their journey, facing enemies and rallying allies as they make their way through a dangerous galaxy in the tumultuous era after the collapse of the Galactic Empire.
Guest stars in previous seasons include Gina Carano, Carl Weathers, and Giancarlo Esposito.
Directors for seasons include Jon Favreau, Dave Filoni, Bryce Dallas Howard, Rick Famuyiwa, Carl Weathers, Peyton Reed, and Robert Rodriguez.
Showrunner Jon Favreau serves as executive producer along with Dave Filoni, Kathleen Kennedy, and Colin Wilson, with Karen Gilchrist and Carrie Beck serving as co-executive producers.