Star Wars fans take to social media to offer up that they want Kathleen Kennedy fired from LucasFilm following the big mess that is the Ewan McGregor Obi-Wan Kenobi series on Disney Plus.
Earlier saw it reported that Disney has placed the Kenobi pre-production on hold as it loses its head writer and that the scripts have been scrapped, with it reported Disney is now looking for a new writer and brand new scripts.
The Kenobi series was recently announced this past Summer at the D23 Expo where Ewan McGregor made a surprise appearance, and most recently saw it thought that McGregor was prepping for a return to the Obi-Wan Kenobi role as he sported the mullet-look at the Golden Globes.
Following the disappointments of the Disney Star Wars movies, particularly with The Last Jedi, and with the Disney Plus The Mandalorian series being so well-received, fans were really, really looking forward to the upcoming Kenobi series, which Disney reportedly fast-tracked and was supposed to start filming on as early as this July.
Now fans are disappointed with Disney Star Wars once again, particularly with Kathleen Kennedy who is said to have not liked the Kenobi scripts, and want the president of LucasFilm, who Disney appointed at the recommendation of George Lucas, fired.
"Kathleen Kennedy" is currently trending on Twitter as Star Wars fans voice their frustrations.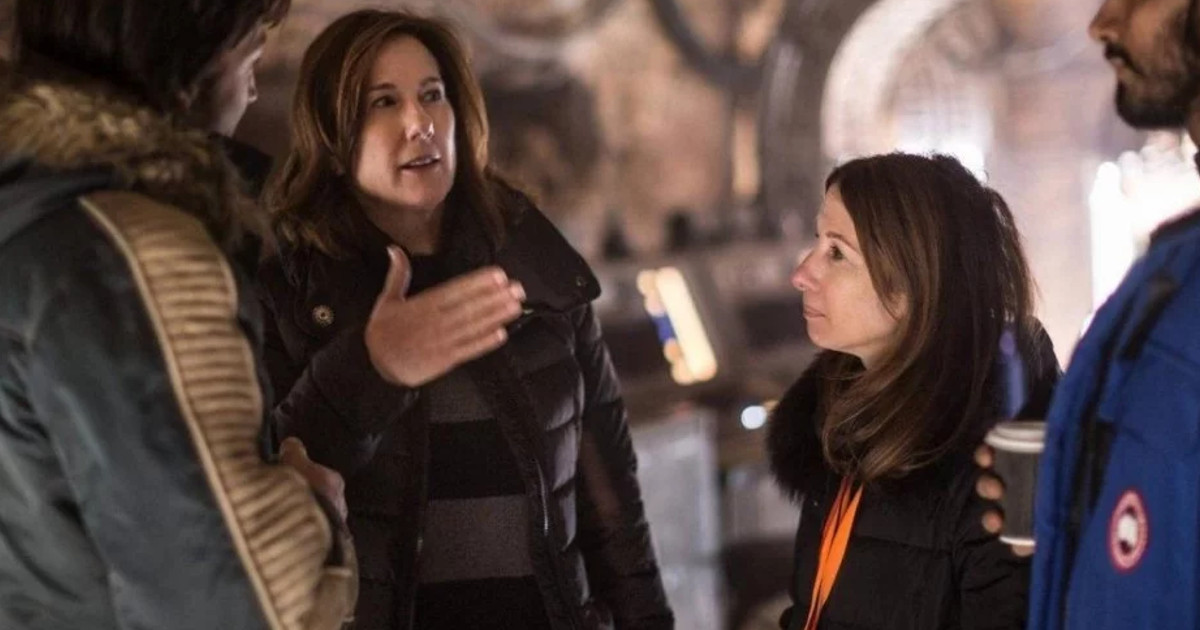 Star Wars fans not happy with Kathleen Kennedy
Bob Iger should fire Kathleen Kennedy, scrap everything she's done, and restart the whole Disney #StarWars era from scratch, starting with a proper #ObiWan movie followed by a rebooted (and planned out) Sequel Trilogy with competent writers & visionary directors. This is the way. pic.twitter.com/Tf1ClUuEB0

— ⚡T E V E N ⚡️K Y W A L K E R (@StevenWayneArt) January 24, 2020
Disney needs to somehow get rid Kathleen Kennedy & lemme take charge of Star Wars

My first change will be make all of the sequels not canon

Second, make everyone related to Sheev Palpatine

Everyone working on Star Wars needs to legally change their name to Palpatine or fired.

— Plathanos —— #HIVESZN (@SavinTheBees) January 24, 2020
They need to get rid of her. I reckon she's just poison for #StarWars She's just business all the way, that's all. She don't really care about what she's making money from. pic.twitter.com/vRyvVcmanO

— Ms Darlene (@Darleneillyana) January 24, 2020
Apparently Kathleen Kennedy is "unhappy" with the scripts for the Obi-Wan Kenobi series.

That series could literally be filmed with NO script at all & still end up being better than toxic abomination the Last Jedi, a movie whose script met with Kennedy's full blessing.

— Subversive Jake (@subversivejake) January 24, 2020
Why is Kathleen Kennedy not fired?

Rogue one: Major story changing reshoots

TLJ: Let the director derail the trilogy

Solo: Fired directors leading to major story changing reshoots #SoloLostMoney

tRoS: Major pivots, Major Reshoots, multiple cuts. Box office lowest of trilogy. https://t.co/ju8PyGJN1Y

— 1/4 Black Garrett (@QTRBlackGarrett) January 24, 2020
Star Wars twitter the day Kathleen Kennedy's contract expires pic.twitter.com/iJK87kLeVF

— Shit Reylos Say (@ShitReylosSay) January 24, 2020
Everyone when Kathleen Kennedy puts #ObiWan Kenobi "on hold indefinitely": pic.twitter.com/NyTuM5PtFa

— Sad Kylo Ren (@KyloIsSad) January 24, 2020
me locking kathleen kennedy out of the lucasfilm headquarter pic.twitter.com/vRBgwl5he5

— qi'hedna (@monsieurkenobi) January 24, 2020
Just a reminder that Kathleen Kennedy says that Star Wars lacks source materials to work with pic.twitter.com/LtlAo3CPIX

— Ziggy (@mrjafri) January 24, 2020
Kathleen Kennedy should be fired at this point. https://t.co/q8p7Pgu6Np

— Victor @ Home (@Killafoe1) January 23, 2020
we need to get kathleen kennedy fired IMMEDIATELY pic.twitter.com/yYvClVUygI

— joel miller's pr manager (@sithvadr) January 24, 2020