Spider-Man: Across the Spider-Verse takes a big bite out of the Transformers: Rise of the Beasts box office as the two films battle it out for first place of the weekend.
In its second weekend, Across the Spider-Verse shows off its legs as it is estimated to bring in $55.88 million which is only a decline of 53.6 % from last week's $120.6 million opening.
Transformers: Rise of the Beasts opened this weekend which introduces the masses to the Primals, Predacons, and Unicron and opened to around $60 million. The number is a lot better than what Bumblebee opened to in 2018 with $21.6 million and even Bumblebee's $34 million four-day Christmas long weekend.
What about the Michael Bay Transformers movies?
Well, Rise of the Beasts outperforms 2017's The Last Knight of $44.6 million, but the numbers are basically the same when adjusted for inflation, so that probably means the same number of people went to see the flicks.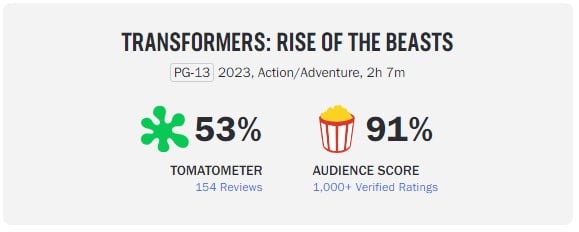 The big difference between the two looks to be the reception as the critics and fans despised The Last Knight while Rise of the Beasts does seem to be at least liked by the fans.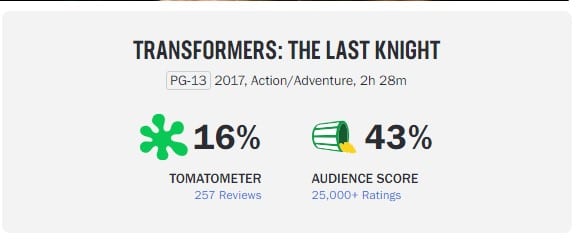 The Last Knight did finish with over $600 million thanks to a big international box office, so we'll have to see if the foreign audience shows up for Rise of the Beasts as well (the other Bay movies opened around a hundred million and made billions so there is no comparison there).
What I found interesting about Spider-Man: Across the Spider-Verse and Transformers: Rise of the Beasts playing at the same time is that Rise of the Beasts wasn't playing in Regal RPX theaters (my theater of choice) in my area but in its second week, Across the Spider-Verse held those RPX theaters, so that could have taken something away from the Rise of the Beasts box office.
I suppose the good news is that if these flicks are actually any good, they'll have legs and people will continue to go see them throughout the Summer.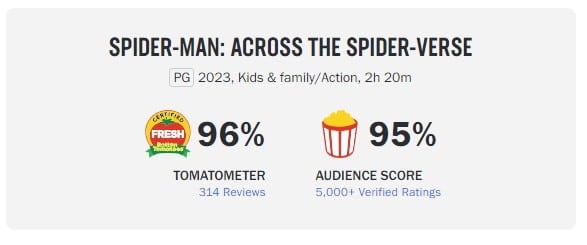 There's hefty competition with The Flash opening, Disney's Elemental, and Lucasfilm's Indiana Jones 5.
Maybe they are all decent flicks and people can simply go to the theater any time they feel like it this Summer and enjoy a movie. Guardians of the Galaxy 3 is also playing and will pass $800 million this weekend, while The Little Mermaid continues drowning with less than $400 million worldwide, and if you are in the mood for a horror flick, Stephen King's The Boogeyman is playing (61RT/67AS).