Aldis Hodge and Zachary Levi have some fun on social media teasing Shazam vs Hawkman where Dwayne Johnson, DC's Black Adam, also chimes in.
Hodge posted a pic on his Instagram of himself with Zachary Levi at Topgolf, a golf, party venue, sports bar and restaurant.
"(Read this in movie announcer voice) In a world where two superheroes collide at Topgolf, an epic battle is on the horizon. Who will conquer? Who will meet defeat? Who will throw their back out trying to swing a golf club way too damn hard??? Coming to the big screen next summer, #Shazam VS. #Hawkman in 'Golf Is Life, Fa Real Tho,'" posted Hodge.
Dwayne Johnson, who produces both movies, responded in the comments on Hodge's post, "I don't care if it's golf, cooking or haiku poetry – if you don't beat Shazam's ass – you're never flying the Hawk Cruiser again!!"
Levi replied on his own Instagram, "Hawkman and Shazam walk into a bar…that also happens to be a dope ass driving range that makes golf like bowling and I'm LIVING FOR IT!!!"
Hodge commented, "But who won though??? Tell the truth."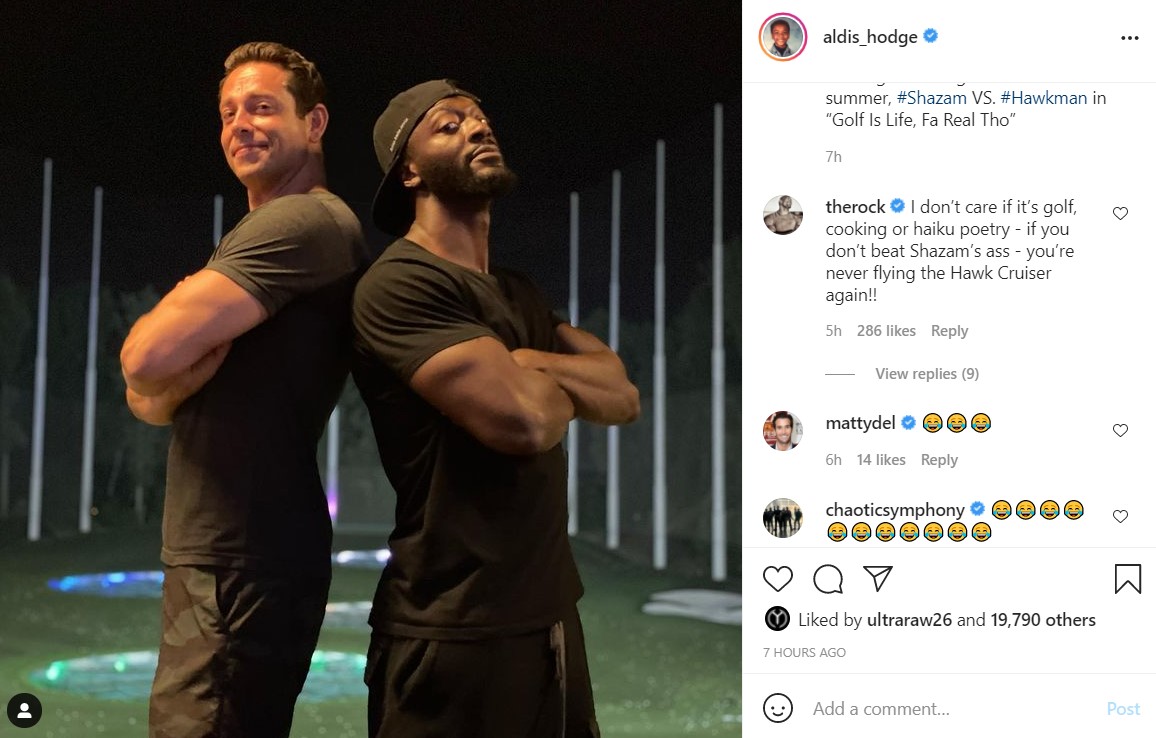 Aldis Hodge is set to play Carter Hall / Hawkman in the Black Adam movie, so he won't be taking on Zachary Levi just yet, but if everything goes according to plan, who knows, maybe they can battle it out some time down the road — that is if Hodge's Hawkman survives Black Adam which will feature the Justice Society battling Dwayne Johnson. Rumors offer the JSA will actually be battling Black Adam not once but twice in epic battles.
Both movies are now filming.
Check out a pics below of Zachary Levi in the new Shazam suit where he looks in pretty good shape. Speaking of, Dwayne Johnson recently let it be known that he won't be wearing a padded muscle suit for his Black Adam costume.
"And YES, our goal for BLACK ADAM was to create a real life superhero/villain physique and become the first actor who did NOT require padded muscle in their superhero costume," posted Johnson back in April.
Black Adam has a July 29, 2022 release date; Shazam: Fury of the Gods hits June 2, 2023.
Zachary Levi filming Shazam! 2 with new costume:
The first "Shazam 2" set pics are here and we have tons of photos of Zachary Levi back in action on the set of the highly anticipated sequel: https://t.co/fzYLEw8asD

— JustJared.com (@JustJared) June 3, 2021