The social media embargo for the Shazam! reactions has been lifted, with the movie said to be overwhelming positive including that it is "tremendously fun."
Warner Bros. has also announced an early screening taking place two weeks early, so WB apparently has a lot of faith in the flick, and following Wonder Woman and Aquaman, the DCEU could have its third big hit.
Up next from DC is the R-rated Vertigo movie, The Kitchen, followed by the Todd Phillips and Joaquin Phoenix The Joker. Both the movies are standalone and not a part of the DCEU. Birds of Prey is the next DCEU film and hits February 2020.
Here is the current list of DC films that have a release date:
Shazam! – April 5
The Kitchen – August 9 (Vertigo)
Joker – Oct. 4, 2019 (Joaquin Phoenix standalone)
Birds of Prey – Feb. 7, 2020
Wonder Woman 1984 – June 5, 2020
The Batman – June 25, 2021
The Suicide Squad – Aug. 6, 2021
Aquaman 2 – Dec. 16, 2022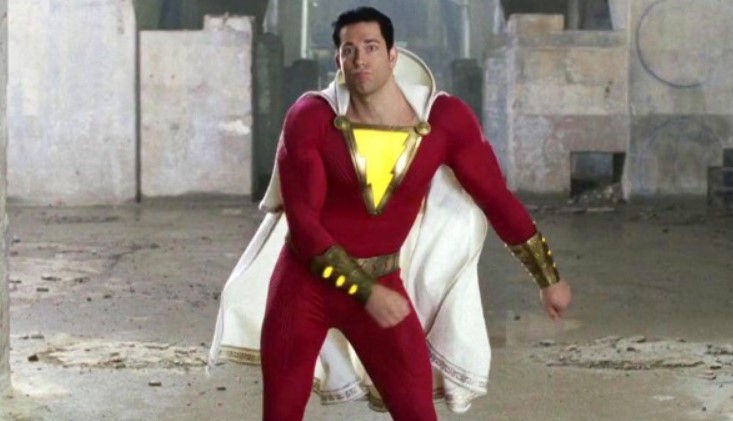 Shazam! reactions:
#Shazam is such a brilliant movie. It's so tremendously fun, and incredibly scary at some points (thanks, David F. Sandberg!). It blows away every expectation and is my new favorite DC movie. pic.twitter.com/DlpymCukTP

— Brandon Davis (@BrandonDavisBD) March 8, 2019
#Shazam was damn near PERFECT in my book. My FAVORITE DC movie (DCEU? What are we saying now?) by far. Pure of heart, incredibly funny, full of in-jokes and references. Brought me a childlike joy to watch. This role was MADE for @ZacharyLevi… & Jack & Asher & the entire cast pic.twitter.com/rVrxjcwvCe

— Ash Crossan (@AshCrossan) March 8, 2019
#Shazam is big, goofy, lovable, and unlike anything DC has done before. Definitely in the vein of Tom Hanks' BIG, but with superhero action & lots of Batman and Superman references. I dug this film so much I wanted to give it a bear hug at the end. DC's movies keep getting better pic.twitter.com/WQJgo61gMg

— Erik Davis (@ErikDavis) March 8, 2019
#Shazam is an absolute delight! Super vibrant, tons of heart & a great fun-loving vibe. The family element is a big charmer & so is the humor that comes with watching @ZacharyLevi explore his new powers. Said this after IT but it's worth repeating – @Jgrazerofficial is a star.

— Perri Nemiroff (@PNemiroff) March 8, 2019
Zachary Levi was born to play #Shazam He delivers lots of laughs alongside co-star Jack Dylan Grazer. The film packs some big surprises for comics buffs and offers enough mainstream appeal to win over new fans. Shazam's strengths definitely outweigh its weaknesses. pic.twitter.com/kfFMW01jfO

— Jim Vejvoda (@JimVejvoda) March 8, 2019
Finally allowed to say that #Shazam was fantastic! Full of heart and pure childhood wish fulfillment. It's funny and the tone is exactly right. @zacharylevi is perfect in the role, and so is @asherangel, who I'm convinced is @maisie_williams' brother! pic.twitter.com/DXhp2ZBteR

— Jenna Busch (@JennaBusch) March 8, 2019
#Shazam is an absolute joy. Both definitely in the DCEU and nothing at all like any DCEU movie so far, it's funny, warm, good hearted and silly and the cast is terrific. Watch out for our review soon. pic.twitter.com/NNPU5hqNtv

— Den Of Geek UK (@denofgeek) March 8, 2019
#Shazam is emotionally uneven, yet absolutely FUN. @ZacharyLevi perfects Shazam, though @Jgrazerofficial is the real hero here. All in all, it's an average superhero movie – but it's one that feels like a breath of fresh air. pic.twitter.com/zwfG1hqidE

— Mansoor Mithaiwala (@MansoorAYM) March 8, 2019
#Shazam is parts Home Alone, parts Big, a crowd pleasing family-friendly joy-filled wish-fulfillment superhero film which gets a bit over the top and cheesy at times. It's fun and funny, and I was surprised at how much it wears it's heart on its sleeve.

— Peter Sciretta (@slashfilm) March 8, 2019
#Shazam is a laugh-out-loud funny romp that captures the innocence and challenge of being both a superhero and a kid at once. It's clever, fun and heroic with an obvious nod to 80s classics like Big, Ghostbusters, The Goonies etc. @joblocom @ShazamMovie

— Paul Shirey (@arcticninjapaul) March 8, 2019
DC is finally building a solid run: #Shazam is a delight! Its familiar origin structure is forgivable because of all the new it brings to the table – primarily it's gleeful, childlike enthusiasm, & heartfelt perspective on family. It's also the role Zachary Levi was born to play. pic.twitter.com/5zXtfFDBGm

— Eric Eisenberg (@eeisenberg) March 8, 2019