A new Secret Invasion trailer gets released tonight by Marvel for the Disney Plus series and also confirms the release date.
"Who do you trust" teases the poster featuring Samuel L. Jackson as Nick Fury -but maybe not – as the poster also features and references the series being about the Skrulls that have the ability to shapeshift.
Update: Watch the trailer.
"We don't know who's a friend, who's the enemy," Jackson recently Vanity Fair. "There's a political aspect that kind of fits into where we are right now: Who's okay? Who's not? What happens when people get afraid and don't understand other people? You can't tell who's innocent and who's guilty in this particular instance."
Cobie Smulders also said, "Listen, I would've loved superpowers at some point, but it's also intriguing playing a human in this world, because you've made the choice to really put your life in jeopardy. This is a Marvel story where the humans can shine. Even though there are aliens, and there's going to be extraordinary fight sequences, this is about people on the ground talking to each other, and interviewing people, and really doing hands-on work to get the information needed."
The poster also features the June 21st release date first revealed and then yanked by the Disney Plus website which also features the following cast:
Samuel L. Jackson as Nick Fury
Ben Mendelsohn as Talos
Cobie Smulders as Maria Hill
Kingsley Ben-Adir as Gravik
Emilia Clarke as Abigail Brand
Olivia Colman as Sonya Falsworth
Martin Freeman as Everett K. Ross
Don Cheadle as James "Rhodey" Rhodes
Dermot Mulroney as United States President Ritson
Undisclosed Roles: Killian Scott, Christopher McDonald, Carmen Ejogo, and Charlayne Woodard
Secret Invasion stars Samuel L. Jackson as Nick Fury and Ben Mendelsohn as the Skrull Talos—characters who first met in Captain Marvel. They are joined by Kingsley Ben-Adir, Emilia Clarke, and Olivia Colman. The crossover event series showcases a faction of shapeshifting Skrulls who have been infiltrating Earth for years. Don Cheadle will also be reprising his longtime role as Colonel James "Rhodey" Rhodes.
Secret Invasion poster: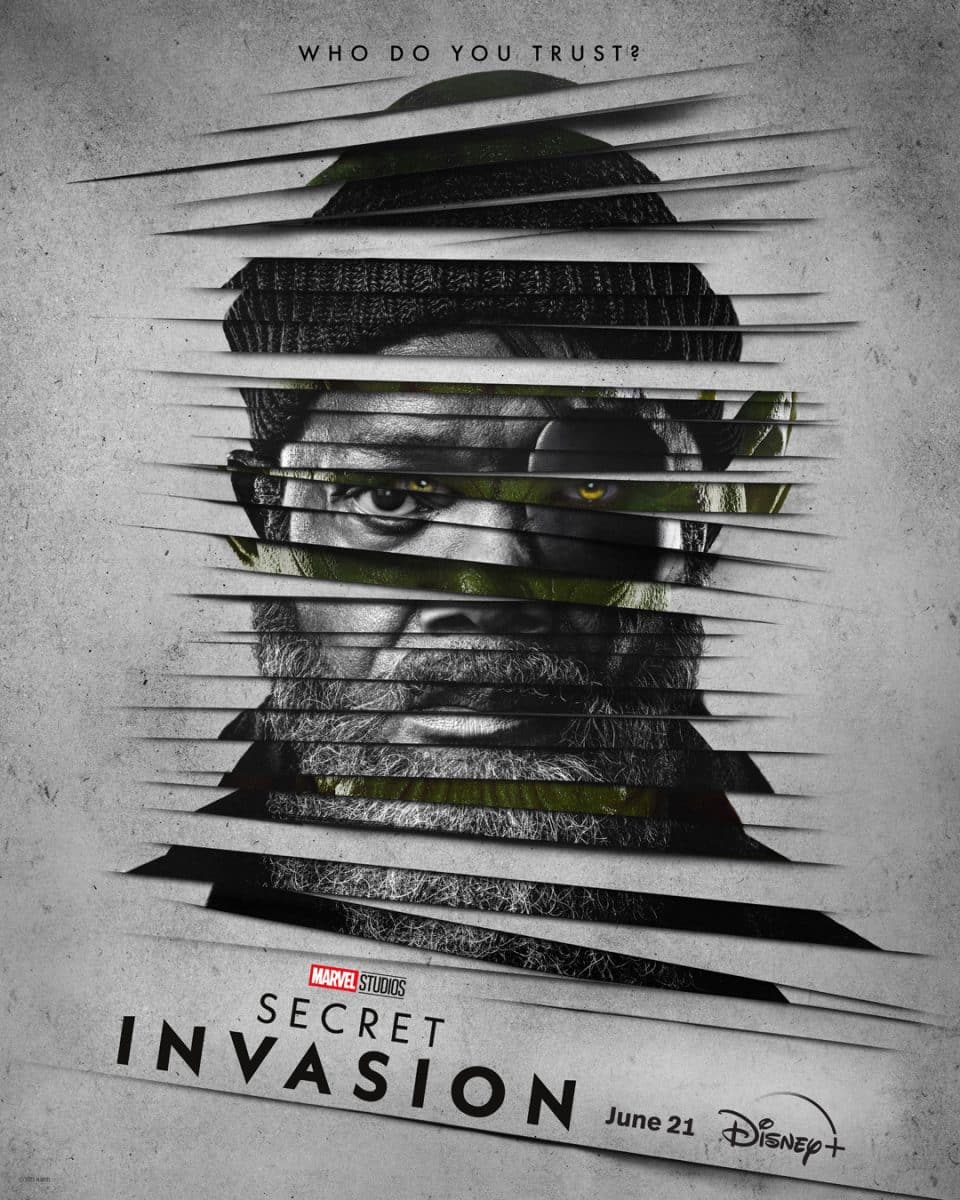 Watch the first trailer: