Things continue to be really bad for Wonder Woman 1984 as now Rotten Tomatoes has removed its "Certified Fresh" Rotten Tomatoes rating.
Wonder Woman 1984 was looking like a blockbuster when the first batch of advanced reviews hit the net, as Wonder Woman 1984 had an 89% positive critics score, so it also got the "Certified Fresh" rating, which is something often used to help promote the movie.
However, the Wonder Woman 1984 Rotten Tomatoes score has absolutely tanked as it is now at 65% with 284 reviews accounted for.
Here is a screenshot from Dec. 25 showing the "Certified Fresh" Rotten Tomatoes rating followed by one from today with it removed: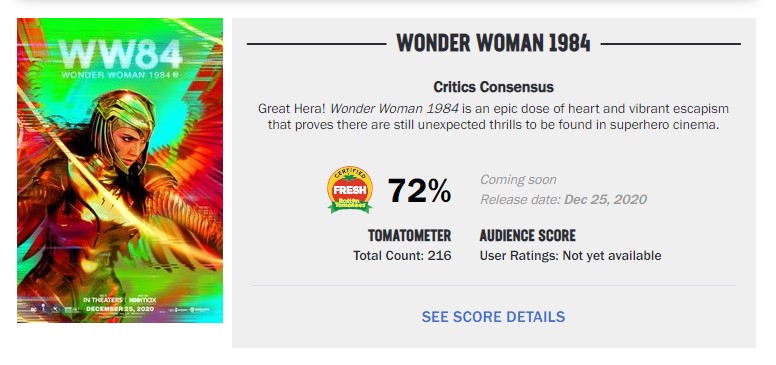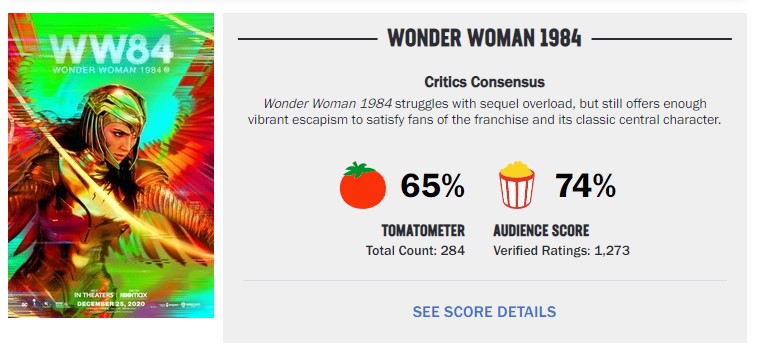 Wonder Woman 1984 is a complete disaster
According to Rotten Tomatoes: "Movies and TV shows are Certified Fresh with a steady Tomatometer of 75% or higher after a set amount of reviews (80 for wide-release movies, 40 for limited-release movies, 20 for TV shows), including 5 reviews from Top Critics."
Since Wonder Woman 1984 has dropped below the 75% mark, we see why "Certified Fresh" has been removed.
Regarding why the flick is performing so poorly, fans and critics alike don't like the script, they don't like the campy and goofy tone of the movie which is completely the opposite of how Zack Snyder used Wonder Woman in Batman vs. Superman and the upcoming Snyder Cut of the Justice League movie, they don't like the special effects, villains, and aren't happy with how different it is compared to the first Wonder Woman movie which most people loved.
It also seems apparent that director Patty Jenkins and star Gal Gadot knew how bad it was going to be as instead of doing Wonder Woman 3 next, Jenkins and Gadot are reteaming for Cleopatra, and Jenkins is also directing the Star Wars Rogue Squadron movie at Disney. Imagine if Christopher Nolan didn't want to do The Dark Knight Rises after The Dark Knight but did a different movie with Christian Bale, get it?