Following the controversy surrounding the Captain Marvel movie, Rotten Tomatoes announces it is making major changes to its site and scoring system.
"Starting this week, Rotten Tomatoes will launch the first of several phases of updates that will refresh and modernize our Audience Rating System," the site announced in a post. "We're doing it to more accurately and authentically represent the voice of fans, while protecting our data and public forums from bad actors."
Update: Rotten Tomatoes has released an official press release about the new roll out.
The post notes the changes at Rotten Tomatoes include the rating that caused the controversy surrounding Captain Marvel, the "Want to See" rating, will no longer be shown (the site doesn't mention Captain Marvel specifically, but let's be honest). The site says the "Want to See" rating is different than its "Audience Score" rating, as the latter is made available only after the film's release, which has caused confusion. Now, instead of a "Want to See" rating, the site will simply show the number of fans that want to see the movie and will avoid revealing the number of fans that don't want to see the movie:
As of February 25, we will no longer show the 'Want to See' percentage score for a movie during its pre-release period. Why you might ask? We've found that the 'Want to See' percentage score is often times confused with the 'Audience Score' percentage number. (The 'Audience Score' percentage, for those who haven't been following, is the percentage of all users who have rated the movie or TV show positively – that is, given it a star rating of 3.5 or higher – and is only shown once the movie or TV show is released.)
Rotten Tomatoes further announces they are disabling comments before a movie's release claiming "we have seen an uptick in non-constructive input, sometimes bordering on trolling." It is also noted, "Once a movie is released, audiences can leave a user rating and comments as they always have."
Checking the new Captain Marvel Rotten Tomatoes page now shows that the "Want to See" score percentage is not available, but that it states over 14,000 fans want to see the movie. In the previous version of the page now removed, it showed only 33% of over 34,000 fans wanted to see the film. That is a huge difference. Worth a mention is that if there is confusion surrounding the "Audience Score" versus the score for people that "Want to See" the movie, no matter what it is called, it still showed the percentage number prior to the film's release of people that wanted to or didn't want to see the movie. Now the update only shows what in reality is a 100% number in favor of going to see the movie. What Rotten Tomatoes has done, is removed anything that could be deemed negative surrounding any movie prior to that movie's release.
The change isn't actually surprising and it is something various sites and even studios have been complaining about for years, basically, because it's bad publicity, so now see that factor has been removed. Is it ethical of Rotten Tomatoes to remove anything that can be deemed negative surrounding a movie? Sure thing, absolutley. Could Rotten Tomatoes have done a better job to ensure the numbers were correct (or maybe they are correct, which is the real issue)? Again, yes. Bear in mind Rotten Tomatoes never represented itself as a news media outlet or an outlet of truth and it is owned by ticket-seller Fandango and in part by Warner Bros., so again, the changes are not surprising.
For reference, here is the original version of the Captain Marvel Rotten Tomatoes page: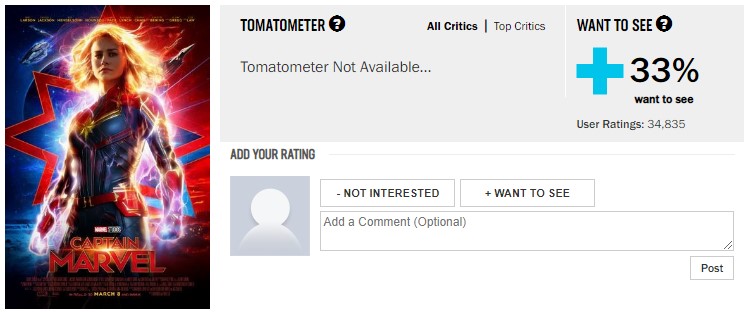 Here is the updated new version, where you notice the blue rectangle at the bottom lists the number who simply have stated they want to see the movie, which looks a lot better than a percentage that may or may not want to see the movie: