An update to last night's story regarding Rotten Tomatoes changing things in a big way in the wake of the Captain Marvel controversy, the review aggregate site has now released an official press release announcing the changes and new roll out.
The big changes include that Rotten Tomatoes will no longer list a percentage for fans that "want to see" the movie (which also reveals the percent who do not want to see the movie), but simply will only show the whole number of fans that have said they do want to see the movie (see screen grabs below). The changes also include that prior to a movie's release, fans will no longer be able to post reviews or comments. As I noted, this effectively removes anything that can be construed as negative surrounding a film before its release.
Regarding the Captain Marvel controversy, the film's "want to see" percentage score dropped into the 20s with over 50k votes (meaning 80% or so claim they don't want to see it), in addition to fans voicing their dissatisfaction in the review section. The new Rotten Tomatoes system will now only show the positive number of fans that have stated they want to see the movie and won't show a percentage of fans that want to and don't want to see the movie, in addition to not showing any comments.
Before: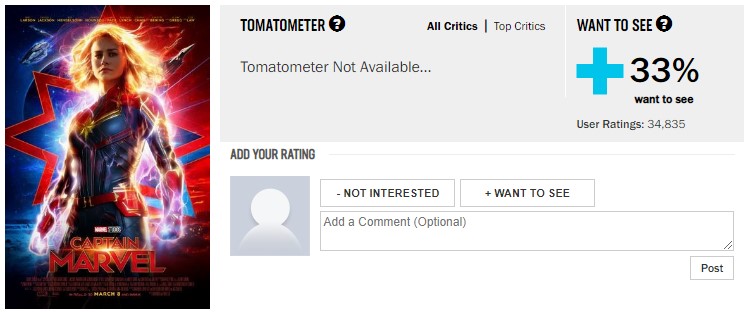 After: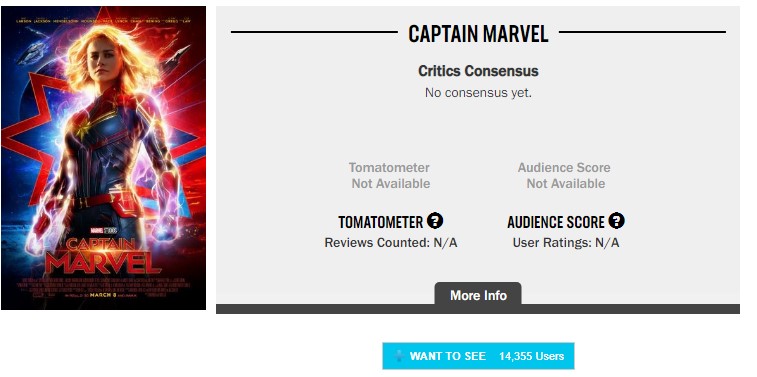 Here is the official announcement:
ROTTEN TOMATOES BEGINS ROLL OUT OF NEW AUDIENCE RATING SYSTEM
DESIGNED TO ELEVATE THE VOICE OF FANS AND INCREASE DATA RELEVANCE
Rotten Tomatoes Kicks off First in a Series of Product Enhancements to its Audience Rating System, Beginning Today with New Movie Pre-Release Functionality
LOS ANGELES (February 26, 2019) – Rotten Tomatoes, entertainment fans' go-to destination for movie and TV show discovery and recommendations, announced plans to modernize its audience rating system through a series of product enhancements, with the first phase launching today featuring new functionality for pre-released movies. With the development of its new audience rating system well underway, Rotten Tomatoes' goal is to deliver a best-in-class destination for fans to share their opinions of movies and TV Shows, while connecting with other fans in a thoughtful community of pop culture lovers.
"Over the past few years, Rotten Tomatoes has been evolving into a robust movie and TV show recommendations platform that celebrates the views of professional critics and fans alike, and encourages discussion and debate," said Ara Nalbandian, Head of Product and Technology, Rotten Tomatoes. "We continue to invest in our product to deliver useful and relevant resources for fans and are in development on new tools to help fans express their opinions and connect with others."
Rotten Tomatoes plans to roll out a range of new enhancements to its audience ratings system in the months to come, such as new audience score iconography, personalization and community features, verified reviews from ticket purchasers, enhanced security to protect its data integrity, and more. The first product enhancements launching today include:
Streamlined user interface that positions the Audience Score adjacent to the Tomatometer Score, which represents the collective opinions of thousands of professional critics, giving fans easy access to compare and contrast critic's and fan's view of movies and TV shows.
Prior to a movie's release, fans will no longer be able to leave written comments or reviews. That functionality will be available once the movie releases into theaters.
The fan "want to see" score, which was previously represented as a percentage, will now be presented as a raw number that will be tallied in real time. This change seeks to eliminate the confusion that sometimes occurred between the "want to see" score and the "audience score" which is also represented as a percentage.
Throughout the roll out of new audience rating features, Rotten Tomatoes will call out enhancements on the site and link to a product update blog, where users can find explanations.
In addition to providing a destination for fans to share their movie and TV show opinions on the Rotten Tomatoes website and social platforms, fans will also be able to participate in Rotten Tomatoes' marquee live event "Your Opinion Sucks: Fans vs. Critics" at various festivals like at SXSW in Austin this March and other regional festivals and conferences during the year.
Last August, Rotten Tomatoes made a major enhancement to its critics community, by debuting revamped critics criteria for its popular Tomatometer rating system, which aggregates the collective opinions of thousands of Tomatometer-approved critics for movies and TV shows. With an increased focus on the critic's individual qualifications versus their publication, Rotten Tomatoes' goal was to enable a wider and more diverse pool of critics' perspectives to be included in the Tomatometer. Since launch, more than 500 new Tomatometer-approved critics and publications have been added as part of the continued brand enhancement with many more to come.
Additionally, Rotten Tomatoes announced the establishment of a $100,000 grant program to create more opportunities for critics serving underrepresented groups to cover major film festivals and gain access to press screenings. To date, Rotten Tomatoes has donated $25,000 a piece to the press inclusion initiatives at the 2018 Toronto International Film Festival, 2019 Sundance Film Festival and the upcoming SXSW Film Festival and Conference this March.
Also, in 2018 Rotten Tomatoes introduced a new visual brand identity, including a new logo and icons representing fresh, rotten and certified fresh movies and TV shows. The new logo and icons can be seen on Rotten Tomatoes' online, mobile, social and video platforms as well as on partner platforms. The redesign offers a modern, new look and feel, while maintaining elements familiar to fans.