"What a tangled web we weave…" as the saying goes…
On Monday, without notice, the movie review aggregate website Rotten Tomatoes removed fans' ability to vote on whether or not they wanted to see a movie as well as the ability to comment on what they thought of the film. Rotten Tomatoes replaced the "Want to See" rating with a whole number, which obviously looks better than a percentage that reveals how many fans also did not want to see the film.
While Rotten Tomatoes denies it (see below), it is thought the reason the website changed things is because of the reaction to Disney and Marvel's Captain Marvel movie, which had seen its "Want to See" rating plummet to the low 20th percentile or so (meaning 80% of fans do not want to see it). In addition, many fans took to the site to voice their dissatisfaction with the film and Brie Larson who has made controversial statements while doing press for the film. Now both those user options have been removed and fans will only be able to vote and offer their thoughts after a movie gets released. Rotten Tomatoes' initial blog post about the changes even blamed "trolling," which obviously implies those fans reacting to Captain Marvel (and even Disney's Star Wars: Episode IX), so their denial seems in vain.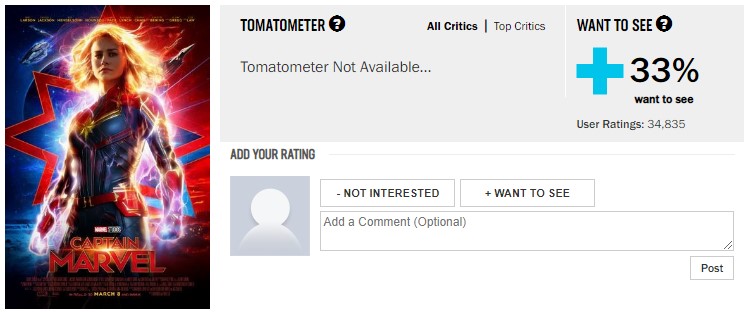 CNET caught up with the president of Fandango (which owns the site), Paul Yanover, who denies the Captain Marvel and Star Wars: Episode IX allegations.
"(The changes) are not simply a reaction to, 'Oh, gee, there's some noise created around (certain movies),'" Yanover said. Yes, some adjustments are aimed as what he calls "noise reduction," when high-profile films such as Captain Marvel or Star Wars movies attract trolls with agendas. But as a whole, these changes are part of a long-term site strategy, he said.
Yanover further comments on the early user review feature being taken down:
"Expressing that you don't want to see a movie is not a review," Yanover said.
When fans around the world learned of Rotten Tomatoes making changes, some cried foul, claiming that it may have had something to do with Disney; however, Rotten Tomatoes is owned by Fandango and a small percentage by Warner Bros. Yanover reacts to the Disney allegation:
"None of (the site is) owned by Disney," he said, noting that the idea that there was "some predestined arrangement between ourselves and Disney is completely untrue.
While Rotten Tomatoes is owned by Fandango and WB, what's rather interesting – and it is something that Yanover and the article conveniently fail to mention – is that Yanover has a huge connection to Disney, as he is a former Disney digital executive. Back in 2012 when Yanover was announced as the new president of Fandango, the official press release offered the following:
Fandango, the nation's leading moviegoer destination, has appointed former Disney digital executive Paul Yanover to the newly created position of President.

A seasoned entertainment, ecommerce and technology veteran, Yanover brings more than two decades of experience to his new post. Yanover served as executive vice-president and managing director of Disney Online, the entertainment and lifestyle digital product group of the Disney Interactive Media Group. He grew traffic across the digital brands to peak at 36M unique visitors – a 50% increase – and more than tripled ad revenue. In this role, he oversaw all Disney-branded strategic, creative, technical, and marketing initiatives on the Internet and mobile web, from Disney.com to Disney's suite of premium digital products including online games, virtual worlds and streaming service Disney Movies Online.

Yanover also led development of Disney's network of family-targeted sites including Family.com, FamilyFun.com, Kaboose.com, and Babyzone.com and drove unprecedented engagement with consumers and advertisers across multiple platforms, including video streams and mobile content delivery. Prior, Yanover served as senior vice-president of Disney Parks & Resorts Online, overseeing the ecommerce business across Disney's resorts and theme parks worldwide, leading to more than a 300% increase in overall online revenue during his tenure. Yanover began his career with Disney at Walt Disney Feature Animation, ultimately becoming vice president of technology and digital production for the division.
(h/t YouTube)