Oscar Isaac will be starring in the Metal Gear Solid movie, based on the popular video games, as Solid Snake.
The flick is in development at Sony Pictures with Jordan Vogt-Roberts (Kong: Skull Island) on board to direct.
The script is being written by Derek Connolly (Jurassic World movies, Star Wars: Episode IX – The Rise of Skywalker, Pokémon Detective Pikachu, Kong: Skull Island, Safety Not Guaranteed).
Avi Arad is producing, and Peter Kang is the executive overseeing for the studio.
The first Metal Gear video game was released in 1987 in Japan and Europe and was created by Hideo Kojima. A ported version was released for the Nintendo Entertainment System globally from 1987-89, with a sequel released in 1990.
The first Metal Gear Solid game was released on Playstation in 1998 and spawned numerous prequels and sequels.
The games have sold more than 56 million copies worldwide.
Fans actually cast Oscar Isaac as Solid Snake years ago, as Isaac liked fan art.
"This… is awesome," said the actor.
Oscar Isaac Solid Snake Metal Gear Fan Art: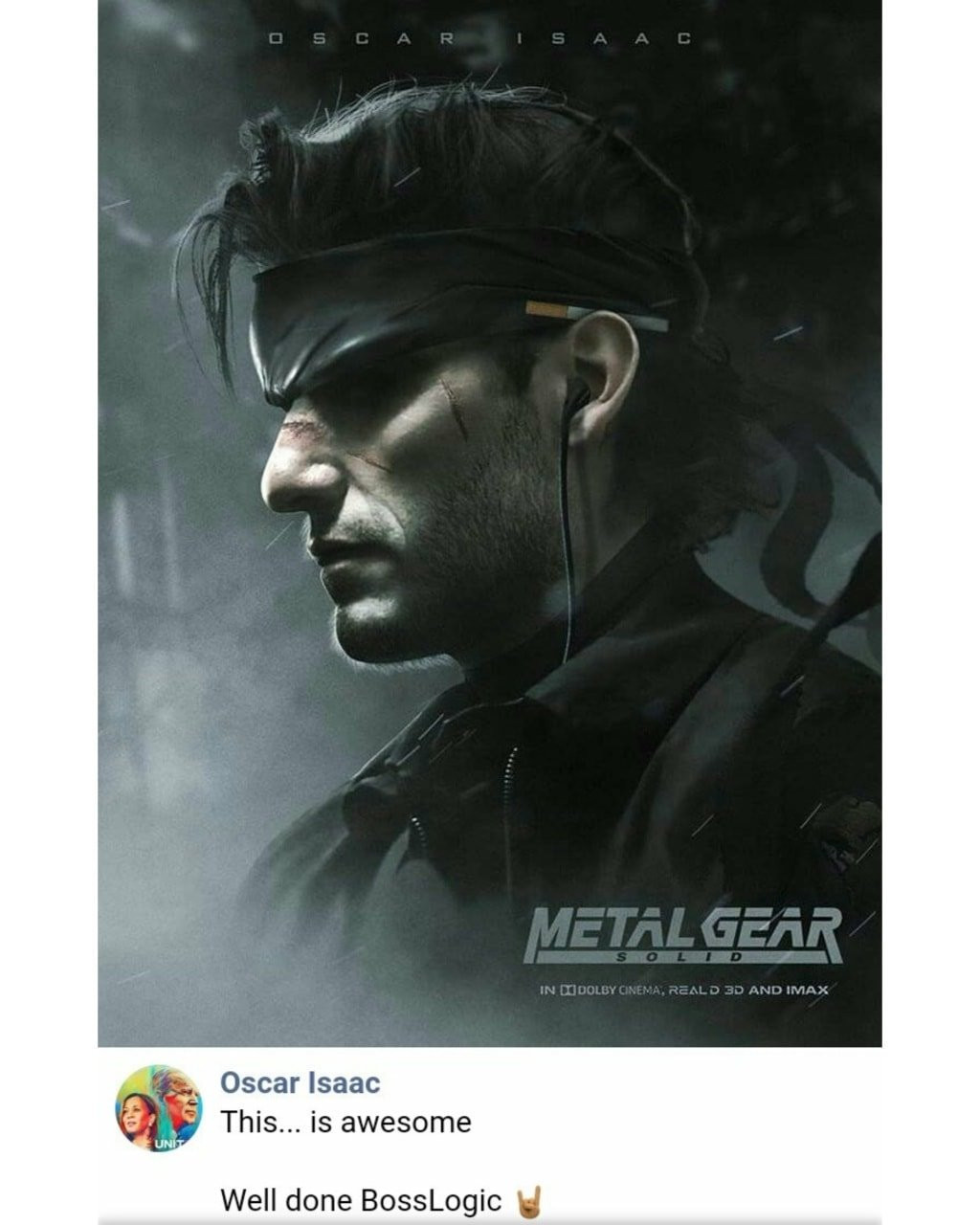 Oscar Isaac is busy
Oscar Isaac, who also recently starred in the Disney Star Wars movies, has a busy schedule as in addition to Metal Gear, Isaac is starring in HBO's Scenes From a Marriage along with Jessica Chastain, followed by playing the title role in Marvel's Moon Knight series for Disney Plus; Isaac is starring in and producing the adaptation of Brian K. Vaughn's Ex Machina comic book retitled The Great Machine, and he is starring in Barry Levinson's Francis and The Godfather, alongside Jake Gyllenhaal.
IMDb also has Oscar Isaac starring in Armageddon Time, providing the voice of Gomez Addams in The Addams Family 2 animated sequel, and has Big Gold Brick and The Card Counter coming up.
Look for Oscar Isaac next in Dune, which is due out Oct. 1, 2021, on HBO Max and in theaters.
(via Deadline)