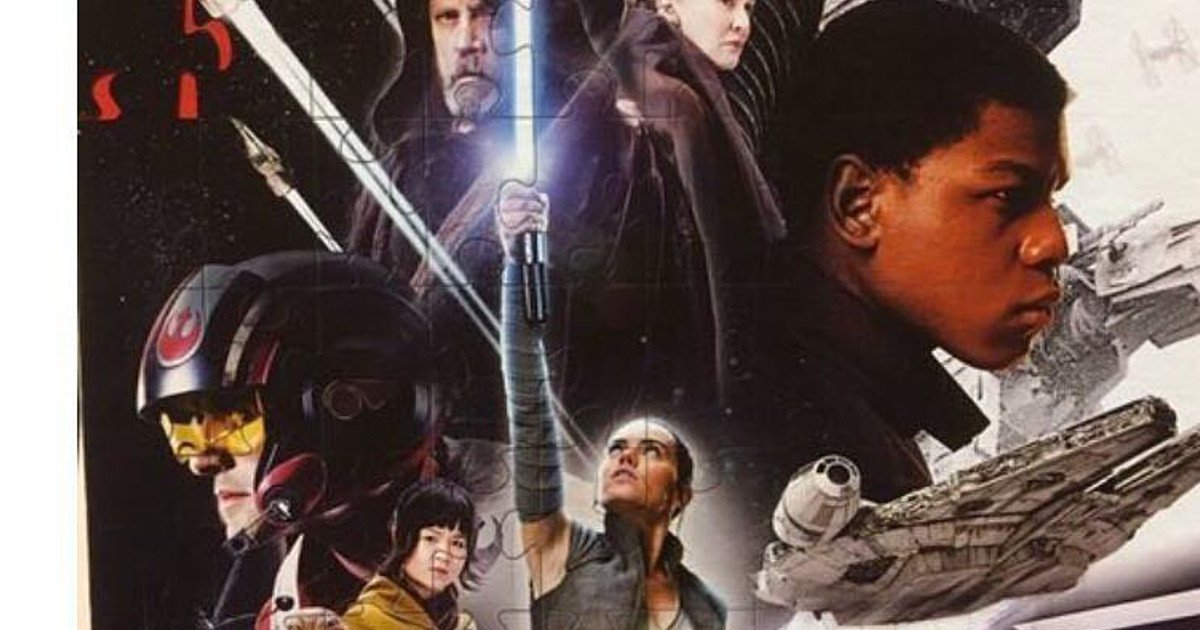 Take a look at what might be the first Star Wars: The Last Jedi poster as a user on Instagram posted the following image of a Star Wars: The Last Jedi puzzle featuring the characters from the movie including a new look at Mark Hamill as Luke Skywalker.
The puzzle starts off with the Star Wars: The Last Jedi logo at the top with Poe, Rey and Fin. Then from the left ships are streaking through space; Adam Driver's Kylo Ren is near the top with Imperial Walkers to the right of him; interestingly enough the late Carrie Fisher's Princess Leia is a part of Kylo Ren's shoulder, with Mark Hamill's Luke Skywalker to the left of her (Kylo's Uncle); Finn is positioned to the right of Leia and under Kylo Ren; then at the bottom left is another shot of Poe Dameron and Kellie Marie Tran as Rose, a new character to the series; Chewy, C3-PO and R2-D2 are present bottom left; the Millennium Falcon and the First Order Stormtroopers are there at the right, and then to cap of the puzzle poster off is Daisy Ridley's Rey holding a lightsaber in what looks to be a triumphant manner.
Pretty cool poster! All that is really missing is Supreme Leader Snoke and his Praetorian Guard!
Expect a lot more Star Wars: The Last Jedi promotional material and merchandise to hit the web in the next week or so as Force Friday returns September 1st! I recall the first Force Friday for Star Wars: The Force Awakens to be pretty crazy, Rogue One not so much, but I do expect Force Friday for Star Wars: The Last Jedi to be pretty insane. A lot of stores will probably have midnight openings, so be on the look out.
"Star Wars: The Last Jedi" has a December 15, 2017 release directed by Rian Johnson starring Daisy Ridley, Adam Driver, Carrie Fisher, Mark Hamill, Domhnall Gleeson, Oscar Isaac and Benicio Del Toro.