Ant-Man and the Wasp is coming to Hong Kong Disneyland!
Check out concept art revealed for the ride released by Marvel Studios artist Andy Park.
"Disneyland announced that there will be an Ant-Man and the Wasp ride at Hong Kong Disneyland! This is the official concept art depiction of that ride just released. I got to paint the Ant-Man & Wasp characters in this image. I'm not sure who actually painted the rest of it (if anyone knows please let me know & I'll credit him/her of course)," Park posted on Instagram.
The ride is described as:Â A new Marvel attraction is planned for Hong Kong Disneyland, where guests will be invited to team up with Ant-Man and The Wasp to fight Arnim Zola and his army of Hydra swarm bots in a thrilling new adventure.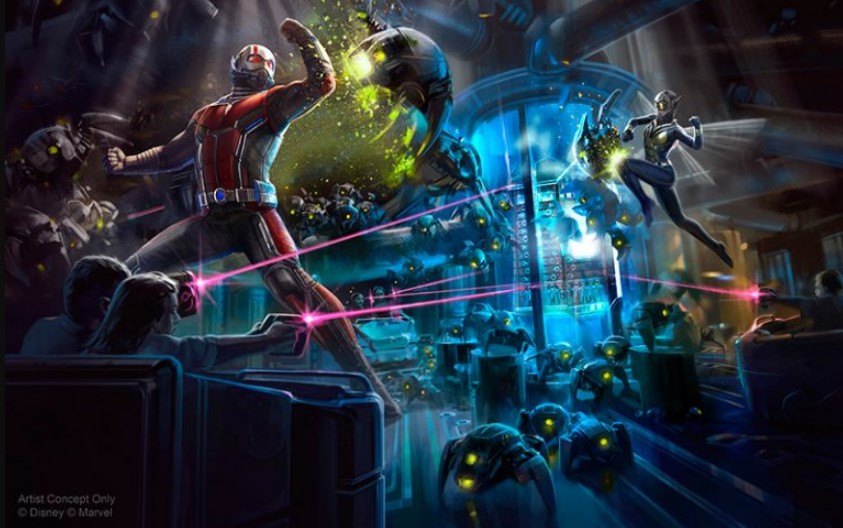 Ant-Man and the Wasp opens July 6, 2018 directed by Peyton Reed starring Paul Rudd as Scott Lang/Ant-Man, Evangeline Lilly as Hope Van Dyne/Wasp, Michael Douglas as Hank Pym, Michelle Pfeiffer as Janet Van Dyne, Michael Peña as Luis, Laurence Fishburne as Doctor Bill Foster, Hannah John-Kamen as Ghost, Randall Park as Sgent Jimmy Woo, Judy Greer as Maggie Lange and Walter Goggins as Sonny Burch.
From the Marvel Cinematic Universe comes a new chapter featuring heroes with the astonishing ability to shrink: Ant-Man and The Wasp. In the aftermath of Captain America: Civil War, Scott Lang (Rudd) grapples with the consequences of his choices as both a Super Hero and a father. As he struggles to rebalance his home life with his responsibilities as Ant-Man, he's confronted by Hope van Dyne (Lilly) and Dr. Hank Pym (Douglas) with an urgent new mission. Scott must once again put on the suit and learn to fight alongside The Wasp as the team works together to uncover secrets from their past.