The first Ms. Marvel reactions are in, and no surprise, it's claimed the show is the best thing since sliced bread.
Kevin Feige and Disney Plus gave certain fans the first two episodes of the series to watch where they are allowed to react on social media, but the full reviews won't become available until the day before the release of the show.
It's also revealed the first episode is 47 minutes in length, with the second episode coming in at 49 minutes in length.
Regarding what the reactions have to say, you can check out the tweets below, where I'll admit Ms. Marvel doesn't seem to be for me, but that said, I am trying to keep an open mind.
However, if we read between the lines of what YouTuber Grace Randolph has to say, it seems as if Ms. Marvel will have some questionable content as Randolph hints/says it shares the exact story of Disney Pixar's Turning Red animated movie, Kamala Khan's powers are a rip off of DC's Green Lanter, it sounds like the show might mock the MCU and its fan, and of course, there is lots of teen angst, and it sounds like there will be some kind of politically correct message going on.
Again, I'm not going into this series expecting much, as the character is just another cringe-character Marvel forces on its fans just like the Brie Larson Captain Marvel, Hailee Steinfeld Hawkeye, She-Hulk, etc.
Ms. Marvel premiers on June 8 on Disney Plus.
Synopsis: Ms. Marvel is a new, original series that introduces Kamala Khan, a Muslim American teenager growing up in Jersey City. An avid gamer and a voracious fan-fiction scribe, Kamala is a Super Hero mega-fan with an oversized imagination—particularly when it comes to Captain Marvel. Yet Kamala feels invisible both at home and at school—that is, until she gets superpowers like the heroes she's always looked up to. Life gets better with superpowers, right? The cast also includes Aramis Knight, Saagar Shaikh, Rish Shah, Zenobia Shroff, Mohan Kapur, Matt Lintz, Yasmeen Fletcher, Laith Nakli, Azhar Usman, Travina Springer, and Nimra Bucha. The episodes are directed by Adil El Arbi & Bilall Fallah, Meera Menon, and Sharmeen Obaid-Chinoy. Kevin Feige, Louis D'Esposito, Victoria Alonso, and Bisha K. Ali are the executive producers. Co-executive producers for the series are Sana Amanat and Trevor Waterson, and Bisha K. Ali is the head writer.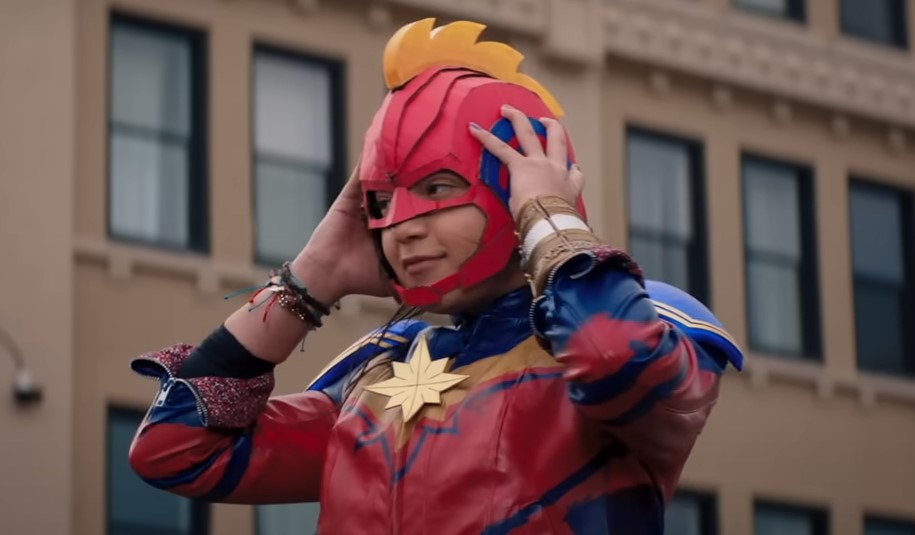 Ms. Marvel reactions:
#MsMarvel's first two episodes proved my hesitations wrong.

Iman Vellani is perfect for the role, and does a phenomenal job. She'll quickly become an MCU favorite.

Her chemistry with Matt Lintz' Bruno is also top notch.

So far, the series is great.

— Russ Milheim (@RussMilheim) May 25, 2022
The closing credits sequence is among my favorite of all the Disney+ series.

My grievances about her power changes remain, and likely will remain as long as the light constructs do.

Hopefully the series maintains the same quality until the very end.

— Russ Milheim (@RussMilheim) May 25, 2022
I've seen the first 2 episodes of #MsMarvel!

Come for the #MCU fan fever dream – like WOW — – stay for the quality origin story!

Surprisingly VERY similar to #TurningRed re multiple story points

Review embargo lifts Tues June 7th! pic.twitter.com/Pls1HtCGjO

— Grace Randolph (@GraceRandolph) May 25, 2022
#MsMarvel thoughts:
– Iman is fantastic. She's relatable, likable, funny, everything you would want in Kamala.
– Jersey City feels alive in a way that no other location in the MCU has been. Has life similar to the NYC in Raimi's Spider-Man movies.

— Jack McBryan (@McBDirect) May 25, 2022
Summary:

I really really liked episodes 1 and 2. It is the coming of age story we all wanted this to be. I think the show sets up Kamala well to have a similar appeal and relatability as Peter Parker does; which could make Ms. Marvel a household name in the near future.

— Jack McBryan (@McBDirect) May 25, 2022
I'm not Muslim so I don't think it's appropriate for me to speak on how effectively the Muslim elements are handled.

— Jack McBryan (@McBDirect) May 25, 2022
Pakistani —- and Muslim Representation in #MsMarvel is great, not perfect but certainly better than anything else. It really does feel like a Pakistani household. Not dealing too much with the harder hitting topics yet but that's definitely setup and is just on the horizon. pic.twitter.com/a5CDQJY22v

— Rayyan – #Kenobi | #MsMarvel Era —- (@RayyanTCG) May 25, 2022
#MsMarvel is so much fun! A lot of it is slice-of-life based (nice to get the perspective of how regular people in the MCU view the superheroics going on around them). The question of how so many people know what happened in the Endgame final battle is also answered. —

— Julia Delbel (@juliadelbel) May 25, 2022
This is the most exciting MCU project in ages. Has the energy of SPIDER-MAN: HOMECOMING while feeling like a completely fresh voice in the franchise.

Can't wait to see where #MsMarvel goes. pic.twitter.com/oeb1mT9wsR

— Daniel Howat (@howatdk) May 25, 2022
There's plenty to talk about and theorize when it comes to these first two episodes especially when it comes to the supporting cast, and we wish Marvel would've gave us more; but we'll happily wait to see what's to come after #MsMarvel officially premieres in a couple of weeks. pic.twitter.com/UNc0jEQ1mW

— The Nerdy Basement ——– (@nerdy_basement) May 25, 2022
#MsMarvel is really, really wonderful. Iman Vellani is a star and the stylized aesthetic, which feels almost like a live-action "Spider-Verse," is dazzling but never distracting. All the emotional stuff is front and center, real and honest. Get excited. pic.twitter.com/PixD3JJQHG

— Drew Taylor (@DrewTailored) May 25, 2022
#MsMarvel most definitely feels the most like Homecoming. Kamala is a straight up nerd who is in love with the Avengers. What makes her journey more interesting is her struggle with identity, being a Pakistani and a Muslim America. Her awkwardness is soo relatable and charming. pic.twitter.com/nfIlMsYMq2

— Rayyan – #Kenobi | #MsMarvel Era —- (@RayyanTCG) May 25, 2022
#MsMarvel Ep1 and 2 are pure joy! Straightaway thrust you into her cartoonish fangirl world as she struggles with her identity being Pakistani-American. —- She's excited to have powers but doesn't know how to use them, ends up fumbling and embarrassed, It's all very relatable. pic.twitter.com/x7kV0wj1aN

— Rayyan – #Kenobi | #MsMarvel Era —- (@RayyanTCG) May 25, 2022
things in the series for every fan including the jokes, references and story. I'm very excited to see how the rest of the show plays out…

— Joe (@hzjoe03) May 25, 2022
Also wanted to add that the cast is superb, especially Iman.

— Joe (@hzjoe03) May 25, 2022
I want to say very briefly the way the culture is integrated is one of my favorite things — it's not there to be discussed or liked or disliked, it's a fact. Just a part of her life. And that's how it's treated. I loved seeing it. #MsMarvel

— Preeti Chhibber–️Preorder Spidey's Social Dilemma (@runwithskizzers) May 25, 2022
I'll have more feelings when I watch ep 2 tonight, but for now. YES GOOD is my #MsMarvel review.

— Preeti Chhibber–️Preorder Spidey's Social Dilemma (@runwithskizzers) May 25, 2022
I want to add real quick—when Ms. Marvel debuted nearly a decade ago—she hit hard because she had what made Peter Parker so special. Accessible and relatable, yes, and so full of joy and laughter and excitement and adventure… but in the package of a brown girl from Jersey City.

— Preeti Chhibber–️Preorder Spidey's Social Dilemma (@runwithskizzers) May 25, 2022
She is so, so special and the show knows it. Relishes it. Lives in it. #MsMarvel

— Preeti Chhibber–️Preorder Spidey's Social Dilemma (@runwithskizzers) May 25, 2022
#MsMarvel is a vibrant and exciting story that takes a plunge into both the MCU and Pakistani culture. Iman Vellani as Kamala Khan is absolutely fantastic, as shes likely to become an MCU favorite. Not to mention her new powers are a phenomenal addition. pic.twitter.com/7zwpviMOgc

— Comic Book Saga — (@ComicBookSaga) May 25, 2022