Marvel has once again canceled the Captain Marvel comic book featuring Carol Danvers which comes with the June solicitations.
More than likely the title will be relaunched for the 12th? 13th? 100th? time closer to the release of The Marvels movie starring Brie Larson which recently saw a big delay, its second one, from a Summer blockbuster release to November as Disney takes a careful look at the brand.
Captain Marvel is one of Marvel's characters that replaces a fan-favorite original that it keeps pushing on fans. Carol Danvers was originally Ms. Marvel, then became Captain Marvel, with Marvel Comics introducing Kamala Khan as Ms. Marvel and pushing all that crap in the MCU, which has bombed big time and continues to do so (Victoria Alonso was just canned).
It sucks for me because the characters and comics that I like were selling great yet Marvel Comics canceled it all because they are white dudes and because of the goofy ass MCU movies.
Marvel doesn't care about making any money from their comics just pushing an agenda. Great, another Captain Marvel title. Check out the info below.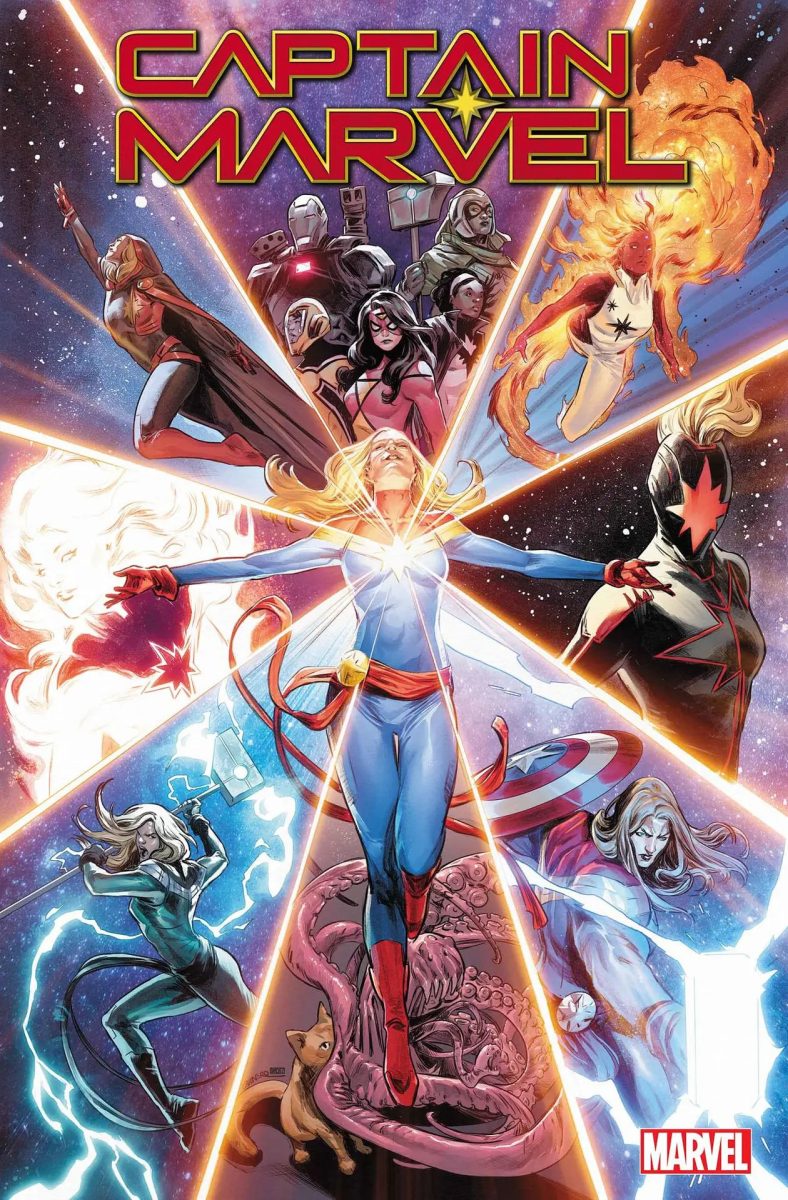 What are the Captain Marvel #50 details?
Marvel.com released the following info:
This June marks the end of an era for Carol Danvers! Writer Kelly Thompson will wrap up her extraordinary run on the character in CAPTAIN MARVEL #50, a double-sized issue featuring art by Javier Pina and David Lopez. As one of the longest-running writers on the character ever, Thompson's run will go down in Marvel Comics history: 50 issues of thrilling adventure, uplifting character-defining breakthroughs, and awesome powerhouse feats that are destined to inspire generation after generation of readers!
From incredible story arcs like the revolutionary "Re-Entry" and Carol's dark turn in "The Last Avenger" to pivotal tie-ins to some of Marvel's biggest events like WAR OF THE REALMS and EMPYRE, CAPTAIN MARVEL has been a Marvel must-read since the very start. Along the way, the title has garnered new lifelong Carol Danvers fans and delighted the character's devoted fanbase. True Believers won't want to miss Thompson's epic farewell that celebrates this incredible achievement! 
It has been an impossible journey – one that's taken Carol Danvers across time and space and pitted her against enemies new and old. This historic run has put Marvel's premier heroine through the gauntlet, and now the boss of space burns brighter than ever. No one believed she would get this far. But that's the power of Captain Marvel and her Carol Corps: They will never give up. Higher, further, faster – to the very end.
"When Marvel asked me to write Carol's new CAPTAIN MARVEL series back in 2018, in the lead up to her first film, I was delighted and also terrified. But I'm glad I didn't let the terror win, because it has truly been a fantastic experience," Thompson shared.
"I've worked with some of the most incredible people in the business – I'd list them all but at 50 issues it's a truly massive list! – but I certainly have to call out editor Sarah Brunstad who brought me in and helped build this book from the very beginning. She has been a constant source of support through a run that I don't think either of us ever imagined would be nearly five years deep and heading toward issue 50. While it hasn't always been easy, I'm so proud of the stories we've told with Carol, but none of it would have been possible without the fans. Captain Marvel fans are some of the best comic fans – and humans – I've ever experienced, truly. So thank you for this run. We made it, but you all made it so loved, and so long. Thank you."
CAPTAIN MARVEL #50
Written by KELLY THOMPSON
Art by JAVIER PINA & DAVID LOPEZ
Cover by CARMEN CARNERO
On Sale 6/7