Jon Favreau teases The Mandalorian Season 2 with an image of a Gamorrean Guard on Instagram.
"Season 2 of The Mandalorian coming Fall 2020," Favreau posted.
The Gamorrean Guard was first introduced in Return of the Jedi as guards of Jabba The Hutt's palace, so perhaps since The Mandalorian is set around five years after Return of the Jedi, maybe Season 2 will head to the planet of Gamorr, located in the Outer Rim Territories, the homeworld of the Gamorreans.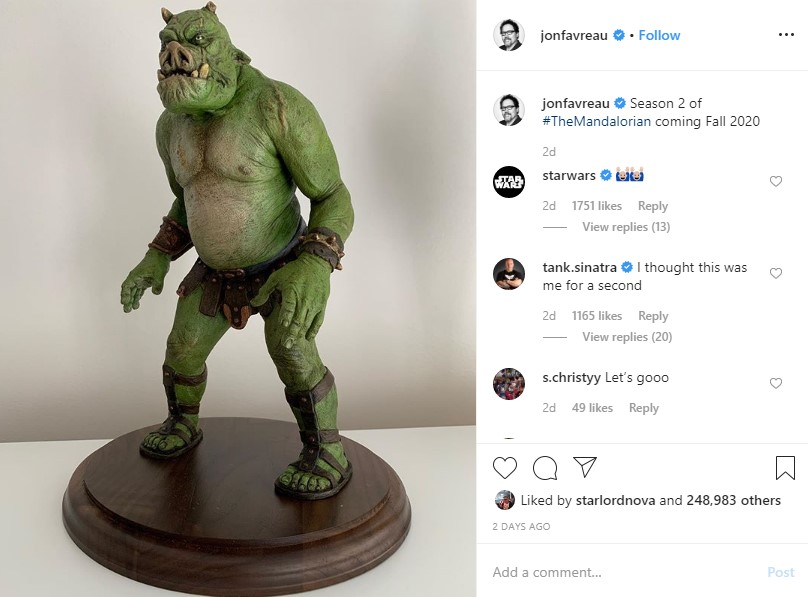 The Mandalorian airs on Disney Plus
The Mandalorian Season 1 recently came to a conclusion, which introduced fan-favorite characters such as the titular character played by Pedro Pascal ("This is the way."); Kuiil, voiced by Nick Nolte, who is known for stating "I have spoken"; the bounty hunter bot, IG-11, voiced by Taika Watiti, who also directed the stellar last episode, and of course then there is The Child, aka Baby Yoda, who has the powers of The Force.
Hasbro also recently announced the Baby Yoda toys will be coming Spring 2020.
Additional episodes also featured Gina Carano as Cara Dune, Carl Weathers as Greef Karga, Agents of SHIELD's Ming-Na Wen as Fennec Shand, who just might have a role in Season 2, and Breaking Bad actor Giancarlo Esposito as Moff Gideon who sports a black Darksaber lightsaber, which in Star Wars expanded universe canon was one of the Mandalorian culture's most prized weapons and artifacts!
Back in November also saw Jon Favreau tease The Mandalorian Season 2 with an image of the helmet.
"Greetings from the set of The Mandalorian season 2," Favreau posted.
Jon Favreau and Dave Filoni also are rumored to be taking over the Star Wars movie franchise.