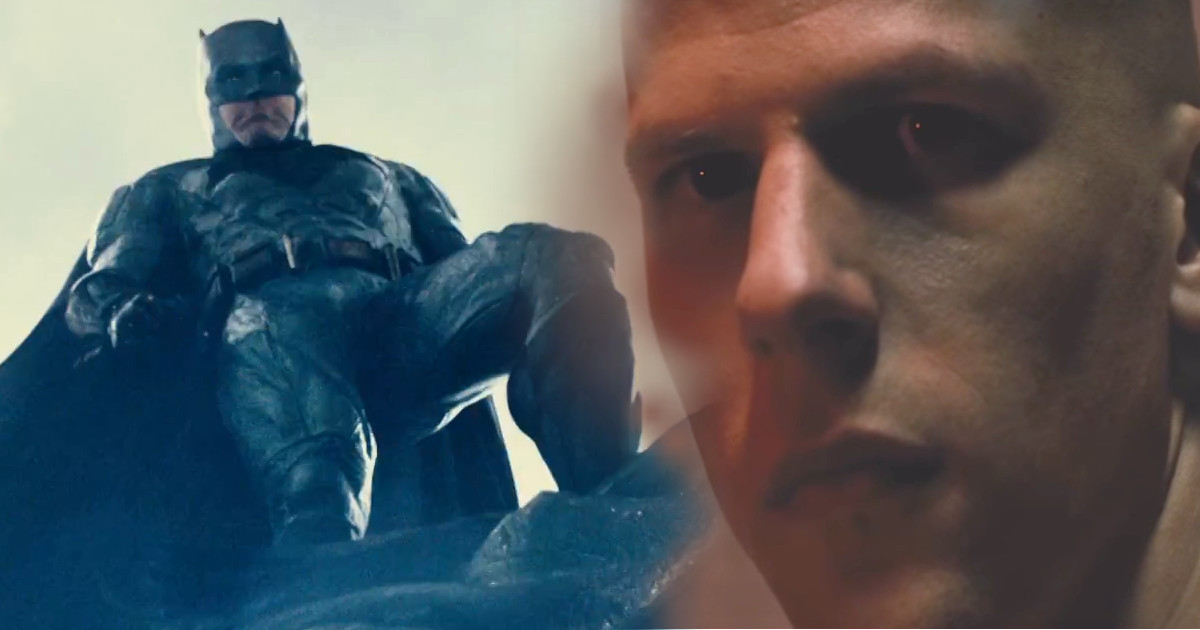 While everyone was caught up on whether or not Superman was in the Justice League Comic-Con trailer (or Green Lantern?!), you may have blinked and missed it, as the trailer also references none other than Lex Luthor!
Following Wonder Woman kicking some terrorist but, she's shown working on the statue. The DC logo then hits and various news cast snippets can be heard.
"The world remains in mourning after the death of the Superman," a female voice says.
Another snippet mentions, "…speculate he was alone."
"What we are seeing is a crime wave around the world," a third says.
Then one happens to mention, in what may be French, something that sounds like "Lex Luthor" and possibly "Arkham."
At the end of Batman vs. Superman, Batman confronted Lex Luthor and told him he was getting transferred to Arkham. Jesse Eisenberg is also confirmed for the Justice League movie.
Some Redditor fans think the snippet says that Lex escapes Arkham!
A fourth snippet also says, "Where is the Gotham bat? The masked vigilante has been a no show."
I also throw this out there: While many fans think the end of the Justice League Comic-Con trailer features Alfred talking to Superman, what if…?!
We do know Lex really hates aliens, after all!
Watch the Justice League Comic-Con trailer below!
"Justice League" has a November 17, 2017 release directed by Zack Snyder starring Ben Affleck as Batman, Henry Cavill as Superman, Gal Gadot as Wonder Woman, Jason Momoa as Aquaman, Ezra Miller as The Flash, Ray Fisher as Cyborg, J.K. Simmons as Commissioner Gordon and Willem Dafoe an Atlantean, Nuidis Vulko.
Synopsis:
Fueled by his restored faith in humanity and inspired by Superman's selfless act, Bruce Wayne enlists the help of his newfound ally, Diana Prince, to face an even greater enemy. Together, Batman and Wonder Woman work quickly to find and recruit a team of metahumans to stand against this newly awakened threat. But despite the formation of this unprecedented league of heroes—Batman, Wonder Woman, Aquaman, Cyborg and The Flash—it may already be too late to save the planet from an assault of catastrophic proportions.