Kumail Nanjiani, who plays the cosmic-powered Kingo, opens up about Eternals offering that it's massive and that it's the most sci-fi of any Marvel movie.
Nanjiani first reacts to his social media post showing his jacked body going viral (see below) in that he texted his brother to make sure their parents were okay about it, which saw his brother tell him that mom and dad actually shared the pic on their own social media with the rest of the family. Nanjiani says he was relieved upon hearing that his parents were good with it and that every day, he is thankful for the big role.
"I'm still terrified that someday I'm going to sneeze and it's just all going to disappear, you know?" he says. "I live in fear of it. Every morning I wake up and go, 'Okay, thank God it's not today.' Because it's just so much work."
Regarding Eternals, Kumail Nanjiani also talks how much he likes his costume for Kingo and how big in scope is the flick.
"My super-suit is very, very comfortable actually, even though it's very elaborate," Nanjiani notes. "But the other thing is, making this massive movie in many important ways still feels like you're making an independent movie, in the sense that it really feels like a family and it feels like it's really about characters and relationships and very small moments. So while you have certain scenes where you're hanging up on a wire fighting bad guys and you have all these superpowers, the rest of it does feel like you're making something really small.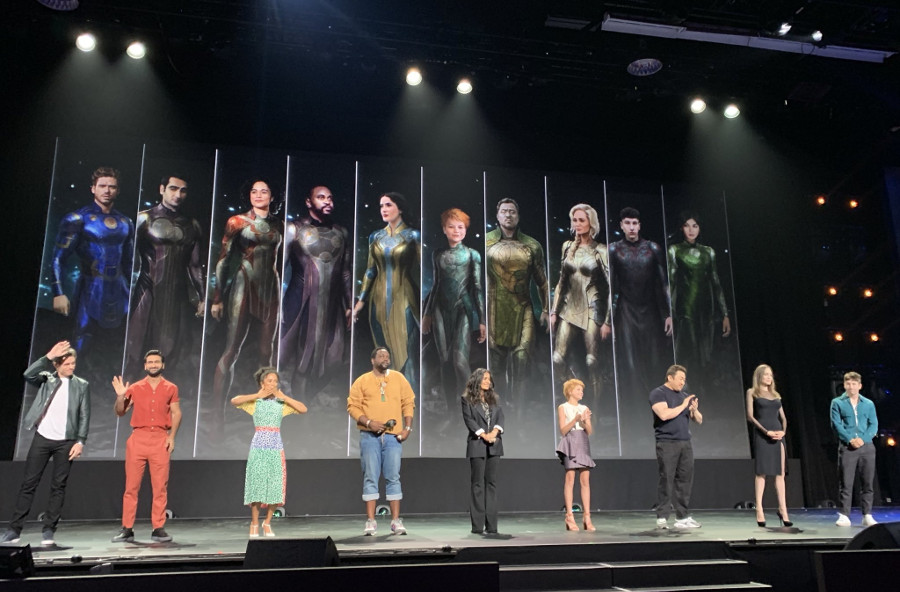 Eternals is epic says Kumail Nanjiani
Nanjiani continues with the mention that everyone behind-the-scenes is really supportive, including Marvel Studios president Kevin Feige.
"The people who are making it are very very passionate about it and the conversations you have are the [same] conversations when you create anything: 'Does this make sense? Should we do this?' Chloe [Zhao], our director, and Nate [Moore], our producer, and Kevin [Feige, Marvel Studios president] — they've been just so open to everything and so passionate. I mean, they've made 25 of these movies and it still feels like they're living their dreams every day, which is certainly what I've been doing for the last six months," offers Nanjiani.
Kumail Nanjiani also says that Eternals is an epic movie.
"It's really, really an epic," Nanjiani says. "And it's really such a science-fiction story. It's a superhero story, but in some ways, it's the most sci-fi of all the Marvel movies and it's the most epic of all the Marvel movies. And the story spans thousands of years. So it's really not like any of the other Marvel movies."
Eternals gets released Nov. 6, 2020 directed by Chloé Zhao also starring Kit Harrington as Dane Whitman, Richard Madden as the all-powerful Ikaris, Lauren Ridloff as the super-fast Makkari, Brian Tyree Henry as the intelligent inventor Phastos, Salma Hayak as the wise and spiritual leader Ajak, Lia McHugh as the eternally young, old-soul Sprite, Don Lee as the powerful Gilgamesh, Barry Keoghan as the aloof longer Druig, and Angelina Jolie as the fierce warrior Thena.
Kumail Nanjiani jacked for Eternals: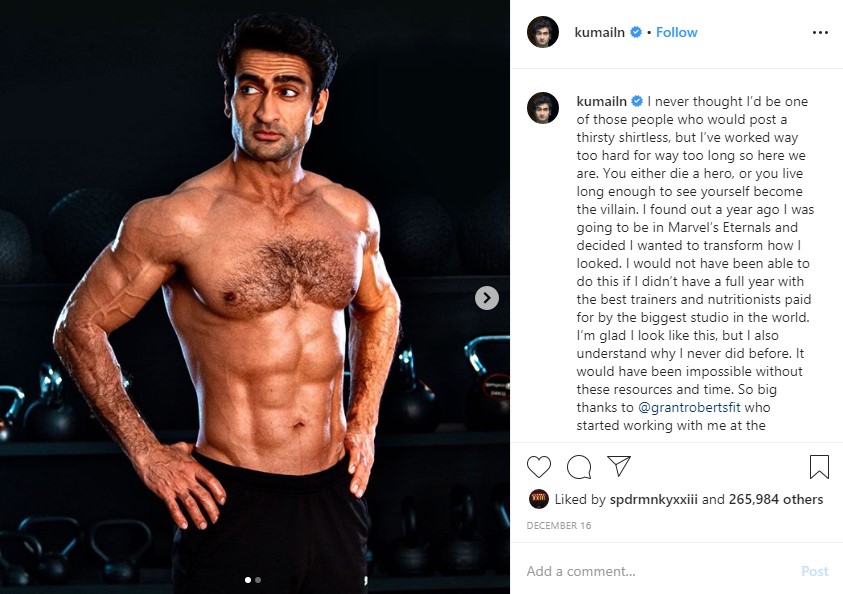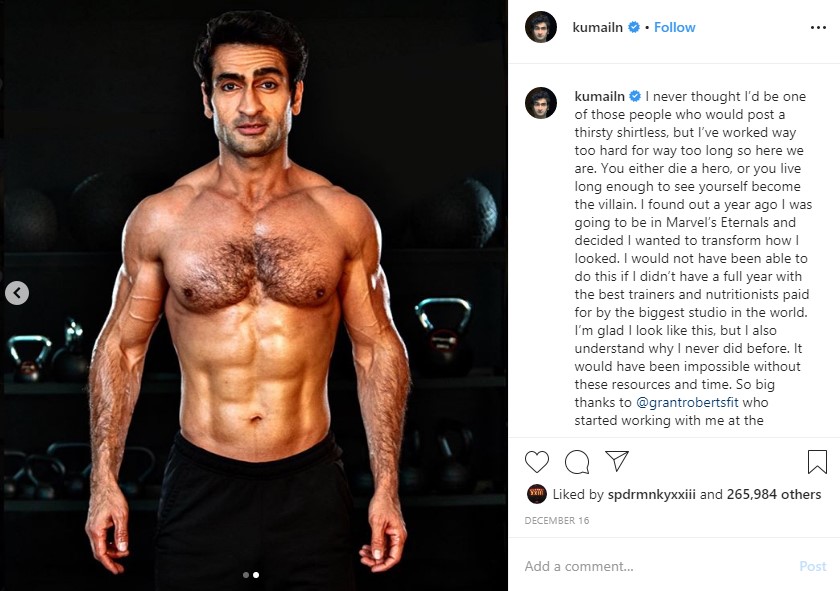 Synopsis: Marvel Studios' The Eternals features an exciting new team of Super Heroes in the Marvel Cinematic Universe, ancient aliens who have been living on Earth in secret for thousands of years. Following the events of Avengers: Endgame, an unexpected tragedy forces them out of the shadows to reunite against mankind's most ancient enemy, The Deviants.
(via EW)