New details are learned about the upcoming Kraven The Hunter movie from Aaron Taylor-Johnson and director J.C. Chandor in that the film is a tragedy set before Spider-Man.
In a lengthy interview with Esquire, Aaron Taylor-Johnson reveals he thought he was done with comic book movies but was offered Kraven while having done Bullet Train with Sony and says he wasn't sold on Kraven until he started reading the comic books, with Spider-Man: Kraven's Last Hunt.
"I mean, quite honestly, I thought I'd actually been done with these sorts of movies," he said while also revealing he was up for roles "that nobody knows about—big, huge franchises that were in play."
Director J.C. Chandor reveals he pitched Sony he wanted Kraven to be an origin story starring a younger actor in the lead, where the article points out "Chandor's movie is set before Kraven and Spider-Man's first meeting; it's about young Sergei's relationship with his gangster father, played by Russell Crowe."
"Sony probably doesn't want me to lead with this," Chandor said. "But the story is a tragedy. When the final credits roll on this film, if you've been paying attention, you won't have the feeling that this is all going to end great."
The article also notes that "Taylor-Johnson understands that if this one doesn't do well, he won't get the chance to play out Kraven's story to the bitter end. But he also understands that he's been entrusted with something extrinsically valuable," and the interview adds "Kraven rebrands a legacy villain as a violent antihero."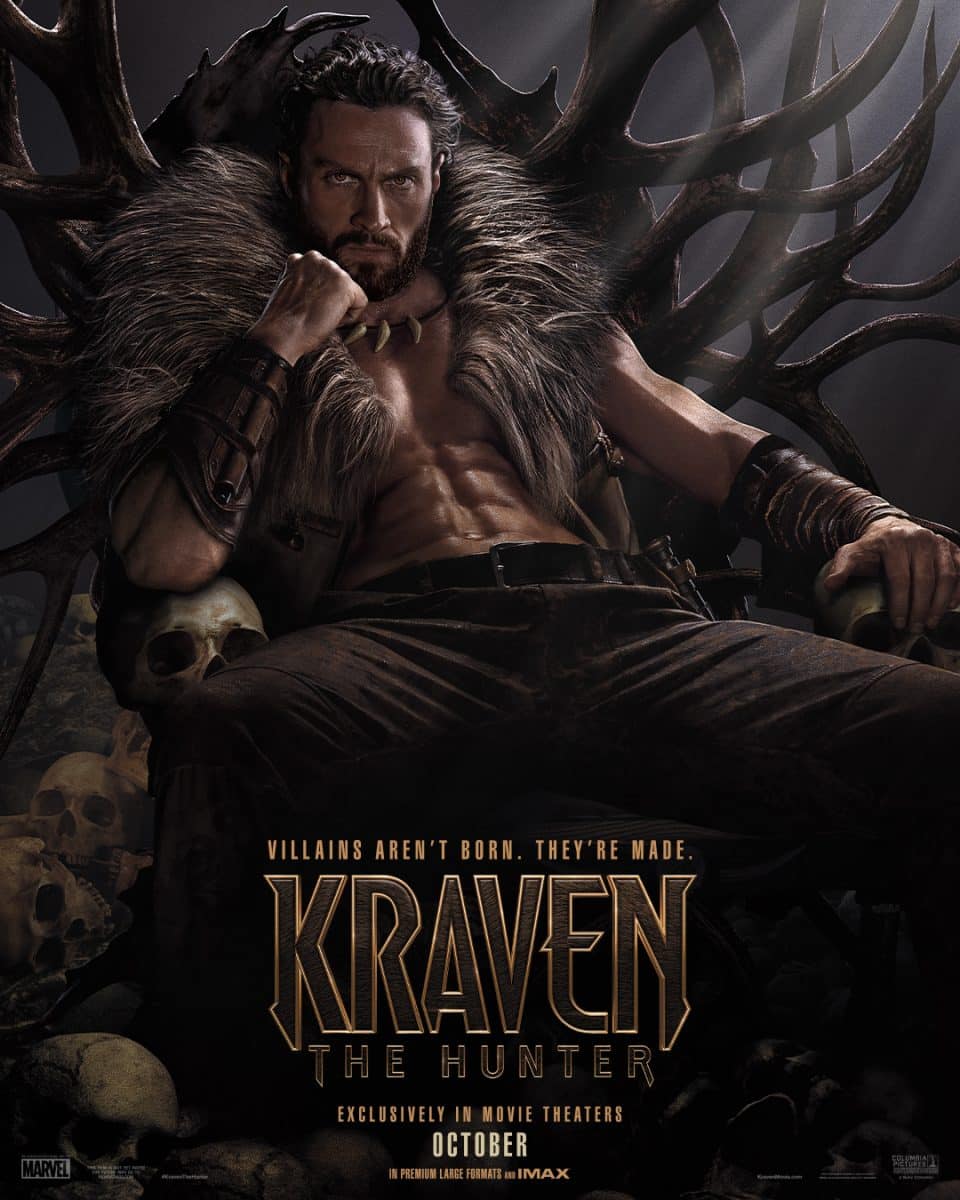 The greatest hunter of all time
Aaron Taylor-Johnson also says he researched the role by pulling from real people whose relationships with animals mirrored some aspect of the character, such as stalking deer with a hunter to understand "the emotional turmoil and the sense of guilt."
"When you say stuff like 'I'm the greatest hunter of all time,' you've got to know deep within your being that it's coming from a place of reality and depth, and feels like it's possible and plausible," he said.
And those other comic book movies?
 "There was Kick-Ass," he says, "and then there was Godzilla and Avengers, and all those things lined up for me. But I didn't really care for them." 
Kraven the Hunter gets released on August 30, 2024 (pushed back from October 6, 2023), and also stars Ariana DeBose, Fred Hechinger, Alessandro Nivola, Christopher Abbott, and Russell Crowe.
Synopsis: Kraven the Hunter is the visceral story about how and why one of Marvel's most iconic villains came to be. Set before his notorious vendetta with Spider-Man, Aaron Taylor-Johnson stars as the titular character in the R-rated film.
Watch the trailer: