It sounds like Kraven will be dropping the "big-game hunter" judging from what Aaron Taylor-Johnson says about the character for the Sony movie.
Variety was on hand at CineEurope where the actor talked about his latest movie Bullet Train which also stars Brad Pitt and said some questionable things about Kraven the Hunter as he says the character is an anti-hero, which isn't all that of a surprise as it follows Venom and Morbius – both portrayed as anti-heroes in the Sony Spider-Man spinoff universe – but Taylor-Johnson also says oddly enough Kraven is an "animal lover and a protector of the natural world":
Taylor Johnson also spoke about his experience shooting "Kraven the Hunter," who he described as "one of Marvel's most iconic, notorious anti-heroes — Spider Man's number one rival." He said he found exciting the fact that this character is "not an alien, or a wizard. He's just a hunter, a human with conviction. An animal lover and a protector of the natural world. He's a very, very cool character." He added that unlike other Marvel movies, "this one is shot entirely on location."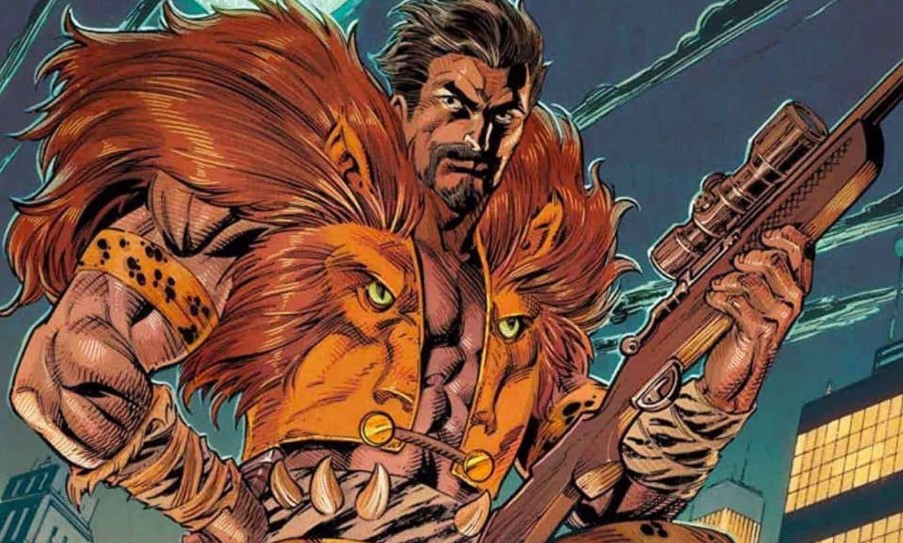 Kraven is THE HUNTER and wears a Lion skin
Admittedly, I'm not up on my Kraven lore, but the name of the character is "THE HUNTER" who happens to be wearing the skin and head of a lion as part of his costume which is also made up of other animal parts. In addition, Kraven THE HUNTER is also known for being a BIG-GAME HUNTER which I believe is part of the reason he hunts Spider-Man. Of course, it should be said a lot of hunters actually do love animals and are very respectful of the animals they kill and nature, so maybe that is what Aaron Taylor-Johnson is going with here for the movie, but I believe in the comics, Kraven is really more a bad guy and not like that, so let's hope Sony doesn't turn Kraven THE HUNTER into some kind of woke environmental animal lover activist. We'll probably know what's what depending on the movie costume for Aaron Taylor-Johnson if they drop the lion's mane or not.
On a side note, I just rented and saw Morbius for the first time, and as I said in our Facebook Group, the script was just frickin' really awful, and I also can't believe they used the Hans Zimmer Batman Dark Knight score (lol). I think it would have been better if it was more a horror movie and titled "Morbius: The Living Vampire," with the script fleshed out (a lot) as it seemed really rushed. The Michael Keaton post-credit scenes were also really bad. I also wasn't at all happy with Venom 2, so I have zero faith in Sony doing anything positive with Kraven, especially after what Aaron Taylor-Johnson says above, and to add to that, Madame Web and El Muerto? Just get rid of Avi Arad and Matt Tolmach which is something Sony should have done a long time ago after the fiasco with The Amazing Spider-Man movies.