Kevin Smith returns to the San Diego Comic-Con as he will be the host of the IMDB boat party, which includes the cast of Marvel's Agents of SHIELD, The Walking Dead, Avengers: Endgame directors Joe and Anthony Russo and more.
Check out the full announcement below.
Smith offered the following on Instagram:
The other day at an @imdb pre-shoot for @comic_con, I got to gush at @therussobrothers about how deeply I love their movies. @avengers #infinitywar and #endgame are two amazing flicks I'll never forget, but more importantly? I've been in the movie biz for 25 years now, so I know how the sausage is made, so to speak - maybe not on the scale of a @marvelstudios joint, granted, but ultimately, a film's a film. Movies were once magic to me - so magical, I dreamed about making them my life. And my dream came true! But I always imagined the trade off of that dream of being a filmmaker (even one who only makes Kevin Smith flicks) was that I wouldn't feel the magic the way I did as a kid, because now I knew how the Magicians make their tricks work. But then came #therussobrothers - talented and passionate storytellers who dug the same goofy characters and stories that I loved as a kid. So when they make these @marvel movies and treat them as seriously and as lovingly as they do, I enter the theater and I'm no longer a filmmaker (though most critics will tell you I wasn't a filmmaker *before* I entered the theater): I'm just a movie fan once more. Those Marvel masterworks make me feel like I'm a kid again - the kid my Dad took to the movies every Wednesday for a $2.00 matinee. I feel about these movies how I felt about @starwars and #raidersofthelostark when I first saw them eons ago, my Dad at my side. I loved #wintersoldier and #captainamericacivilwar and Infinity War and Endgame because they not only dialed my clock back and made me feel young and happy - those movies are so good, they bring my Dad back to me for a couple of hours. It's like he's right there next to me at the Marvel movies, waiting until after the flick ends to ask me who everyone was and talking about the best scenes on the drive home. That's a precious gift, man. The Russo Brothers go beyond being great directors: the Russo Brothers are an emotional time machine. Thank you, Boys! It's been wonderful to feel like my Old Man can still take me to the movies... #KevinSmith #joerusso #anthonyrusso #marvel #imdb #imdboat #marvelstudios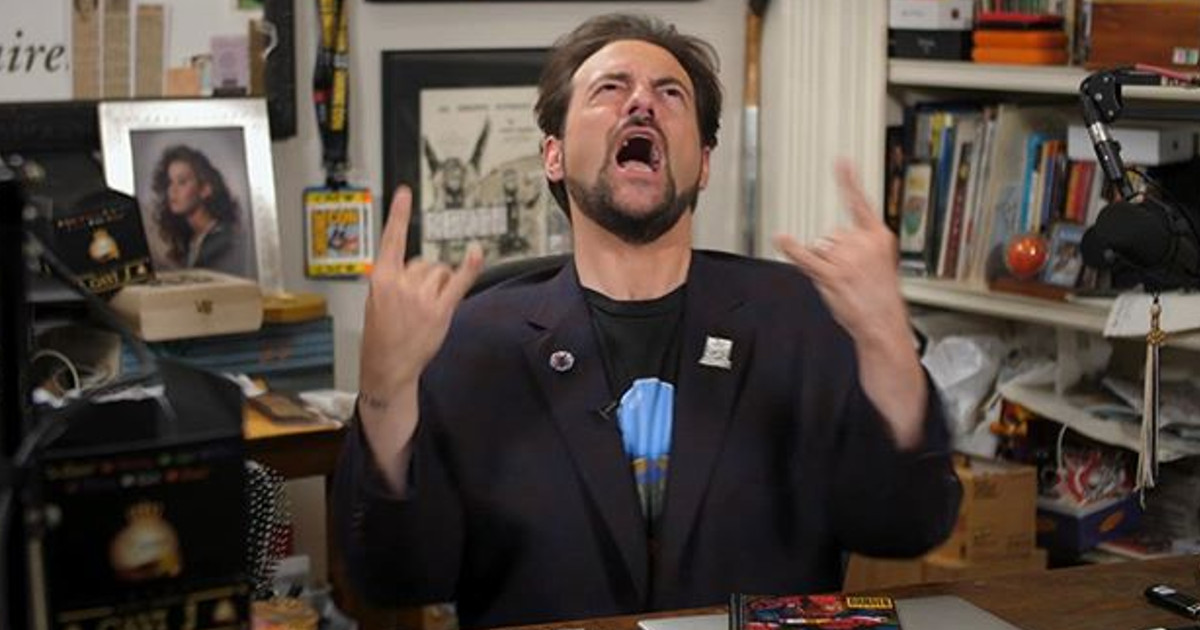 ALL ABOARD! IMDboat Sets Sail for San Diego Comic-Con With Host Kevin Smith, Top Stars and Brands, Parties, Fan Experiences and More
SAN DIEGO--Jul 16, 2019--
IMDb ( www.imdb.com ), the world's most popular and authoritative source for movie, TV and celebrity content, today announced that writer/director/podcaster Kevin Smith will host three days (July 18-20) of original celebrity video interviews with casts from the biggest movies and TV shows including Riverdale, Veronica Mars, The Walking Dead, Jay and Silent Bob Reboot, Marvel's Agents of S.H.I.E.L.D and more during "Comic-Con International: San Diego 2019." To follow exclusive IMDb coverage of San Diego Comic-Con, including original celebrity interviews, breaking news, expert analysis, trending information, a 6-hour live show, field pieces shot around the convention (featuring fans, cosplay and top activations) and more, go to imdb.com/comic-con.
The IMDboat at San Diego Comic-Con 2019 Schedule
For the fourth year in a row, The IMDboat will again serve as a floating video and portrait studio and a must-stop destination for talent, industry VIPs and fans. The boat will be docked at Fifth Avenue Landing, immediately behind the San Diego Convention Center, and opens to invited guests and lucky fans on Thursday, July 18. From the public boardwalk, fans can view the massive LED screen located on the back of the IMDboat and watch live as Kevin Smith interviews leading celebrities.
IMDb events and coverage on and around the IMDboat at San Diego Comic-Con include the following highlights:
From Thursday through Saturday (July 18-20), IMDb will produce original video coverage on the open-air top deck, including Kevin Smith's interviews with the casts of Riverdale, Veronica Mars, The Walking Dead, Jay and Silent Bob Reboot, Marvel's Agents of S.H.I.E.L.D and more. Between interviews, on-board talent, showrunners and filmmakers will enjoy a private lounge, cocktails and refreshments, a portrait studio and gifts provided by The LEGO Group, Fire TV, Soylent, IMDb TV, and more.
On Thursday and Friday (July 18 and 19), a limited number of lucky fans will gain access to the first deck of IMDboat to relax and unwind in the Daytime Lounge, where they can learn more about Fire TV and discover the latest titles streaming for free on IMDb TV by saying "Alexa, go to IMDb TV." Soylent will be providing fans with all the nutrition they need to keep them going strong by handing out their classic ready-to-drink meal as well as their new snack, Soylent Squared. Guests can be among the first to step into character and learn more about the first-ever IMDb animated series You're Not a Monster, and check out the latest comics, graphic novels and manga titles in the comiXology reading area. Additionally, Comic-Con attendees can play an IMDb trivia game on the massive IMDboat LED screen on the Fifth Avenue Landing boardwalk Thursday and Friday at noon. Fans can follow #IMDboat to learn how to be considered for access to the Daytime Lounge.
From Thursday through Sunday (July 18-21), IMDb Correspondent Ian de Borja will host daily LIVE streaming coverage of San Diego Comic-Con featuring cast and fan interviews and videos from the convention center and the open-air social studio on the bow of the IMDboat, presented by The LEGO Group. Guests including actress and director Pollyanna McIntosh, the casts of Pennyworth, Emergence and more will discuss their latest projects, and viewers can learn more about the latest product launches from The LEGO Group. Fans can follow along at twitch.tv/imdb and stream live on the Twitch app on Fire TV.
On Thursday evening (July 18), Wendy's is kicking off its huge summer event, Wendy's Baconfest, on the IMDboat, by hosting the first-ever IMDb Fan Party from 7:30PM to 10:30PM. As the #1 seller of bacon cheeseburgers +, no one knows bacon like Wendy's. Applewood smoked and fresh from an oven daily, Wendy's Baconfest is the ultimate bacon bash to celebrate fan's love for bacon. Party attendees will enjoy Wendy's Son of Baconator, which boasts a quarter-pound of fresh, never frozen-beef, American cheese, plenty of Applewood smoked bacon, ketchup, and mayo, other bacon-inspired treats, dancing, nitrogen cocktails, and receive a special gift bag at the event. Guests will also check out the latest comics, graphic novels and manga titles in the comiXology reading area on-board. Follow @IMDb on Twitter for more details on the party and how to apply for access to #IMDboat. + Source: Based on servings among quick service restaurants over 12-month period ending March 2019. Source: The NPD Group/CREST(R)
The fourth-annual IMDboat Party, presented by Soylent and Fire TV this year, will take place on Friday (July 19) from 7:30PM to 11:30PM. Special guests include: members of the cast of You're Not a Monster including Kelsey Grammer and show creator Frank Lesser; Kevin Smith; industry influencers; and more. VIP attendees will enjoy dancing, appetizers, cocktails, gifts and more. This is an invitation-only event.
On Saturday (July 20), beginning at 11AM PDT, Kevin Smith and The IMDb Show 's Tim Kash will co-host "IMDb LIVE at San Diego Comic-Con," a 6-hour live-streaming show broadcast on IMDb, Twitch (twitch.tv/imdb), the Twitch app on Fire TV, and Twitter. The show will feature Smith's wrap-up analysis of the convention and conversations with special celebrity guests including the casts of The Expanse, Supergirl, The Dark Crystal: Age of Resistance and more. Also during the live show, IMDb will debut the trailer for its newest original series, You're Not a Monster, including special guests Producer Kelsey Grammer and other cast members who will talk about this coming-soon animated series. Viewers will also learn about the LEGO Experience at San Diego Comic-Con from Master Builder Chris Erik Varszegi, and preview the new AI-Hosted Cinematic Board Game "St. Noire" powered by Amazon Alexa.
Calling all Avengers fans! On Saturday (July 20) starting at 1:30 PM, join Avengers: Endgame directors Anthony and Joe Russo and special MCU guest(s) at the IMDboat as they celebrate the in-home release of the film. Costumed guests will be invited to participate in a special Marvel Studios Cosplay photo with the Russo Brothers and their special guests. Additionally, general fans who arrive on-site will be gifted with free SDCC exclusive "Hunka Hulka Burnin' Fudge" ice cream (while supplies last) to kick off the launch of Marvel Studios "We Love you 3000" 9-city fan tour. For more details, visit www.Marvel.com/WeLoveYou3000.