Kevin Feige doubles down on theatrical releases for the Marvel Cinematic Universe, which includes upcoming films such as Black Widow, Shang-Chi, and Eternals.
Due to the pandemic, the MCU release date schedule (see updated version below) was forced to change and was pushed back, something that sees Black Widow now getting a simultaneous release in theaters and on the Disney Plus streaming service in July.
Kevin Feige appeared Wednesday via video feed at the "The Big Screen Is Back" conference where Feige backed theatrical releases of the Marvel movies (via Deadline):
"I'm here to tell you something that you probably already know: Marvel movies are meant to be seen on the big screen" said Marvel Boss Kevin Feige in a pre-recorded message before Disney's sizzle reel, which included the MCU 'back to the cinema' piece which dropped earlier this month, with a list of new titles and release dates.
We also see that it was apparently Disney's decision to release Black Widow in theaters and on Disney Plus at the same time (note: bold my own):
"For each one, we set out to craft an epic cinematic experience that is visually spectacular and totally engrossing with every inch of the frame. We want you to feel like you're part of the action. It's by far the best way to see a Marvel movie and any movie period," added Feige whose Black Widow was designated by parent company Disney for a simultaneous theatrical and Disney+ Premier PVOD date on July 9, given that a number of offshore markets are still offline.
The good news for fans that like to go to movie theaters is that Black Widow is the only Marvel movie that will have a simultanous theatrical and streaming release.
"The Big Screen Is Back" conference also featured Arnold Schwarzenegger, J.J. Abrams and more.
Arnold offered:
"I wouldn't be here if it wouldn't be for theaters. I always said to people, you can call me anything you want –Schnitzel, Arnie, Schwarzy,– but don't ever call me a self-made man." The star's point being, he'd be nowhere if it weren't for exhibition, the moviegoing industry's infrastructure and the people who shelled out for tickets.

After detailing the path a film takes from production to testing, Schwarzenegger said, "you don't have theaters, you don't have nothing."

"Yes, we've been in a pandemic year, and people had to watch movies on their little iPhones, little iPads…you had to put glasses on, they're missing the special effects and visual effects on the big screen," the star continued. "Now is the time to wind down this pandemic period, now is the time to get back to the big screen."
Abrams said:
"Being back in a theater feels so good. I heard this thing years ago on the radio, an NPR story, the relationship between people and TV, and people and movies. The thing that always stayed with me is that with TV, the relationship is you're the parent, it's the child. It's in your house, it's smaller than you, you can turn it off, you can change it. With movies, you're the child and it's the parent, and you're in this place and you're looking up to it, and it is controlling you and it's taking you where it wants to take you, and I think we all want to be kids again. And the idea of returning to theaters and being in a big dark room with strangers, screaming and laughing, experiencing the power of that is a human natural need. A lot has been said about the roaring '20s, after the pandemic of 1918-19, and I think it's an apt analogy. I think that there is going to be a hunger to live again. Personally, some of my absolute favorite experiences took place in rooms like this, so I couldn't be prouder to support this."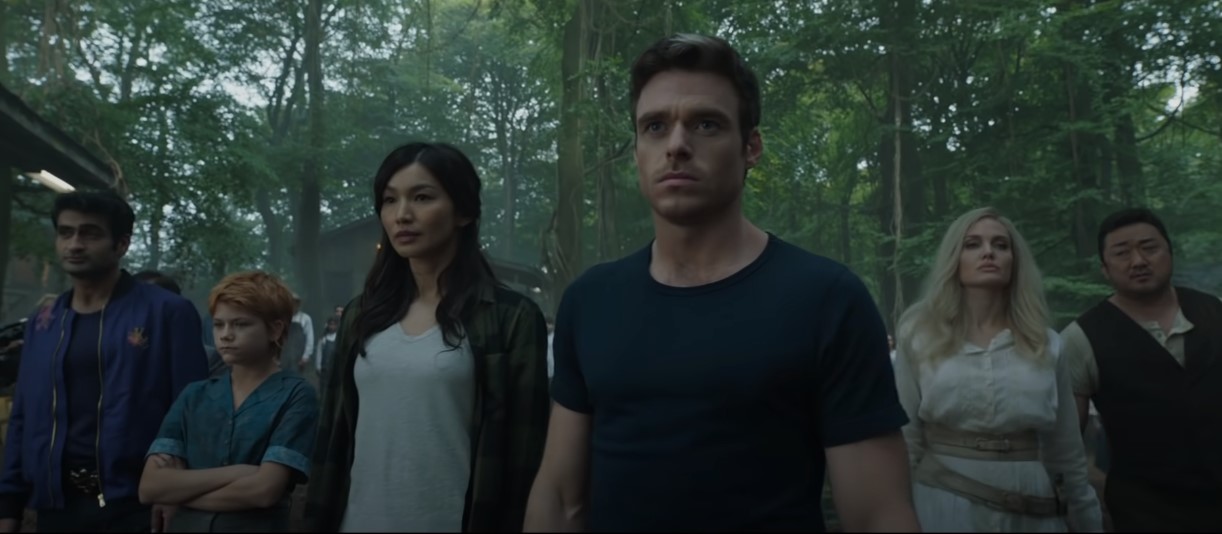 Marvel MCU release date schedule:
Early May saw Marvel release a new promo with its updated MCU schedule:
Black Widow – July 9, 2021
Shang-Chi and the Legend of the Ten Rings – September 3, 2021
Eternals – November 5, 2021
Spider-Man: No Way Home – December 17, 2021
Doctor Strange in the Multiverse of Madness – March 25, 2022
Thor: Love and Thunder – May 6, 2022
Black Panther: Wakanda Forever – July 8, 2022
The Marvels – November 11, 2022
Ant-Man and the Wasp: Quantumania – February 17, 2023
Guardians of the Galaxy Vol. 3 – May 5, 2023
Fantastic Four – TBA