Marvel Studios president Kevin Feige has taken a turn to the Darkside, as with the release of Captain Marvel, and I'll go so far as to say that also following the death of Stan Lee, Feige has said some very questionable things about Marvel, which now also happens to include Jack Kirby.
At this past weekend's D23 Expo, Kevin Feige credited "Disney Legend" Jack Kirby for the creation of the Eternals, which is a new MCU movie a part of Feige's Phase 4 plans.
Jack Kirby passed way in 1994, years before Disney purchased Marvel, but back in 2017 saw Jack Kirby posthumously named a "Disney Legend" along with Stan Lee for their co-creations not only in the field of comics but also because those creations formed the basis for The Walt Disney Company's financially and critically successful media franchise, the Marvel Cinematic Universe (via wiki).
So we see that since Jack Kirby was made a "Disney Legend" back in 2017 – which is more an honorary title and less a claim that he is a part of Disney – we see that Feige is spinning things for his zombie audience that Kirby was a part of Disney all along.
What's rather interesting is that Kevin Feige has replaced half or more of the Jack Kirby Eternals characters with politically correct characters, much like his Phase 4 flicks which also includes Natalie Portman as Female Thor, and the Ms. Marvel Disney Plus series which is surrounded by huge controversy in regards to its showrunner.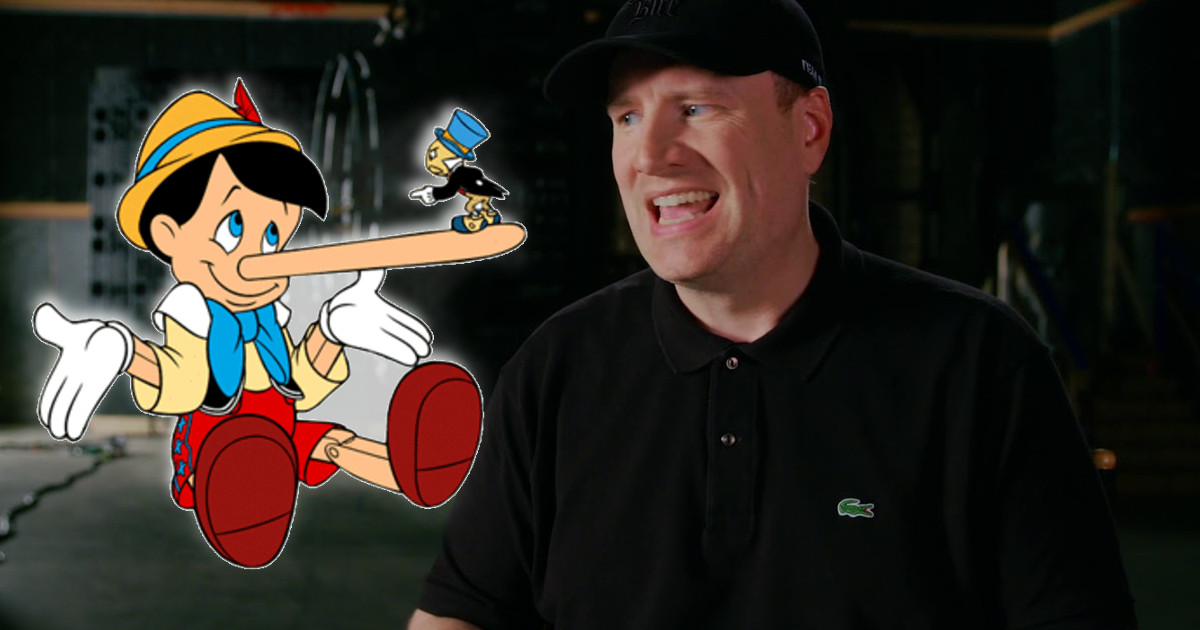 Kevin Feige takes a page out of Disney's Pinocchio (again)
Regarding Captain Marvel, Kevin Feige again took a page out of Disney's Pinocchio when he claimed the Brie Larson character was a best selling comic and one of the most powerful characters in comics (lol).
Taking a look at Feige's body language when he says some of these remarks, I don't believe he believes what he is actually saying, but that he is saying these things to simply promote Disney's PC agenda (he looks uncomfortable at times).
Regarding Stan Lee, following the talks between Disney Marvel and Sony following apart, the daughter of Stan Lee blasted Disney and Marvel for disrespecting her father, his legacy and Spider-Man (via TMZ):
Marvel and Disney seeking total control of my father's creations must be checked and balanced by others who, while still seeking to profit, have genuine respect for Stan Lee and his legacy. Whether it's Sony or someone else's, the continued evolution of Stan's characters and his legacy deserves multiple points of view.

When my father died, no one from Marvel or Disney reached out to me. From day one, they have commoditized my father's work and never shown him or his legacy any respect or decency.

JC's parting words … "In the end, no one could have treated my father worse than Marvel and Disney's executives.
(h/t Ethan Van Sciver on YouTube)