Ahead of today's first trailer, Warner Bros. dropped the Joaquin Phoenix Joker movie footage at CinemaCon offering a first look at the movie, described as "super dark and disturbing."
Director Todd Phillips took to the stage describing his Joker movie as a tragedy, noting, "A lot has been said about this movie and a lot of is not accurate. But it's expected when you set out to make an origin story about a beloved character who basically has no definitive origin."
The film is described as the downfall of a man, dragged and beaten down until he turns and beats up on a world turned against him.
Update: Joker trailer is now online.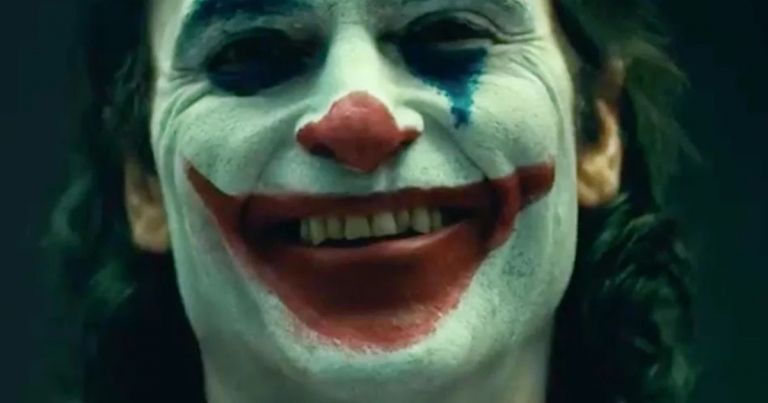 The managing editor of Fandango, Erik Davis tweeted that, "Wow, first teaser for Joker is super dark and disturbing … This is definitely a darker, more grounded Gotham, plagued by a lunatic dressed like a clown. Arkham State Hospital appears – the teaser is set to Nat King Cole's 'Smile.' Way more of a psychological thriller. DC's darkest movie yet?"
The footage shows Joaquin Phoenix as Arthur Fleck stumbling through the streets of Gotham. Phoenix is dressed as a clown trying to spread cheer while working for a store, but he gets beat up and his sign is stolen by a group of thugs. Shots are shown of Fleck having a sick mother, of him dancing, of him and Zazie Beetz's Sophie Dumond at a diner, all of which is leading to him becoming one of Gotham's most psychotic criminals. Footage then shows Joaquin Phoenix do his Joker laugh as he sits inside a comedy club and he dances in a red suit with his clown makeup on.
"My mother always tells me to smile and put on a happy face. She told me I had a purpose, to bring laughter and joy to the world," Joaquin Phoenix's says in the footage. "Is it just me or is it just getting crazier out there? I use to think my life was a tragedy, but it's a comedy."
Joker has an October 4, 2019 release date.