John Cena appeared on Jimmy Fallon and showed up in full costume as Peacemaker, a DC character he plays in James Gunn's upcoming The Suicide Squad movie, with an HBO Max spinoff in development as well.
The WWE superstar turned actor revealed that he is currently filming the Peacemaker spinoff and is on the set.
"This is actually Peacemaker's house, and on the contrary Peacemaker is like the polar opposite of Bruce Wayne where Bruce Wayne would be a billionaire with a Batcave. I live in a single wide and this is my outfit. So it's a bit of an interesting story and a bit of a new tale," said Cena.
Jimmy Fallon asked Cena to describe his character.
"I would say like a douchy bro-y Captain America," replied Cena.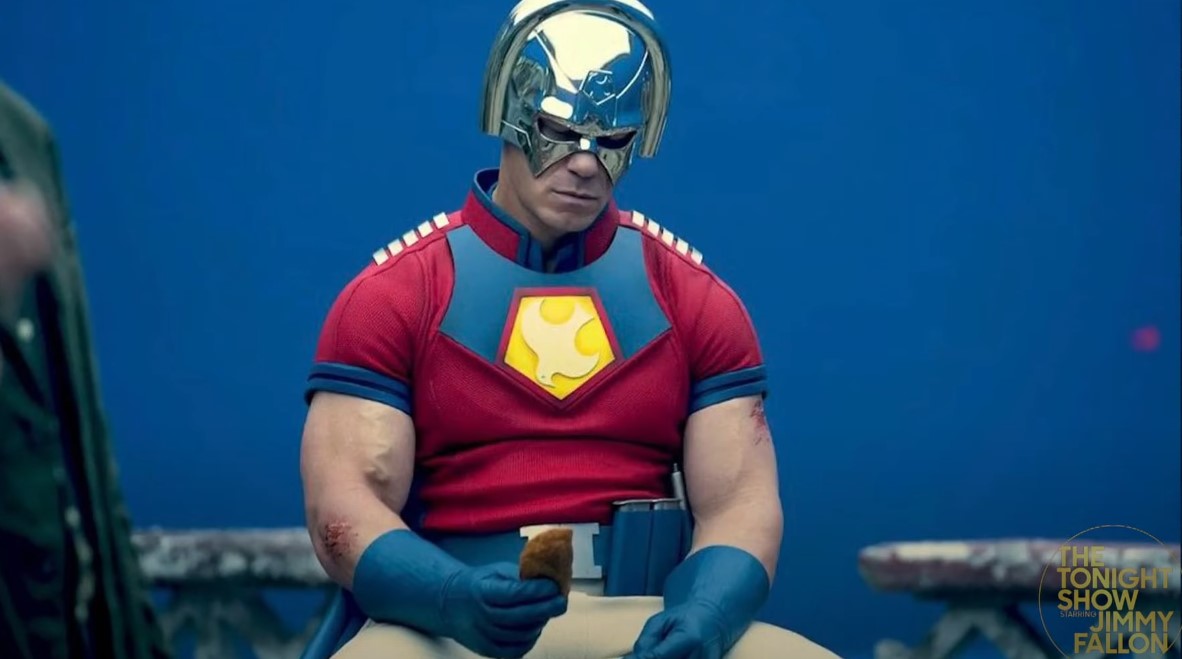 John Cena ate 40 empanadas
An image from The Suicide Squad (pictured above) shows John Cena on the set of The Suicide Squad after he ate 37 of 40 empanadas.
"Oh. man. The stunts were incredible and filming the movie was treacherous, but that right there is the face of defeat. That is me eating my 37th of 40 empanadas," explained Cena. "We had to do this one big take because the horribly beautiful corrupted mind of James Gunn operates in so many intricate pieces, and he wanted this big, giant take where I thought it'd be cool to like, 'Oh, it'd be funny to eat the whole empanada. Throw the thing over my shoulder, the guy catches it. It's gonna be great! Everybody's gonna think it's awesome!' I had to do it forty times and nearly ate myself sick, and you can tell by that picture I was not having a good day. That was my most difficult stunt in The Suicide Squad."
Cena also confirmed The Suicide Squad will be released in August and that the Peacemaker spinoff series will be released after that on HBO Max.
Watch the videos below where Cena also says he will eventually return to the WWE.
John Cena Gives an Exclusive Sneak Peek of His Peacemaker Costume:
Think Fast! with John Cena: