Ghostbusters 3 is currently in the works being developed and directed by Jason Reitman, son of original GB director Ivan Reitman.
Jason Reitman recently appeared on the Bill Burr's Monday Morning Podcast and talked about his take on the movie offering it's all for the fans.
"I'm not making the Juno of Ghostbusters movies," Reitman said. "We are in every way trying to go back to original technique and hand the movie back to the fans." Reitman also added that he "consider[s] myself the first Ghostbusters fan" who "want[s] to make a movie for my fellow Ghostbusters fan."
Per the norm, the comments drew criticism from the internet in that they felt Reitman was taking a dig at the 2016 all-female Ghostbusters, which is far from the case as Reitman took to Twitter to clear up his statements.
"Wo, that came out wrong! I have nothing but admiration for Paul and Leslie and Kate and Melissa and Kristen and the bravery with which they made Ghostbusters 2016. They expanded the universe and made an amazing movie!" Jason Reitman tweeted.
The tweet was followed by the 2016 director Paul Feig, who says it's all good.
"Jason was a supporter of mine at a time when I couldn't get movies made. He has always been a true gentleman to me and a supporter of Ghostbusters: Answer the Call. I can't wait to see his take on the Ghostbusters universe. Big love and respect to you, Jason. Your fan, Paul," Feig tweeted.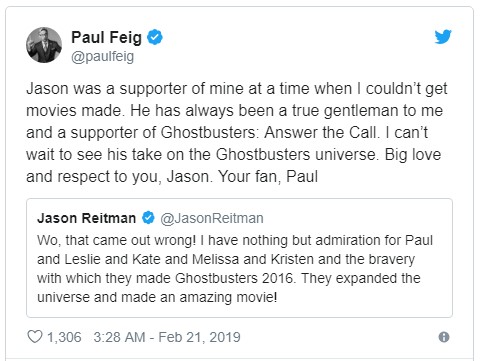 Ghostbusters 3 has a July 10, 2020 release date with rumored details said to include that it passes the torch and focuses on a family and teenagers who move back to a small town where they begin to learn more about who they are and the secrets of the town itself. While not confirmed, it is speculated the original cast will be back.