James Gunn seemingly teases involvement in additional DC projects in response to questioning about what comes next following The Suicide Squad.
The director responded to a fan on Twitter a week ago that "there is definitely more on the horizon."
"I'm already more than halfway through shooting a season of a TV show's first season," Gunn said about Peacemaker. "So there is definitely more on the horizon."
Back in February, Gunn also teased he was working on DC projects outside of The Suicide Squad and Peacemaker as Gunn replied to a fan, "Maybe just a little. One toe dipped in."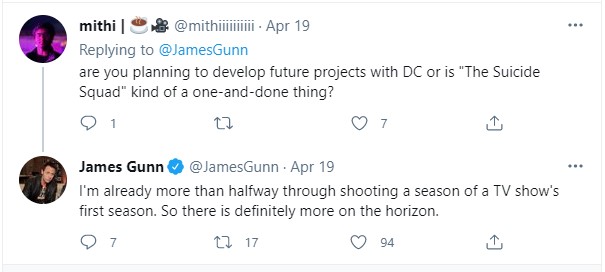 WB and DC love James Gunn
Recall that DC insiders filled me in that James Gunn would continue on at DC following The Suicide Squad as I was told that Warner Bros. "loves" having Gunn be a part of WB and DC.
DC insiders filled me in while I attended the 2019 San Diego Comic-Con that James Gunn actually has a lot of ideas about what to do with the DC characters, some pretty wild from what I was told, and that James Gunn has plans with DC when he finishes Guardians of the Galaxy at Marvel. I was told Gunn happens to be a huge DC fan, even more so than Marvel.
The DC insiders also filled me in that The Suicide Squad will be "awesome" and "badass" and something that not only DC fans will love, but Marvel and all the fans as well.
Following completion of the Peacemaker series for HBO Max, it appears Gunn's schedule includes filming Marvel's Guardians of the Galaxy 3 and the Holiday Special at the same time, which looks to start later this year, and then Gunn will return to DC.