James Gunn is excited for his Guardians of the Galaxy Holiday Special that will be released on Disney Plus for Marvel.
Gunn took to Twitter to tease the script and that the first draft is completed.
"This is the wrapping. The present is inside," he tweeted.
Update: Gunn also confirmed the Holiday Special takes place after Thor 4 and before Guardians of the Galaxy 3.
James Gunn getting in the spirit for the Guardians of the Galaxy Holiday Special: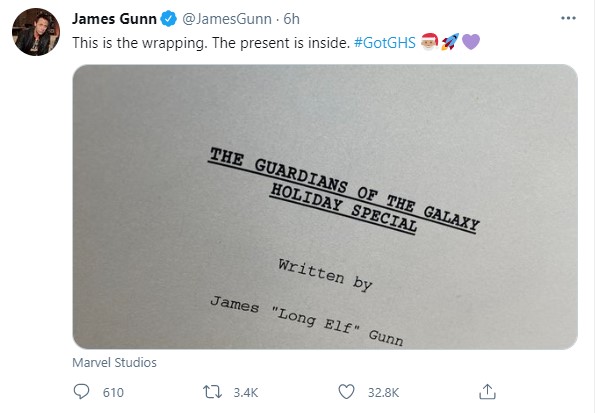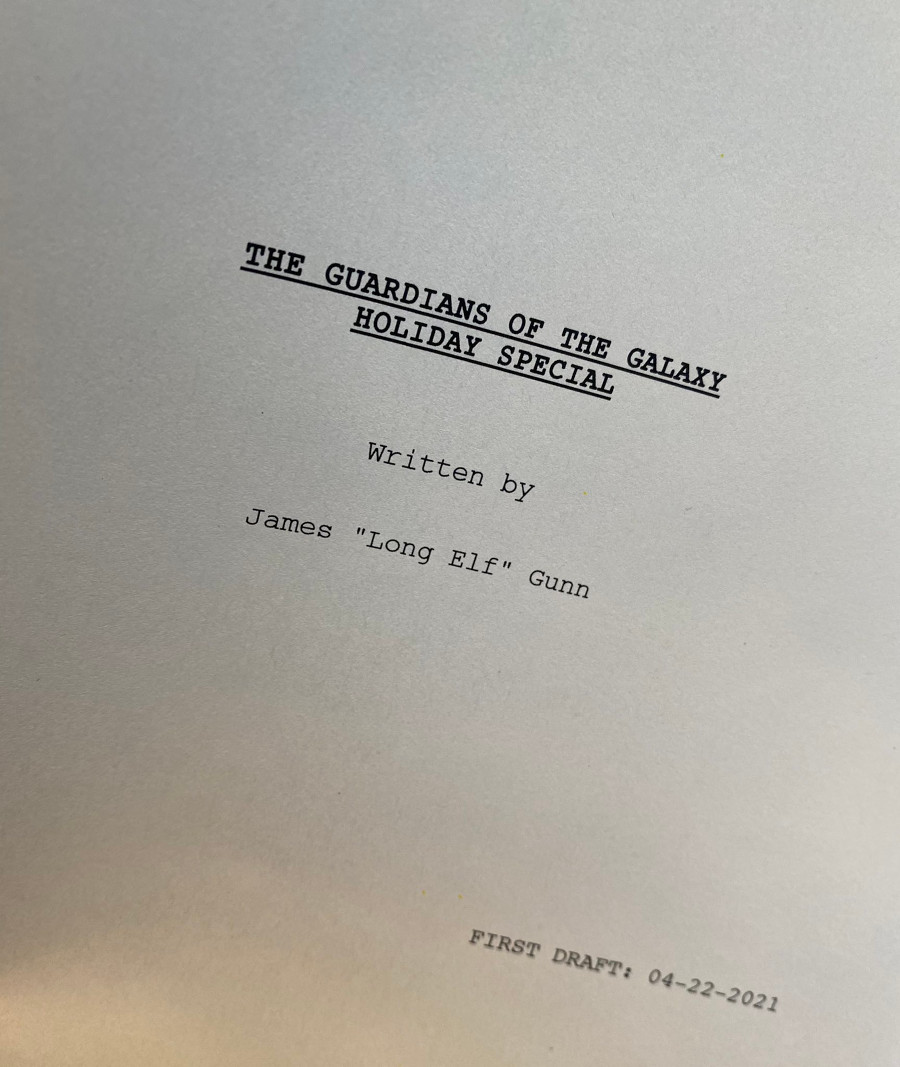 Holiday Special, Guardians of the Galaxy 3, I Am Groot on the way
Details include that James Gunn will film the Holiday Special when he films Guardians of the Galaxy 3.
"Even seeing this here makes me laugh. One of my favorite stories ever, which I have bugged Kev Feige endlessly about over the years. I can't believe we're actually doing this. And, yes, I unironically loved the Star Wars Holiday Special as a kid," said Gunn after the project was first announced at the recent Disney Investor Day event. "I'm being asked this a lot. Yes, the Guardians of the Galaxy Holiday Special is real, it's something that MarvelStudios & I have been cooking up for years. The story is as crazy & fun as can be, & it's live-action & in the MCU. OH MAN I WISH I COULD TELL YOU MORE!"
Kevin Feige said at the event in December: "One of the best things about expanding the MCU to Disney Plus is that our team at Marvel Studios is finally able to do some of the things we've always wanted to do but didn't quite have the right outlet for like produce our first-ever live-action holiday special. In reverent Guardians fashion, the Guardians of the Galaxy Holiday Special is going to be a lot of fun especially since James Gunn is back to write and direct. In fact, we are going to shoot it during production of Guardians of the Galaxy Vol. 3. This special will drop the holiday prior to the next Guardians of the Galaxy film which hits theaters in 2023."
In addition to the Holiday Special and Guardians of the Galaxy 3, a Groot short is also in development from Gunn for Disney Plus.
"And speaking of Guardians, aptly titled I Am Groot, everyone's favorite little tree, Baby Groot, will star in a series of shorts on Disney Plus featuring several new and unusual characters," added Feige at the event.
Guardians of the Galaxy 3 has no release date but James Gunn confirmed filming begins later this year. Expected back includes Chris Pratt as Star-Lord, Zoe Saldana as Gamora, Dave Bautista as Drax, Vin Diesel as the voice of Groot, Bradley Cooper as the voice of Rocket Raccoon, and Karen Gillan as Nebula. Chris Hemsworth is also said to be appearing in Guardians of the Galaxy 3, as Pratt, Gillan, and Sean Gunn are said to be appearing in Thor: Love and Thunder.