James Gunn's The Suicide Squad is off to a booming start on Rotten Tomatoes, as early reviews are hitting the review aggregate site.
With 62 reviews presently accounted for, The Suicide Squad Rotten Tomatoes score stands at a 98% with only one "Rotten" review.
Well, apparently there were two, but the review from Entertainment Weekly has been changed from a "Rotten" to "Fresh" for some reason, as according to Redditors, the EW reviewer gave the flick a C+ which is still considered "Fresh," above the "Rotten" 60% threshold (see below).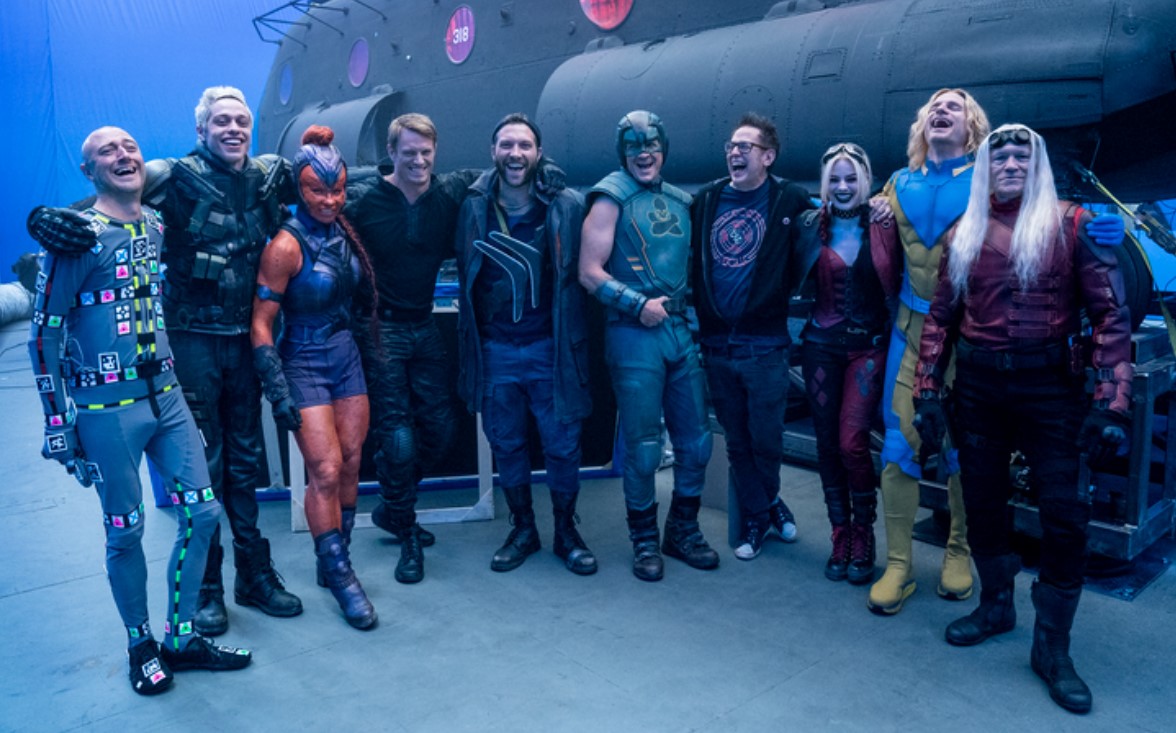 WB loves James Gunn
Before we call the movie a hit, recall early reviewers gave Wonder Woman 1984 a high initial Rotten Tomatoes score, but once the shilling was all done, the real reviews and reactions saw the WW84 Rotten Tomatoes score plummet (rightfully so), so hopefully, the same isn't going to happen to Gunn's movie.
Recall when I was at the 2019 San Diego Comic-Con that insiders told me not only would DC fans love The Suicide Squad, but Marvel fans, and all the fans, and I was told the flick will be "awesome" and "badass" and that WB loves Gunn.
I was also told Gunn would be returning to the DC films universe following Guardians of the Galaxy 3, which has since been confirmed by Gunn. Recent interviews have seen Gunn say that he had the most fun filming The Suicide Squad – more than any other movie – so that includes Marvel. WB seems to be letting Gunn do whatever he wants, so Gunn is going with it, as opposed to Marvel, which seems to be all about Kevin Feige's direction, especially the Phase 4 and beyond PC and diversity nonsense approach.

The Suicide Squad Rotten Tomatoes Score
The current lone negative review for The Suicide Squad offers (via innews.co.uk):
The Guardians of the Galaxy-style goofiness mixed in with lingering shots of maimed lasagne-like innards feels queasy and all wrong; it's like someone exposing themselves at a wedding.
EW.com's switcheroo review description on Rotten Tomatoes first offered when it was "Rotten":
The script… herks and jerks along with a sort of forced-festive glee, its mounting body count buffeted by goofball banter and pounding sountrack cues.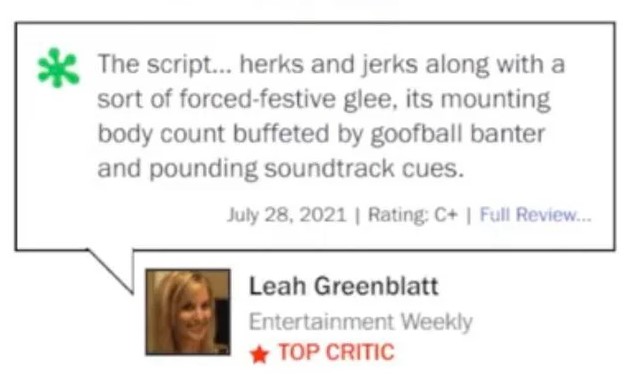 But now says "Fresh":
A good half of the jokes don't land, but unlike his predecessor's joyless slog, Gunn's version at least celebrates the nonsense…

I do believe the actual reviewer fills out the form on Rotten Tomatoes, so it appears as if the EW reviewer changed things, so bear that in mind.
Also worth a note is that James Gunn and WB are having early fan screenings for The Suicide Squad tomorrow, July 29, at various cities, so obviously they have a lot of faith in it and are hoping word of mouth helps out with things.
The John Cena Peacemaker series also gets released in January on HBO Max, I believe, so things are on the up and up for Gunn at WB and DC with more to come.
The Suicide Squad gets released Aug. 6