The grand cosmic architects of the universe unite to release the new Infinity Editions line, featuring autographs as well as innovative, pristine packaging from Jim Starlin, Ron Marz and more.
Infinity Editions comes from Sleeping Giant Collectibles and features copies of comics such as Thanos #17, Infinity Gauntlet, Infinity Wars, Silver Surfer #50 and more all signed by industry legends also including Donny Cates and Mike Zeck.
Check out Infinity Editions for the full list of comics available.
The Infinity Edition's Reality (Red) offering is a copy of Thanos #13 (2017), featuring a lenticular Secret Wars homage variant cover by artist Jacen Burrows, based on the classic original image by acclaimed artist Mike Zeck. The edition is hand-signed by Thanos creator and cosmic legend Jim Starlin, Thanos writer and rising superstar Donny Cates, and original Secret Wars artist Mike Zeck. All signatures were witnessed by a Sleeping Giant representative.
The Infinity Edition Reality (Red) is strictly limited to 100 copies, so once they're gone, they're gone! Housed in a handsome portfolio with a certificate of authenticity and a CGC-sized Vault System case that can be opened and then re-sealed, the Infinity Edition is priced at $149 MSRP.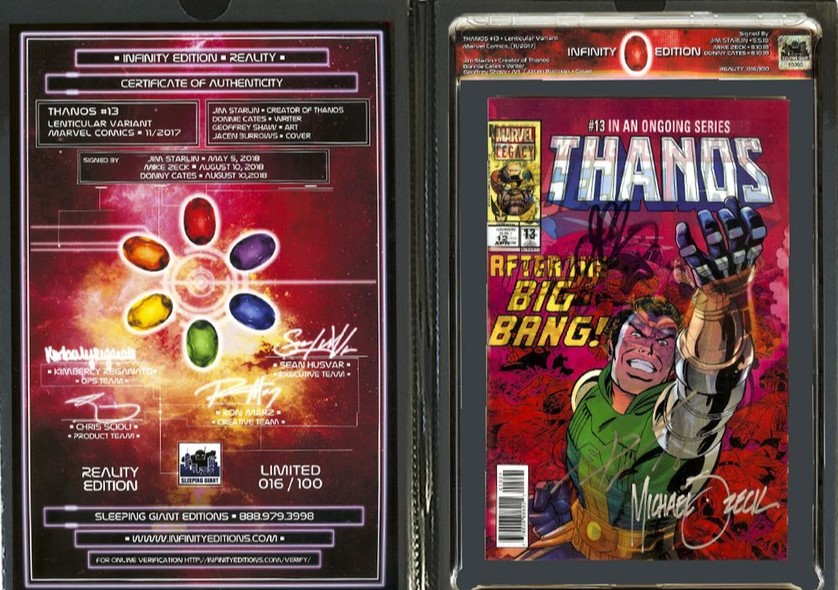 The Infinity Edition will be offered by Sleeping Giant at a special price of $99.95 at the upcoming New York Comic Con on Oct. 4-7. Sleeping Giant will be located at booth #1804 for NYCC, with a wide array of products and signings by an all-star lineup of creators. The purchase of any Infinity Edition also includes a VIP membership to Sleeping Giant.
The Vault System represents a disruptor in the industry, for the first time enabling collectors to take their freshly-autographed comics, place them in a re-openable hard case with a customized label, and leave the convention that day with their collectibles completely protected. Sleeping Giant's dedicated staff certifies every signature on the spot before placing each book in the secure, openable case. Fans can select from Sleeping Giant's expansive line of autographed books, or utilize their own books with our cases and completely customizable certificates. Sleeping Giant is partnered with X-Ray Vision, which utilizes its patent-pending technology to deliver the Vault System, as well as innovative, attractive clear backing boards.
"We're excited to bring this innovation to the collector's market," said Sleeping Giant CEO Sean HusVar. "Obviously, we're thrilled to offer a rare gems like our Infinity Editions, with autographs by legends like Jim Starlin. But the Vault System is something every fan can use to protect their prized collection."