Hugh Jackman is returning as Wolverine in Deadpool 3 and teases that he is training for his big return.
Following the pair of videos posted along with Ryan Reynolds that announced the news, Hugh Jackman posted the following image on his Instagram Story.
"Work in progress," states the image which shows off Jackman working on his currently less than big guns.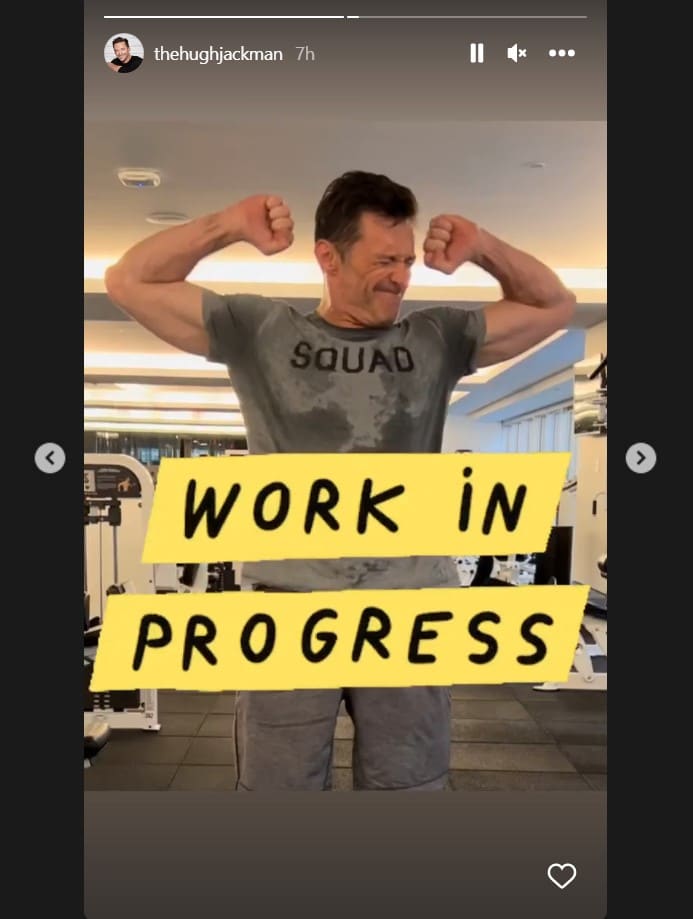 Hugh Jackman gets into super shape to play Wolverine
As seen in the first image above, Hugh Jackman gets into super shape to play Wolverine, so give him a few weeks or so before he looks like everyone's favorite adamantium-wielding mutie.
Back in 2014 while training to play Wolverine, Jackman talked about his training.
"It's too hard to get in shape from scratch, and it's easier to stay in shape than to get in shape. … For Wolverine I really up the training," he told the LA Times. "Right now I do about an hour of training a day and ride my bike everywhere. But I do about 2 1/2 hours of training a day when getting ready for the role, and foodwise I eat more, but I eat a lot stricter. Seventy percent of your physique is your diet, and diet is the biggest change that happens."
Jackman continued, "I do heavy weights in the morning for about an hour, and then I do 45 minutes of higher-volume lifting in the afternoon. My least favorite is the legs. … I do quite a few chin-ups and rows. I do mostly old-school lifting with a lot of squats. I actually do more front squats than I do back squats, and I do a lot of deadlifting. If I could only do one exercise, it would be deadlifting. For cardio, I dance, I ride my bike, I run and I have kids. There is a … lot of cardio just from being a parent."
Jackman also added, "When lifting I'm always with a trainer because the thing that makes a difference is that last 20% in your training, and he very scientifically looks after my food as well, because when I'm going for a "shirt off" shot, everything changes the month before, and I'm timed down to the day. There is water dehydration for 36 hours before. It's quite a scientific process to looking your best."
It's also thought Jackman will be appearing in the Avengers: Secret Wars movie.
A rumor also offers Jackman will appear in the brown and yellow costume that fans never got to see him wear in the X-Men movies but was teased in that deleted ending scene for The Wolverine.
Also, if you haven't seen it, yet, check out YouTuber Jomboy Media lip-reading the dialogue between Reynolds and Jackman from their recent video that had the music interfere.
A TikToker also caught up with Jackman and asked how they convinced him to do it again. Watch below.
Deadpool 3 has a September 6, 2024 release date directed by Shawn Levy who directed both Reynolds (Free Guy, The Adam Project) and Jackman (Real Steel).
I love seeing how happy Hugh Jackman is to play Wolverine again in Deadpool 3! MY GOAT!!! 🤙 pic.twitter.com/5leY5O1MVH

— BLURAYANGEL 🦇 (@blurayangel) September 28, 2022