HBO's House of the Dragon is a smash hit for the network as the viewership ratings continue to climb.
Deadline reports that Episode 3 saw a big 27 percent bump compared to Episode 2, as 16 million viewers tuned in to watch the epic episode featuring Matt Smith in action in the battle of the Stepstones region.
The episode also saw King Viserys telling his daughter, Princess Rhaenyra, to marry, where she thinks her father will eventually renege on his promise of succession as he now has a male heir and is pregnant with another child.
The first episode of House of the Dragon also saw record ratings for HBO as 10 million people tuned in which saw HBO immediately greenlight the show for Season 2 where Henry Cavill and Elizabeth Olsen are rumored to be coming to the series.
Watch the Episode 4 preview here.
Samba TV has also reported 4.8 million households tuned in to watch the House of the Dragon premiere in the U.S., which blows by Amazon's Rings of Power series that only had 1.8 million.
The show also has an 8.8 rating on IMDb and on Rotten Tomatoes, both the critic and the audience scores are at 85%.
All the talk surrounding House of the Dragon is around the ratings and viewership and how good the series is, while all the chatter about Rings of Power is about racist fans. That's telling.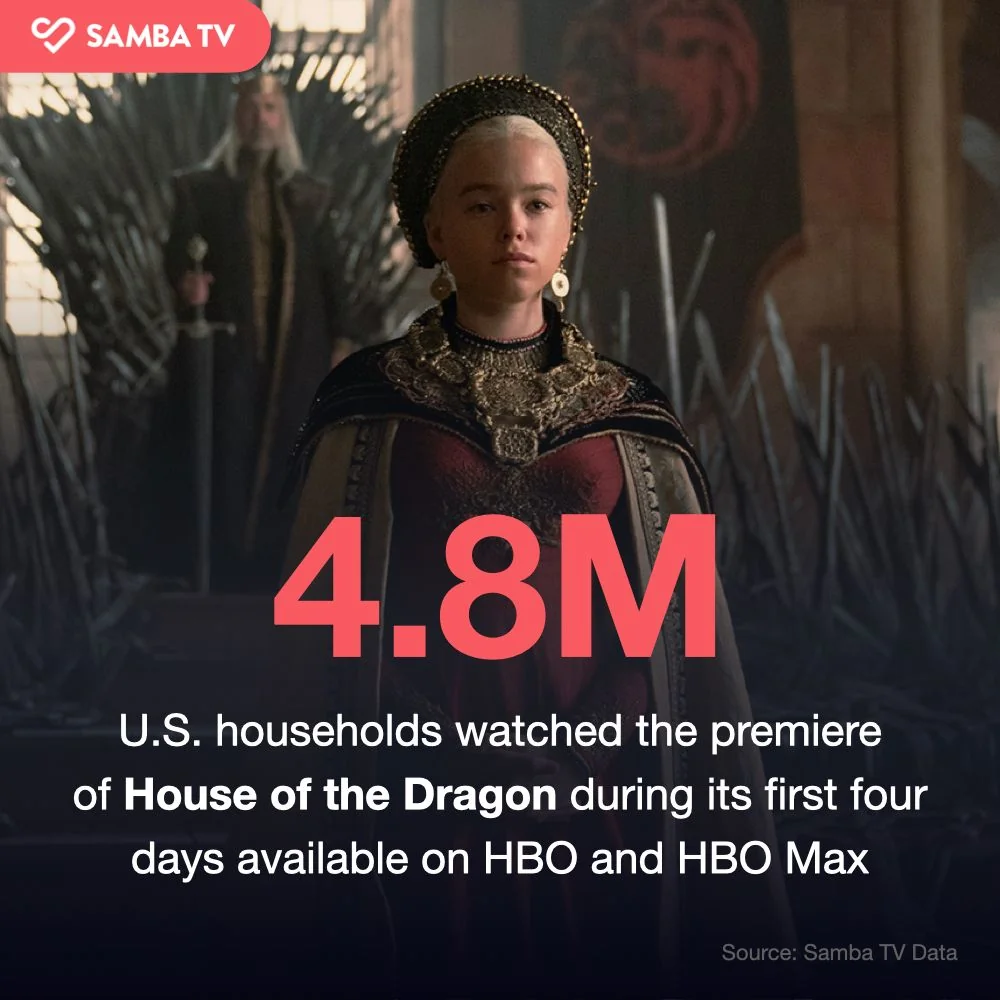 House of the Dragon takes place 172 years before the events of Game of Thrones
Based on George R.R. Martin's book Fire & Blood, the series House of the Dragon takes place 172 years before the events of Game of Thrones and tells the story of House Targaryen.
Also starring in the show includes Paddy Considine, Olivia Cooke, Emma D'Arcy, Steve Toussaint, Eve Best, Fabien Frankel, Sonoya Mizuno, and Rhys Ifans.
The additional cast includes Milly Alcock, Bethany Antonia, Phoebe Campbell, Emily Carey, Harry Collett, Ryan Corr, Tom Glynn-Carney, Jefferson Hall, David Horovitch, Wil Johnson, John Macmillan, Graham McTavish, Ewan Mitchell, Theo Nate, Matthew Needham, Bill Paterson, Phia Saban, Gavin Spokes, and Savannah Steyn.