Following an appearance at Comic-Con for The Witcher, Henry Cavill takes to social media to show his support for the Gorillas with DC Comics artist Kenneth Rocafort.
"My fellow croucher in this photo is my friend Kenneth Rocafort! From comic book fame, no less! And that handsome fellow behind us is one of 40 gorillas on Durrell's new Go Wild Gorilla Trail! This one was painted by the mighty Kenneth himself," Cavill posted on Instagram. "However, many other artists also graced us with their talents to paint the Gorillas that populate the Gorilla Trail which will guide visitors, and locals alike, around the island on a path of conservation enlightenment. Go Wild Gorillas' primary task is to raise funds so that they can build our family of Western Lowland Gorillas a new and even more fantastic home at Jersey Zoo."
Henry Cavill also included a link where you can find out more information.
"Find out more by following the link in my bio," Cavill posted. "Animal fact incoming: The Western Lowland Gorilla is one of a group of animals that has a triplet of a name in Latin. Which is divided into Genus, Species and Subspecies it is quite simply Gorilla Gorilla Gorilla. Boom. Knowledge. Go forth. #GoWildGorillas @GoWildGorillas @Durrell_JerseyZoo
@mitografia_kr."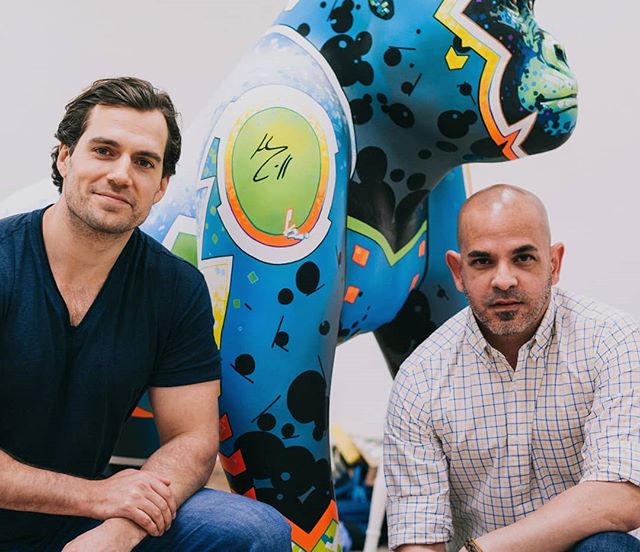 Henry Cavill still super
Regarding The Witcher, check out the Netflix trailer below.
Henry Cavill also touched upon playing Superman while at Comic-Con where he said he still wants to play the role and do a Man of Steel 2; however, Cavill also seemed to say that he dropped out of the Superman role to do The Witcher.
I was also told that J.J. Abrams might be recasting a younger Superman.
The Witcher Henry Cavill teaser: