Henry Cavill graces the latest cover of GQ Germany; however, the interview fails to include one mention of the actor as Superman.
Though the cover of the magazine even states "Superman Henry Cavill," the featured interview only talks about Mission Impossible, his mustache, social media, his love of watches, living in Florida, Casino Royale, and his dog.
It seems rather strange the magazine wouldn't question Henry Cavill about Superman – even one question (especially considering the cover) – which I am assuming is because they were told the topic is off limits by his PR team.
It is currently unknown if Henry Cavill is going to return to the Superman role as it has been reported his manager is in heated discussions with Warner Bros over contract negotiations, which is probably why GQ didn't get the chance to ask questions. It's also questioned if Cavill has filmed a cameo role in the upcoming Shazam! movie.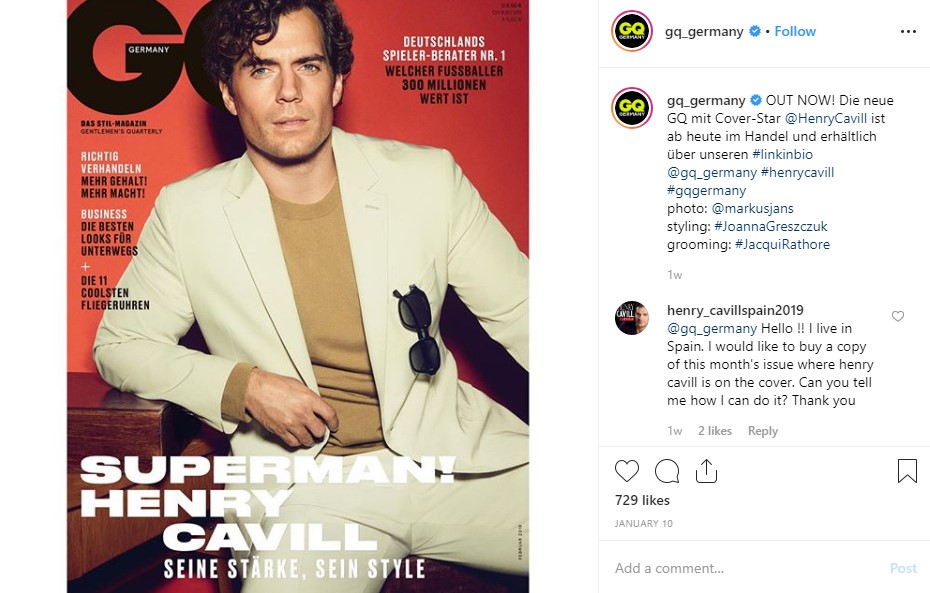 The latest about Henry Cavill is that he may return for more Mission: Impossible movies. Paramount recently announced two more Mission: Impossible movies are going to film back-to-back with director Christopher McQuarrie and Tom Cruise returning. Regarding how Henry could return, it's reported McQuarrie may write Cavill into the script in flashback scenes.
There hasn't been much news about Henry Cavill returning as Superman or for a Man of Steel 2. A WB executive did recently state the DC films are moving away from building a shared universe. It's also been reported WB may use a Supergirl movie to do a soft reboot of Superman using a new actor. A rumor suggests the villain of Supergirl will be Brainiac and that it will be a period piece.
Henry Cavill is also filming the Netflix series, The Witcher, in Hungary, which will be an eight-episode series with Cavill playing the monster hunter, Geralt of Rivia. While a return to the Superman role is currently unknown, Henry Cavill is still staying in super shape.
Highlights from the GQ Germany interview with Henry Cavill include being questioned if he misses his mustache (translated):
The mustache had its moment. Maybe someday it will return but that will probably a while.
About following news on the internet about him and his social media posts:
I try hard to read the comments under my posts. I also browse through fan and film sites to get an impression of the mood. I try to get a feeling how my work is perceived, but at the same time, I don't want to give them too much meaning.
If he ever had any doubt:
I was motivated by a mixture of belief in myself and reality. I had forbidden myself to think of failure too much. At the same time, I always asked myself if I was really happy with acting. As a young actor, it is not easy, you need a name to get the big roles, but to get a name you need the big role. There were a lot of moments when I thought of giving up acting and going into military. That was my Plan B.
On the turning point in his career:
Interestingly, it was a job I didn't get, which was James Bond in Casino Royale. During the casting, I made it to the top two, according to rumors. Variety picked up on the story and suddenly I received a completely different kind of attention. Suddenly, my name had a certain weight and new opportunities opened. That's how I got the role in The Tudors. That was the start of a new phase in my career.
GQ has a part of the interview up, with the full interview available in the newsstand copy.